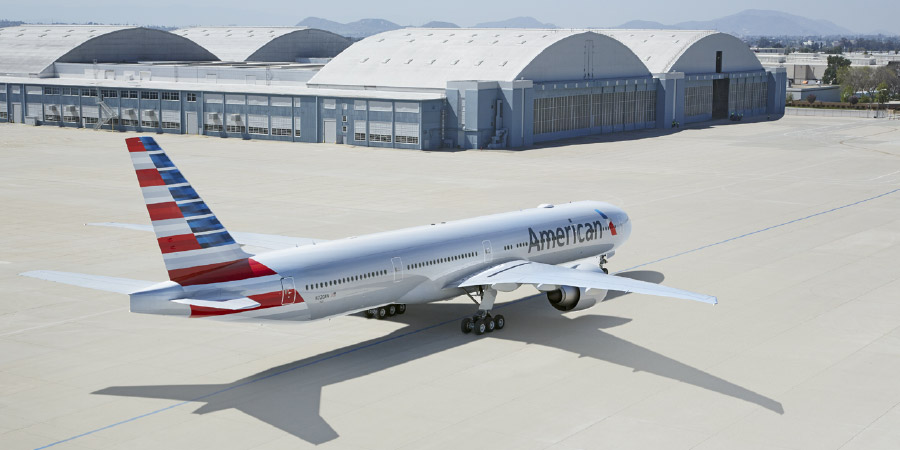 By Duwayne Greaves, Travel Advisor
From check in at the Grantley Adams International to exiting Terminal 3 London Heathrow airport, American Airlines has created a seamless product for transatlantic journeys from Barbados to London. We were checked in via the priority queue at Barbados and priority boarding. For those of us who were not not able to secure a Business class seat from Barbados to Miami, the Main Cabin Extra seating was assigned and was a better economy class experience, along with the priority boarding, the increased legroom between seats quicker access to overhead bin space and complimentary wine, beer and spirits in the in-flight drink service.
To fully enjoy the new way of streaming inflight entertainment, the American Airlines app must be downloaded on a handheld device, connect to the inflight wifi and you can watch a great selection of movies, TV programmes as well as listen to a selection of music channels. Access to social media via the inflight wifi is available in 1 or 2 hour or full flight length duration.
Once we arrived at Miami International Airport (MIA), we found the new immigration and custom process had changed. With all passengers now able to use the Automated Passport Control (APC) systems, just follow the prompts along and within less than 2 minutes you get your APC Immigration and customs slip. As none of us had an X on our slip we were directed to separate channel where between 5 -6 Customs and Border Patrol Officer (CBP) to do a quick interview process and passports are no longer stamped going through this process.
Miami International American's Gateway to Latin America & the Caribbean
It may not come as a surprise to many; but over the last 30 years American Airlines has transformed and increased their market share at Miami international Airport. Currently American Airlines encompasses all the space in terminal D and E, terminal E being shared with their OneWorld Alliance partners. They comprise 70% of Miami's market share, and have over 350 departures daily in several flight banks. Of this 70% share, an almost 50:50 ratio exist in local and international traffic, making Miami not only an important local destination but also an important transit point for international traffic. American Airlines also employs over 13,000 persons directly under the American Airlines brand and is the whole subsidiary owner of companies such as Envoy and other airport affiliated members.
Now American Airlines, in cooperation with the Miami Airport authority and other state departments, are constantly working together to improve customer experience. For the local traffic departing Miami, if you are in Business or Flagship First, there is curbside check in along Zones 1 and 2.
Passengers in Flagship First have access to a Landside Flagship lounge with its own private access to TSA security at checkpoint 3 between Zones 3 and 4. There are self service counters located in Zone 4 where there is a new feature called YADA short for " Your Assistance Delivered Anywhere" where customer service agents are able to process any passenger with just a click of a button on a mobile app in under 50 seconds. YADA agents can produce luggage tags, issue boarding passes and even undo check in of customers who are no longer travelling.
Zone 5 is a full service area for all flights. Zone 6 is where American Airlines shares their space with their OneWorld partner British Airways and Zone 7 is a dual purpose zone, it can be transformed from either a Cuba only flights check in or another full service zone. One of the benefits of this is priority passengers who have rental cars can drop them off take the skytrain to Doors 8 the main terminal and use the full service system present at Zone 7 between doors 7 and 8.
Flagship Lounge
Located next to departure gates 27 and 28, the flagship lounge is a warm private breakaway for the priority traveller. Once you enter and are processed by the friendly ground floor reception staff, your boarding pass is stamped for access to the lounge. Access is limited to passenger travelling Flagship First or Business Class, ConciergeKey, AA Advantage Executive Platinum, PlatinumPro and Platinum members as well as Oneworld Emerald and Sapphire members. The lounge is located on the 3rd floor to the right and shares a separate floor space opposite the AAdmirals lounge.
Highlights of the lounge include chef inspired meals, personalised service from staff, a self service wine bar and specialty cocktail bar and shower suites for you to freshen up. Also there is a Flagship First Dining area within the lounge that is exclusively for Flagship First customers, with its' own separate dining menu with a smaller more chic environment for the First class customer.
Aircraft & In flight
Flying to London needs to be done in style, and nothing says style more than a Boeing 777-300ER aircraft with a capacity of 304 passengers with a breakdown of 8 First, 52 Business, 28 Premium and 216 Economy seats. Currently the aircraft serves destinations such as London, Hong Kong, São Paulo, New York and Miami. The seats in business class offer a traveller a more private experience. For the busy bodies, there is inflight wifi and AC power outlet/USB connection ports for you to keep working while at 35,000 feet in flight. The seat is convertible into a fully lie flat bed with additional leg space for persons over 6 ft tall.
The business class cabin on night services to London offers a three-course Dinner and Breakfast service 2 hours before landing and on the Morning service from London there is a three-course Lunch and Afternoon meal service. Other amenities include a duvet and pillow for comfort, Bose noise cancelling headphones and complimentary beverages, including wine, liquor, spirits and beer throughout the entire flight.
One unique feature onboard this aircraft is the sky bar. The Sky Bar is self-service and is only set up after the main meal service has been completed.
Arrivals & Five Star Service
American Airlines' Five Star Service is a great way to commence your morning arrival into London Heathrow. You will be met by one of the dedicated Five Star agents, and buggy service to immigration is offered, however depending on your arrival gate the buggy may not be able to pass through the pathway. With access to a separate priority immigration line and assistance all the way through to baggage collection and customs, it is a great personalised way to start your holiday.
Once on the outside you simply turn right and take the lifts to the 2nd floor and your priority customers can enjoy a quick recharge in the Arrivals Lounge. There is a wide array of breakfast food selections, as well as magazines, newspapers, journals. There are on site showers for the business person who needs to look and feel his best. There is also a conference room for groups of business travellers who wish to schedule a quick on-the-go meeting before their commute, supplemented by in-house wifi and a printing area.
Final Thoughts
I would personally like to sincerely thank the Management of Going Places Travel and our American Airlines Channel Sales Manager Rafael Despradel for affording me the opportunity of experiencing this product.
The overall experience was truly memorable and eye-opening to the new possibilities that can be explored as it regards to the American Airlines service to London.
Interested in flying on American Airlines?
Come in to any one of our offices or give us a call at