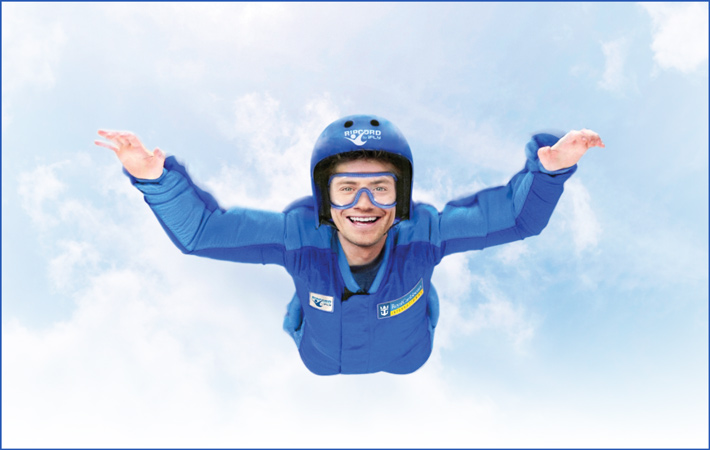 There are many things that exist on cruise lines today, that were never an option 10 years ago. Nowadays, activities such as zip-lining, sky-diving and 'chilling' in an ice bar are some of the highlights of going on a cruise.
Sky-diving
Aboard Royal Caribbean's Quantum of the Seas, this dream can now become a reality. Without having to board a plane and fly 10,000 plus feet high, you can experience the thrill of a lifetime on this sky-diving simulation.
Zip-lining
Another one of Royal Caribbean's features, zip-lining can be experienced on three of their ships – Harmony of the Seas, Oasis of the Seas and Allure of the Seas.
Ice Bar
Aboard Norwegian Epic, Breakaway & Getaway ships, the SVEDKA & Inniskillin Ice Bars can be found. There's no longer a need to head to the Artic to experience a bar made entirely out of ice!
Observation Capsule
Access to a 135-foot observation capsule. Be lifted from the top deck of Royal Caribbean's Quantum of the Seas and get a bird's eye view of your journey at sea. It's approximately 30 stories high and can hold up to 14 guests at a time.
The Lawn
With a half-acre of real grass on Celebrity's Solstice, you can experience a freshly manicured lawn on the highest deck. Have a picnic with friends or sip on your favourite cocktail while watching the sunset.
Fireworks
With Disney Cruises, dreams really do come true! On these ships, guests have the opportunity to see a fireworks show, displayed off the side of the ship. This is one of the few cruise lines allowed to do this at sea.
IMAX Theatres
Be amazed by the Imax experience aboard your next cruise! Cruise lines such as Carnival now give you the opportunity to see some of the latest movies, Imax style while being miles out to sea!
Simulated Surf Sessions
Royal Caribbean's Freedom of the Seas, offers another cool feature called Flow Rider, where surf fanatics can catch a few waves without having to step foot off the ship!
Contact a Going Places Advisor today! Visit our Advisor Catalogue and select an agent in your area here.