Delta Airlines operates over 5,400 various flights every day across the continental USA and internationally. It has a very extensive domestic route network in the USA where it is headquartered at Atlanta International Airport in Atlanta, Georgia. The airline operates to well over 330 destinations in 60 plus countries. The airline is one of the oldest airlines in the US and was founded in 1924 as a crop dusting company. It was a southern company originating in Georgia and then moving to Louisiana where it took on the name Delta Air Services and began moving passengers on June 17,1929.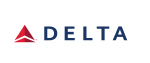 From it formation to present day the airline is really a combination of many various carriers that have merged over the years including Northeast and Northwest airlines, PanAm (Delta bought some of its key routes), National Airlines, Western Airlines and a number of other smaller carriers who all merged into their system of operations and dropped their names.
Delta operates a hub system in its key markets. Its largest hubs are located in Atlanta (963 departures daily), Detroit (420 departures daily), Minneapolis (398 departures daily), New York City (LGA) (269 departures daily), New York City (JFK) (170 departures daily) and Los Angeles (152 departures daily) are the 7 largest. It also operates smaller ones in Cincinnati, Seattle, Boston, Amsterdam, Paris & Tokyo.
The fleet of Delta is made up of over 800 aircraft manufactured mainly by Boing, Airbus and MacDonnell Douglas planes. It operates the largest fleet of Boing 767 and Airbus A330 planes compared to other US airlines.
Delta is part of the SkyTeam Airline alliance that includes Air France, KLM, Alitalia, Virgin Atlantic and Virgin Australia and is one of the founding carriers.
its headquarters and largest hub at Hartsfield-Jackson Atlanta International Airport, Delta Airlines is a major American airline. Founded in 1924, Delta and its subsidiaries have grown significantly and now service over 325 destinations in 64 countries around the world. With both long and short haul routes, travellers can choose from a range of options to suit their preference.
Fly in 'Delta One' the airline's long-haul international business class and enjoy a range of possibilities including complimentary meals, refreshments, alcoholic beverages, and an amenity kit. The unique design of the Delta One seats also allows passengers to stretch out in comfort and enjoy a relaxing experience throughout the flight. For short to medium haul flights your options include first and business class, delta comfort and economy class. The on-board amenities and in-flight entertainment are sure to surpass your expectations, with available Wi-Fi keeping you connected and the latest movies to pass the time. Have the chance to be rewarded for your travel with Delta Airlines when you register for their SkyMiles programme. Take advantage of amazing offers and redeem points earned for amazing vacation and travel possibilities.