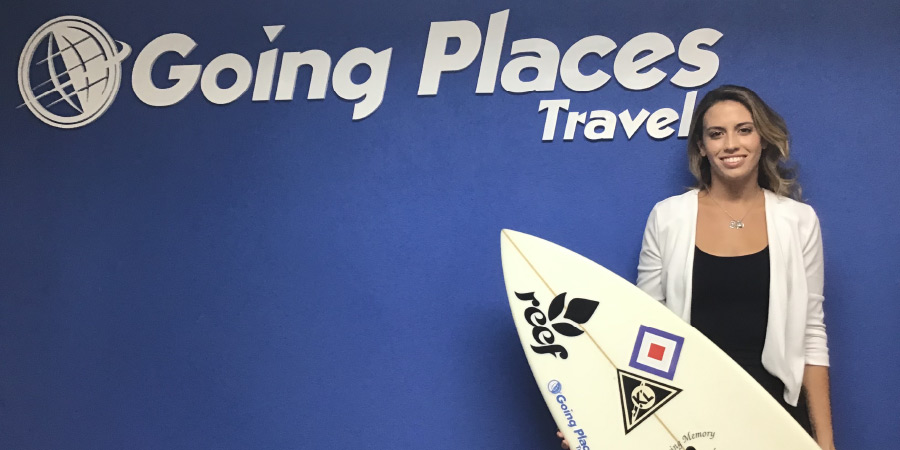 Going Places Travel, the leading travel management company in the Caribbean, has partnered with American Airlines to provide air travel for local surfing talent Chelsea Roett to her next tournament, the World Surf League Super Girl Pro QS 6,000 in California, USA.
The 24-year old surfer most recently took the top award of Asociación Profesional de Surfing de Puerto Rico (ASPR) Corona Surf Pro Circuit this year and also previously took home the top award of the competition in 2016. She has also attained many other accolades over the years including the 3rd place in the Barbados Surf Pro World Surf League (WSL) in 2018.
Danielle St. John, Chief Operating Officer at Going Places Travel shared that the company was happy to support our local surfing community through this initiative. She commented, "as a Preferred travel agency of American Airlines we are happy for the opportunity to partner with the airline to provide assistance with this trip. It is also important for us to support local talent and we are delighted to partner with such an accomplished athlete. We are looking forward to supporting Chelsea on her endeavors."
Chelsea Roett was similarly excited about the partnership: "It is such an amazing opportunity for me to be partnering with Going Places Travel. I truly believe it is a match made in heaven as I have been traveling and competing for the past eight years and being part of the Going Places Travel network makes me feel very at ease with my travel planning. I tell my Going Places Travel Advisor what I want and they plan what's best for me. The general public may not realize the difficulties of traveling with surfboards so to have a travel advisor who knows my needs and which airlines allow surfboards on flights and finding out fees for board bags that I would not have known is one less thing for me to worry about. I then go enjoy my trip and showcase all my amazing adventures to the world. Thank you Going Places Travel."
Going Places Travel has offices in Antigua, Bahamas, Barbados, Dominica, Grenada, St. Lucia, St. Vincent & the Grenadines and USA. Today, Going Places Travel has a team of over 155 travel professionals dedicated to making travel dreams become a reality. Contact their reservations team at (246) 431-2430.
Interested in flying on American Airlines?
Come in to any one of our offices or give us a call at