*The interview below was originally published in M People Barbados
Soaring to New Heights
At 28 years old, Danielle is not your average millennial. With a laser-sharp focus, positive attitude and a deep understanding that technology is increasingly transforming the way we travel, Danielle is taking travel to new heights in the Caribbean. She found her way back to Barbados and is today leading the premier travel company in the Caribbean, forging a new path for women and millennials in one of the most exciting fields in the travel industry. At Going Places Travel, she manages a team of 175 travel advisors located across eight countries in the region, and through technology coupled with excellent in-store service she is taking the travel business to new heights.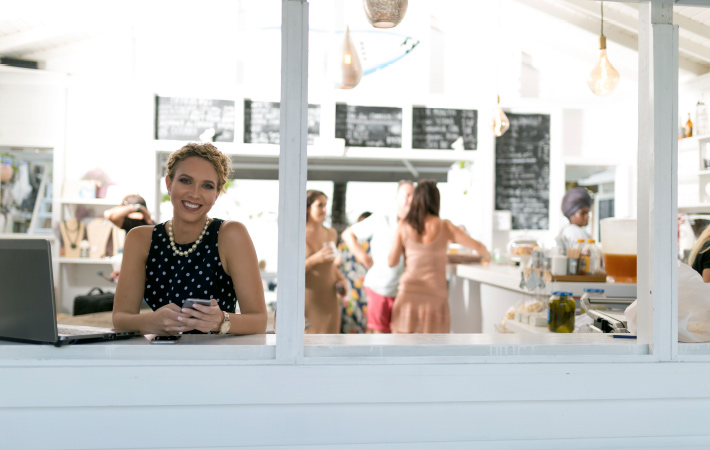 How'd you get here? Tell us about your professional journey.
My professional journey started when I was a teenager. My parents were firm believers that summer vacations were to be spent working and gaining experience for your CV rather than sleeping in, much to my dismay. I jumped straight into the working world after graduating from the University of Waterloo. As a recruiter, I'd travel the Caribbean meeting with prospective students for the University. I then returned to my former boarding school, Appleby College in Oakville, Ontario, to join their Alumni Office team. Fast forward a few years and I'm now sitting in my role in the travel industry. I've definitely caught the travel bug and there's no turning back. I couldn't ask for a more interesting, exciting, and fulfilling job. I suppose I'm finally living through my advice to those students: do what you're passionate about and the rest will fall into place.
Do you ever feel like you have to prove your worth professionally, because you are a woman? Not necessarily at your of office, but in the corporate environment?
I'm fortunate, as the travel industry is very supportive of women pursuing the careers of their choice. It's not uncommon to meet a woman in the corporate travel environment, and many of the company leaders today are female. I firmly believe we shouldn't be defined by our gender, but simply by the quality of work that we produce.
Some say travel has become almost a luxury, with the rise in fuel costs resulting in higher rates for air fares. How does Going Places Travel stand tall above its competition in such a competitive market?
We see more people travelling now than we have in the past. Travel trends shift due to several market factors. In the Caribbean, regional prices have increased over the years. Because of fuel prices, more economical aircraft and competition, international travel has become more affordable. People are travelling to more destinations and taking more complex journeys than we've seen in the past.
To ensure our team is equipped to face the competitive market, we strive to retain the best staff in the industry, increase our in-house training, and focus on marketing and digital communication. In addition, Going Places Travel continues to increase its regional presence and focus on customer service to ensure our clients receive the best experience when working with our advisors. To meet the demands of the industry, we are changing the structure of our company. We're looking for young, tech-savvy, entrepreneurially minded individuals ready for a challenge. We provide new advisors with the support and advantages they'll need to become successful in this field and enjoy a long career. We offer training, mentoring and a range of professional and personal travel opportunities, as well as other benefits. Once new entrants see what this industry has to offer, they're hooked—the sky's the limit to what they can achieve.
How do you persuade travellers to choose you, a travel agency, over online booking? What's the one reason Going Places Travel has survived this long in the industry?
It's a common misconception that travel agents are a dying profession. The fact is, there are more people today working in this profession than at any other time. Roles have changed and the traditional high street agency, in many cases, has moved to a call-centre environment. Our business has not retreated over the years, as more and more people are seeing the value of personalised service. Travel advisors are best suited to offer personalised service for their clients, as we have access to all airlines, hotels, car companies and cruise lines, through our central reservation system. Going Places Travel has not only survived but continues to grow. We see the future with even more possibilities as we implement more technology to improve the way we service our customers. Travel is a changing landscape. We rely on technology more than I would have imagined.
You fall into the category of 'millennial'. What makes this group, this generation, 'different'?
Millennials are a generation which has been surrounded by technology. From a travel point of view, millennials will be the future travellers and we are positioning our company every day to do business the way millennials will want to do business.
What are your plans for taking the company forward and keeping it relevant in these days of online bookings?
When I joined Going Places Travel, I didn't realise that travel was such a technologically advanced business. When you take a moment to think that any of our advisors can request pricing from any airline, hotel or car rental company in the world and receive a response in less than a second, it's eye opening to see how far the industry has come in the last decade. We have access to live airline information, providing more details for our clients than any website could provide in such a short space of time. Technology is in every aspect of our business and always has been.
Is your job harder because of the prevalence and convenience of online bookings?
My job isn't harder; it just has a different dimension. We're constantly working to improve the user's experience on our website. It's one of my personal goals to be the top online travel distribution system, and it's what my focus will be over the coming years. The main challenge which I want to focus on is merging the online experience with great service. I've come to the realisation that I'm now running a technology company—that's what really excites me.
How do you think your employees view you as a boss?
"I've learned that people will forget what you said, people will forget what you did, but people will never forget how you made them feel." (Maya Angelou). I think that quote perfectly sums it up.