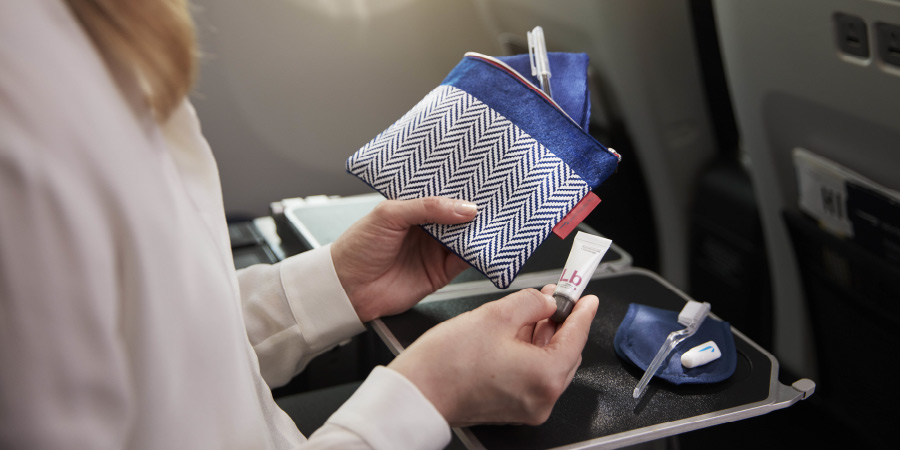 The article below was originally published as a press release from British Airways
Following the introduction of British Airways' new culinary offering in February, World Traveller Plus (Premium Economy) sees further enhancement from 1 July 2019. Customers can look forward to an upgraded amenity kit crafted from recyclable materials and a new suite of comfort items including stylish and luxurious quilts, cushion and amenities as well as two signature cocktails and a mocktail. The new items will be introduced on London Heathrow flights from 1 July and London Gatwick flights from 1 August.
New features include:
All new suite of comfort items developed with a classic British herringbone design
Enhanced comfort – with a stylish new quilt and a larger, more luxurious cushion
A new amenity kit designed with sustainability in mind, the bag is made using material from recycled plastic bottles.
Amenity kit includes a new lip balm added from the Scaramouche & Fandango range, eye shade, pen, socks, toothbrush and toothpaste. Earbuds are also available on request.
Signature cocktails and mocktail featuring - Gin Fizz: Gin with orange juice and a top up of sparkling water. Bloody Mary: Flying favourite with vodka, tomato juice over ice with a slice and spice. Citrus Twist: Cool twist of orange and apple juice finished with lemon to tantalise the taste buds
Interested in flying on British Airways?
Come in to any one of our offices or give us a call at