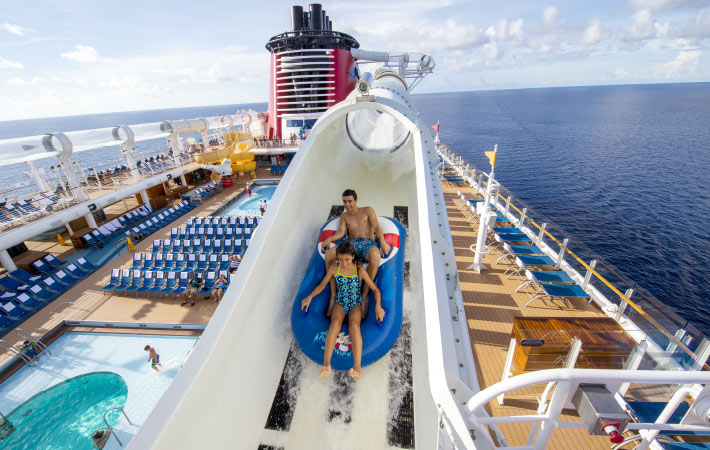 *This story originally appeared in Travel Pulse
Disney Cruise Line has an exciting summer planned for 2019.
The cruise line today announced a long list of new itineraries including seven new ports in Europe, a first-ever round-trip cruise from Rome and first-time visits to destinations in Sweden, France, Spain, Denmark and Northern Ireland.
The just-released itineraries, for the months of May through September, also include continued sailings to Alaska, the Caribbean, and the Bahamas, as well as new cruise lengths for the Disney Fantasy.
"Any time the Disney Cruise Line introduces new destinations and itinerary options it provides a bit of a preview of what to expect of the growing fleet in the future," cruise expert, Jason Leppert, said. "If this is what the brand can pull off with four ships, just imagine what it will accomplish with seven by 2023."
The fascinating new round-trip Rome itinerary includes ports in Salerno (Positano, Amalfi, and Pompeii), La Spezia (Florence and Pisa) and Villefranche (Monte Carlo, Cannes, Nice) as well as Marseille, France and Barcelona, Spain.
This eight-night cruise will be bookended by visits to Rome, allowing families to explore such iconic sites as the Colosseum, Trevi Fountain, and the Vatican.
Among the many first-time ports on the intriguing and varied summer 2019 lineup are such places as Gothenburg and Nynashamn (Stockholm), Sweden; Toulon (Provence) and Brest, France; Cartagena, Spain; Fredericia, Denmark; and Belfast, Northern Ireland.
Disney's seven-night British Isles cruise, meanwhile, will include a new stop this season—Belfast, Ireland. The sailing, which departs from Dover, England (near London), will allow guests to explore Belfast's Giant's Causeway, one of the most remarkable natural wonders in the UK. Additional highlights in the capital of Northern Ireland include breathtaking vistas along the Antrim Coast, including the Cliffside ruins of the medieval Dunluce Castle.
Next summer's Disney itineraries will also include a return to Alaska aboard Disney Wonder. The ship will embark on a variety of five-, seven- and nine-night itineraries from Vancouver, Canada. Stops during the cruise will include Juneau, Skagway, Ketchikan, Sitka, Icy Strait Point, Hubbard Glacier and Tracy Arm Fjord, Alaska. There will also be a port call in Victoria, Canada.