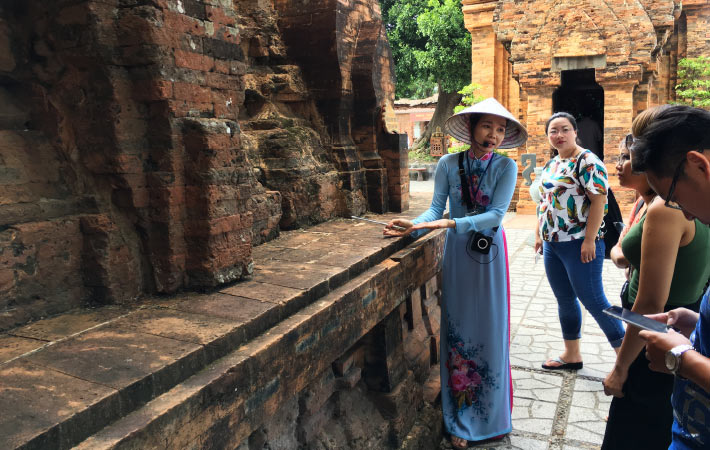 *This story originally appeared in Travel Weekly
Today's travelers do not want a cookie-cutter experience. From strolling through castle gardens with a duchess to a private dinner at the Vatican, research shows clients are seeking vacations that are as unique as they are. In response to the evolving wants and needs of travelers, guided vacations bring guests deep into the heart of the destination while taking care of all the logistics—so guests can focus on what truly matters. With flexible itineraries, local dining options, authentic accommodations, expert in-destination knowledge and consistently high customer satisfaction ratings, guided vacations are going above and beyond the typical vacation.
"Americans are hungry for fresh experiences that expand their horizons and give them a new perspective—they really want to see a destination from an insider's point of view," says Chris Wommer, senior travel product representative in Dearborn, Michigan. "With a guided vacation, you're seeing the destination from the inside out, such as dining with a Parisian family in their home or taking a private black cab tour of Belfast's murals while hearing personal stories about what life was like during the Northern Ireland Troubles. These are the kind of rich experiences guided vacations offer, and you simply won't find them on your own."
Travel agents are uniquely poised to enable their clients to experience everything they are seeking through guided vacations, even if clients might not have thought of this as an initial option. By introducing them to the concept, as well as to the full range of guided vacation options, agents can meet—and exceed—their clients' vacation desires. Savvy travel agents are recommending this niche, providing a win-win for both their clients and their own business by giving clients what they want (and knowing it will be delivered) with a seamless and easy-to-plan vacation experience. Plus, these satisfied clients will turn into repeat business and provide referrals.
Making Connections
According to the 2018 "Virtuoso Luxe Report," today's travelers are driven by a desire for experiences that foster genuine human connection. Rather than checking a number of tourist attractions off a list, travelers seek an understanding of the culture and people in a destination, a chance to fully immerse themselves in the destinations they are visiting along with genuine personal interactions. They are also, according to the report, using travel as a way to connect with family in deeper ways. Similarly, the "AARP Travel Research: 2017 Travel Trends" report finds that most baby boomers are looking for a laid-back and relaxing trip that will give them the opportunity to spend quality time with friends and family.
Guided vacations deliver those experiences that today's travelers seek, and more. Genuine human experiences? Check. Cultural immersion? Check. Time to relax and connect with loved ones? Check!
This summer, for example, Melissa da Silva, president of Trafalgar USA, traveled to the U.S. national parks on a guided vacation with her family, a decision she had made prior to joining the Trafalgar team. Ease of planning, a well-developed itinerary and experienced guides allowed her and her family to truly experience the wonders of the parks.
"We just had the most relaxing time because every detail was taken care of," says da Silva. "I could not imagine doing the trip on our own, driving around with my two daughters directing me on Google Maps, researching which restaurants we're supposed to eat at that night and trying to figure out exactly what we were supposed to know about the geothermal activity in Yellowstone. Instead, our Travel Director told us about all the highlights of the day, and we met with local experts everywhere we went, so my kids got a much deeper understanding of the culture and destination."
The nature of a guided vacation also allows travelers to focus on what's really important—the travel experience and each other—without being distracted by planning and travel details, which are seamlessly incorporated into a guided vacation. Da Silva, for example, says, "It allowed connectivity because I didn't have to stress out about anything at all. At the end of that trip, even though we were traveling from one place to the next for eight days, I don't think I've ever come away feeling so refreshed or connected to my family."
In addition to allowing family members to focus on each other and learn about what makes the destination unique, guided vacations also allow clients to connect with like-minded travelers who are seeking similar experiences.
"On the first day of our trip, my daughter made friends with a young girl from Australia, and they became inseparable, sitting on the coach together every day and eating dinner together at night," says da Silva. "And it's not just kids who make connections. Many different family units become friends with other families. That doesn't happen when you're traveling on your own, and I think people crave these connections."
Great Experiences at Great Value
With guided vacations, it's not just about the great experiences that clients will enjoy while traveling, but also about the great value of this travel style. Because packages are negotiated in bulk, guided operators have the buying power to secure powerful deals. Additionally, many of the unique experiences guided vacations have become known for are not available to the public, like after-hours access to Graceland, Elvis Presley's famed home in Memphis, Tennessee. With exclusive access to experiences like these, value extends beyond the price tag.
Rene Schneeberger, manager of travel marketing and operations for AAA NCNU in California thinks guided vacations are so appealing to a wide range of travelers because they provide the perfect mix of best experience and best value. "There is a cost benefit to the client, as many guided vacations are 25 to 30 percent less expensive than an FIT at the end of the day," he notes. "And the benefits to the agents are many. Most importantly, all of our partners have really put a lot of effort into quality assurance and customer service, making sure that what they've promised in the catalogues and on their itineraries is delivered to the highest quality standards. And that's paid off for us."
The range of possible experiences and destinations means that guided vacations offer just the right experience for any kind of traveler interests and a wide range of demographics—opening up the sales potential to many different kinds of travelers.
"Guided vacations are great for singles since you have the security of traveling in a group. They are also great for girlfriend getaways and for anyone who wants to do a two- to three-night stay in a city," says Nicole Mazza, chief marketing officer of a travel agency. "I can think of every demographic and find a great guided vacation for them."
According to Schneeberger, there is rarely a circumstance in which a traveler needs an FIT program. "I personally believe that a guided vacation is for everyone," says Schneeberger. "If I look at my top sales agents, the conversation they have with a client almost always begins with an FIT program but ends with a guided vacation that meets all of the client's needs."