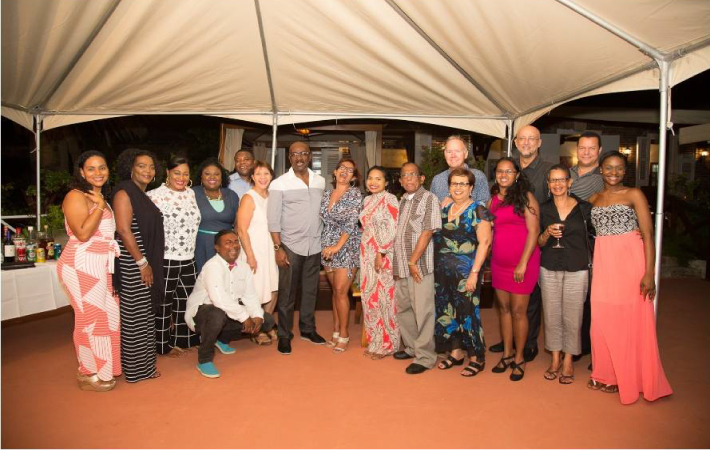 Minister of Culture, the Hon. E.P Chet Greene, Chairman of the ABTA Richard Skerritt, Marketing Consultant at the ABTA with responsibility for the Caribbean Market, Charmaine Spencer, Raynel Carroll of the ABTA FAM and Press Team, Compliance and Accommodations Officer within the Ministry of Tourism, Dulcie-Looby Greene, and Paul Deeth of Admiral's Inn were photographed with the group.
October 25, 2017 (St. John's, Antigua) - The Antigua and Barbuda Tourism Authority (ABTA) recently concluded a regional Familiarization Trip (FAM) to the destination for leading Caribbean tour operators, travel agents, airlines, and hotel operators that sell intra-regional travel. The agents were predominantly from Trinidad and Tobago and Barbados, two key strategic regional markets for Antigua and Barbuda.
The Caribbean agents were invited to 'Re-discover' Antigua and Barbuda, to re-introduce them to the Antigua and Barbuda tourism product. The visiting Caribbean travel trade were treated to both land and marine based excursions, including a tour of the world-famous Nelson's Dockyard, now the latest UNESCO World Heritage Site. They thoroughly enjoyed their Antiguan experience, which also involved visits to various categories of accommodations, including both large and small hotels, which provided them with 'more variety of product to sell'.
The group was also introduced to the Minister of Sports, Trade, Industry, Commerce, Culture and National Festivals, the Honourable E.P Chet Greene and Chairman of the Board for the Antigua and Barbuda Tourism Authority, Richard 'Ricky' Skerritt who co-hosted a reception for the visitors last Saturday evening at the historic 'Admiral's Inn'.
The four-day welcome programme for the twelve tour operators and travel agents was coordinated by Charmaine Spencer, Marketing Consultant at the Tourism Authority with responsibility for the Caribbean Market, in conjunction with local host properties, Elite Islands Resorts.
Spencer noted, "This FAM trip was the culmination of the Antigua and Barbuda Tourism Authority's fostering of business development with the travel trade in Trinidad and Tobago, as we continue to promote the best of Antigua and Barbuda's special events to visitors from that country, as well as the wider region, to grow our share of the Caribbean intra-regional travel market."
A joint Antigua and Barbuda Tourism Authority and Ministry of Culture and National Festivals delegation, led by Minister Greene, visited Trinidad earlier in June, as a part of promotions leading up to Antigua's 60th Anniversary of Carnival. During the visit, the ABTA engaged Caribbean Airlines, major travel agents and tour operators, the Trinidad Carnival Fraternity, as well as, the Trinidad media.
Regional carrier, Caribbean Airlines (CAL) also partnered with the ABTA on the recent FAM trip and while in Antigua CAL Sales officials discussed airlift routes and scheduling possibilities from Trinidad and Tobago and other markets which could bring about further tourism growth from the region in 2018.