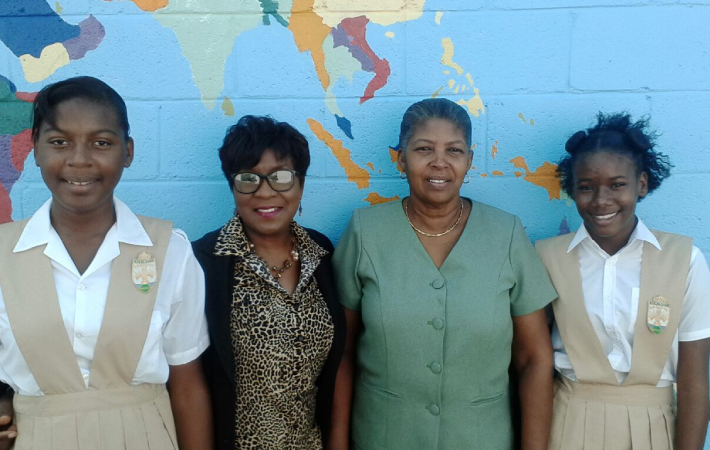 Going Places Travel, member company of Sun Group Inc., Barbados is giving back to the community of Barbuda with a donation of XCD$10,000.
Going Places Travel continues to demonstrate its commitment to the people of Antigua and Barbuda, by assisting students who were evacuated to Antigua from the hurricane-ravaged island of Barbuda. Five students were granted scholarships to the Christ the King High School, the lone Catholic Girls High School on the island. Students were assisted with uniforms, school supplies, text books, school shoes and backpacks. Assistance will be ongoing to the displaced children of Barbuda with emphasis on their educational needs.
Chief Operating Officer of Going Places Travel Danielle St. John shared that the company was pleased to contribute. She commented, "We were saddened by the news of the devastation in Barbuda caused by Hurricane Irma. Here at Going Places Travel we are committed to supporting hurricane relief efforts in Caribbean territories. The fact that this donation will be focused on areas of education is not only in line with our existing corporate social responsibility efforts which seek to support education, but is also an integral part of supporting Barbuda students in achieving a sense of normalcy in their lives following the devastation caused by Irma."
Going Places Travel is the Caribbean's leading travel management company offering clients cutting edge technology coupled with service that is second to none. With 28 offices in 8 countries including the USA, they have the distinction of being the largest travel agency group in the Caribbean. As a member of the elite Virtuoso network, they benefit from global connections and clients receive exclusive amenities from select Virtuoso travel partners. Today, Going Places Travel has a team of over 160 travel professionals dedicated to making your travel dreams become a reality. Contact their reservations team at www.goingplacestravel.com.
Sun Group Inc., an amalgamation of companies formerly branded Caribbean World Travel Services, is headquartered in Barbados and operates 51 offices in 11 countries, employing over 700 people. The Group is chaired by Bernard Weatherhead. Originally established in 1982, the Sun Group encompasses operations in hotels, retail travel, land and sea adventures, duty free retail, vehicle rentals, ground transportation, destination management, villa rental, convenience shopping and general insurance services.