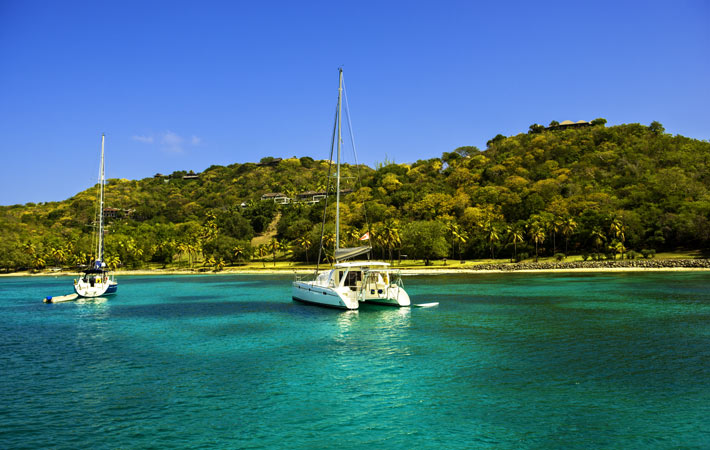 Every year visitors flock to the Caribbean from across the globe to experience their slice of paradise. We've therefore selected a few of our favourites for you to explore!
St. Lucia
Located in the Eastern Caribbean, St. Lucia will mesmerize you with its beauty, friendly people and range of attractions. It offers some of the finest accommodations with a range of all-inclusive resorts and luxury hotels. For the traveller on a budget, you can also find numerous hotels, guest houses and bed and breakfasts, with views overlooking the Caribbean Sea. A great option is Bel Jou located in St. Lucia's capital city, Castries. It boasts of stunning views from its setting atop a steep hill.
St. Vincent and the Grenadines
The island of St. Vincent with its warm tropical climate, sandy beaches and calm waters is sure to surpass your holiday expectations. The Grenadines is a chain of 32 islands that make up St. Vincent and the Grenadines. Eight of these small islands are inhabited. The Grenadines dazzles vacationers with amazing inns and resorts, fine white-sand beaches, excellent sailing waters, and an atmosphere that gives a 'get-away-from-it-all' feeling.
Cuba
Feed your desire for vibrant, rich culture with a thrilling holiday in Cuba. With stunning architectural masterpieces, classic cars lining the streets and an open and friendly people, Cuba has a distinctive feel that you won't find anywhere else. Did we mention the beaches? A great option for beach loving travellers is Playa Sirena on the tiny islet Cayo Largo in the south as it features several water activities for visitors. This is definitely a Caribbean destination that should be on every traveller's bucket list!
Grenada
If your idea of a grand vacation is relaxing on one of the world's most beautiful beaches, then you're in for a treat when you travel to Grenada. This beach is Grand Anse Beach. It's one that routinely gets listed as one of the top ten beaches in the world. At three kilometers long, there's plenty of room for everyone to rest, relax, and take in the sights, sounds and scents of Grenada. It's an island that's known for its laid back culture, so be prepared for a hassle-free vacation!
Barbados
Eat your heart out this holiday. Barbados is renowned for its culinary delights; from sumptuous fine cuisine restaurants to off-the-beaten track watering holes, there's a treat for every palate. Enjoy an authentic 'Bajan' dining experience at the weekly sizzling Friday-night Oistins Fish Fry, or perhaps a steaming plate of Pudding & Souse on Saturday afternoon. If you prefer your dinner with a view, the island's picturesque West Coast seashores are sprinkled with fine-dining eateries serving up gastronomic fare from fresh seafood to Italian delicacies. For a tiny island of 166 square miles, Barbados packs a delicious punch.
Contact us today! Visit our Advisor Catalogue and select an Advisor in your area here.