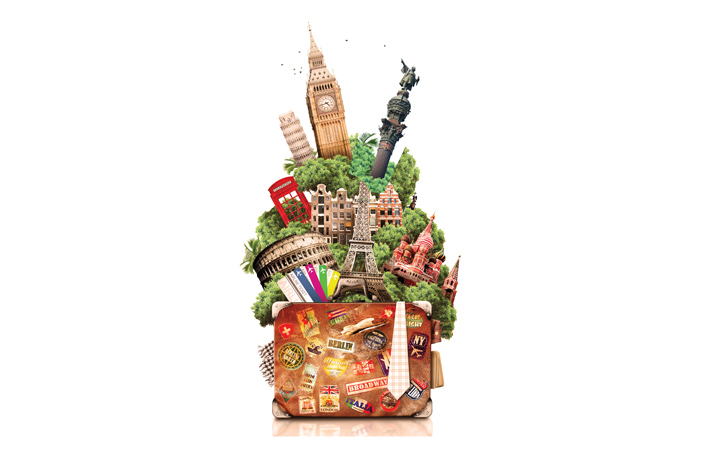 Travel to Europe and explore its dazzling destinations. A 'Euro-Trip' should include the most popular and exciting cities, the must-see sights, tasty meals, picturesque scenery, a mix of culture & history, and just plain fun.
We've gone ahead and selected a traditional European tour, where you'll experience all of this and much more. You'll stay overnight in London, Brussels, Amsterdam, the Rhineland, Lucerne, Munich, Vienna, Venice, Rome, Florence, Nice, at the French Riviera, Lyon, and Paris. On guided sightseeing tours, you'll visit the must-see sights—including those that will delight history fans—such as London's St. Paul's Cathedral, dating to the 7th century; Lucerne's Chapel Bridge, originally built in the 14th century as part of the city's fortications; Vienna's St. Stephen's Cathedral, a symbol of Vienna dating to the 12th century; in Rome St. Peter's Square and Basilica, the Sistine Chapel, the Colosseum and Roman Forum, dating back to the 7th century BC; and much more.
On this comprehensive tour of Europe, you'll also enjoy spectacular scenery. You'll take a Rhine Cruise with its scenic countryside, historical castles, and charming villages, and you'll enjoy breathtaking drives along the Italian and French Riviera.
You'll sit back and relax as you drive through the most attractive parts of Austria to Italy, as well as past the Burgundy vineyards and Fontainebleau Forest in France. You'll stand in awe as you experience the fantastic views when you ascend the Eiffel Tower in Paris, and you'll get a different perspective of Amsterdam as you cruise on its canals. You'll also ride the high-speed Eurostar train from London to Brussels.
Going Places Travel also includes special experiences you won't find anywhere else. For example, you'll enjoy a beer at a local café in Brussels, a wine tasting in Rüdesheim, capital of Riesling Wine, and a farewell dinner followed by a Seine Cruise in Paris. All of this and much more await you on this magnificent European vacation!
Some of the highlights:
London:
Guided sightseeing, visit St.Paul's Cathedral and see the Changing of the Guard, if held.
Amsterdam:
Canal cruise; visit a major diamond center.
Rhine Cruise-Rüdeshiem:
Wine tasting and dinner.
Munich:
Orientation drive featuring the Olympic Stadium and a visit to Marienplatz.
Salzburg:
Guided walking tour; visit Mirabell Gardens and Residenz Square.
Vienna:
Guided sightseeing; visit St. Stephen's Cathedral.
Venice:
Private boat ride; guided walking tour; visit St. Mark's Square & Basilica, Doge's Palace and the Bridge of Sighs; glassblower demonstration.
Rome:
Guided sightseeing; visit the Vatican Museums and Sistine Chapel, St. Peter's Square & Basilica, the Colosseum & Roman Forum.
Paris:
Guided sightseeing; ascend the Eiffel Tower; a special farewell dinner at a local restaurant and Seine River cruise.
Contact us today! Visit our Advisor Catalogue and select an Advisor in your area here.