PRESS RELEASE
Country: Barbados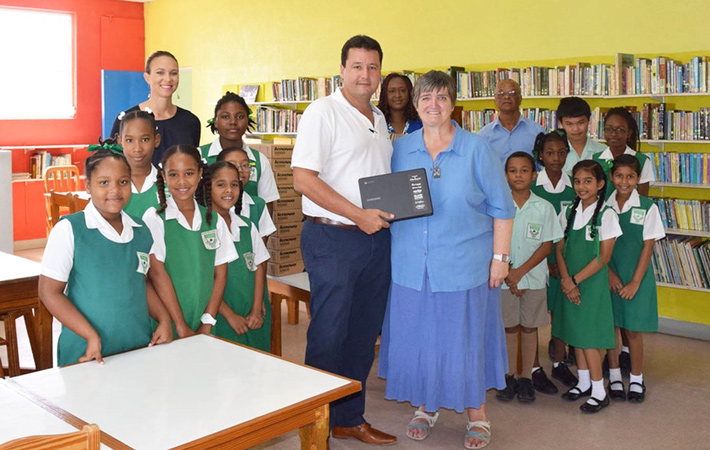 Students of St. Patrick's Roman Catholic School are taking a step up in the digital world thanks to the member companies of Sun Group Inc. and it's donation of 32 laptops, 2 projectors, wireless access points and the companies IT personnel to help the school get the most of the new equipment.
Sun Group Inc. has also worked with Google to bring its full "Google for Education" suite of software for students and teachers to use and will be working with Appleby College in Canada in an exchange of information on best practices with teachers visiting the school locally to present how technology is used at their school.
The computers are a much needed asset to the school's computer lab and will provide students and teachers with additional resources for homework assignments and help them to improve their computer skills they will need to succeed in the future.
Commenting on the donation, Sun Group Inc. Managing Director Alfredo Weatherhead noted, "We are excited about this commitment to St. Patrick's School as we believe classrooms of today need to transform into 21st century learning environments and hope that with our partnership we can help them get there." He added, "Not only are we donating these computers to the school, but our team members will be working with the teachers and other organizations to see how we can help the school use the technology to its fullest potential".
Over the coming months the Sun Group Team will be visiting the school and guiding them in best practices and developing ideas for use in strategies for using the equipment.
"We welcome this donation with great enthusiasm and appreciation. We assure you that these computers will go a long way in enhancing our teachers and students learning capabilities, facilitating further avenues for research and learning in the years to come.", stated Sr. Pauline Dempsey - Headmistress.
The Google for Education Suite will give the school access to tools every student can use in a collaborative environment including Gmail, Docs, Sheets, Forms, Slides, Calendar, Drive, Gmail and the ability for students to learn how to create websites. Teachers will have access to these tools as well as the Classroom program that will allow them to create, share and grade assignments and set homework from one easy point.
Appleby College in Oakville Canada, which has a fully integrated teaching platform for their students, has agreed to visit St. Patrick's and perform a workshop for teachers to see and learn best practices being used in their school and how it can be implemented locally.
Sun Group Inc. headquartered in Barbados is a group of leading companies providing services throughout the Caribbean in the Accommodation, Destination Management, Insurance, Retail, Tours, Transportation and Travel Services industries.
The group is lead by its Chairman and founder Mr. Bernard Weatherhead J.P. and managed by a committed team of professionals who are committed to making a positive difference in the lives of members of the community in which they serve.
Companies under the Sun Group Inc. Group include:
Sun General Insurance
Sun Group Hotels
Going Places Travel
SunTours
Island Safari
Drive-A-Matic Car Rentals
iMart