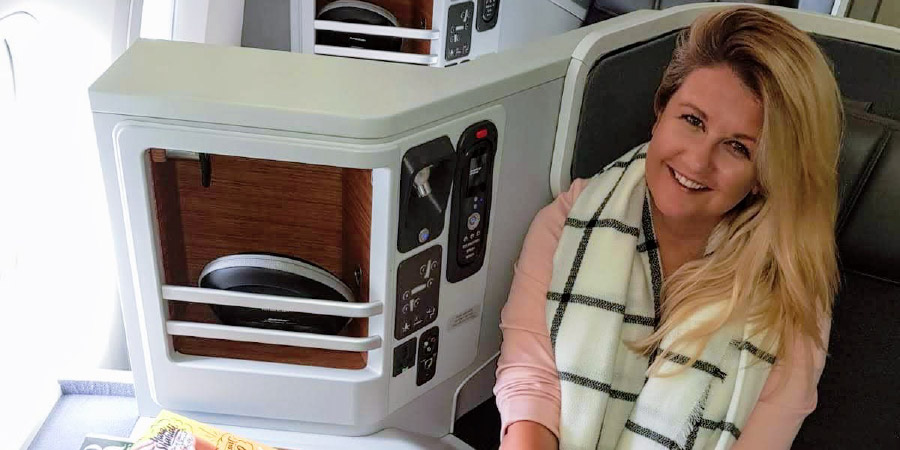 by Malou Morgan of Skip to Malou, a Caribbean lifestyle and sustainable travel blog.
American Airlines recently launched a series of specialized Flagship® Check-in services at major hubs around the world. To date, there are Flagship® Lounges at Chicago O'Hare, London Heathrow, Los Angeles, Miami and New York.
At the end of September 2018, I was lucky enough to be invited by Going Places Travel and American Airlines to experience the new Flagship® Lounge at Miami International Airport and London Heathrow Airport. As a young professional based in Barbados and a hobby travel and lifestyle blogger, I was very excited to experience these services first hand.
The experience started from the moment I downloaded my American Airlines App , which has been flawlessly designed. I was very easy to use and I was able to check in online, track my flight schedule and relax knowing that my digital boarding pass was in the palm of my hand. Conveniently, the daily direct flights from Barbados to Miami only take 4 hours, and can allow for a full day in Miami.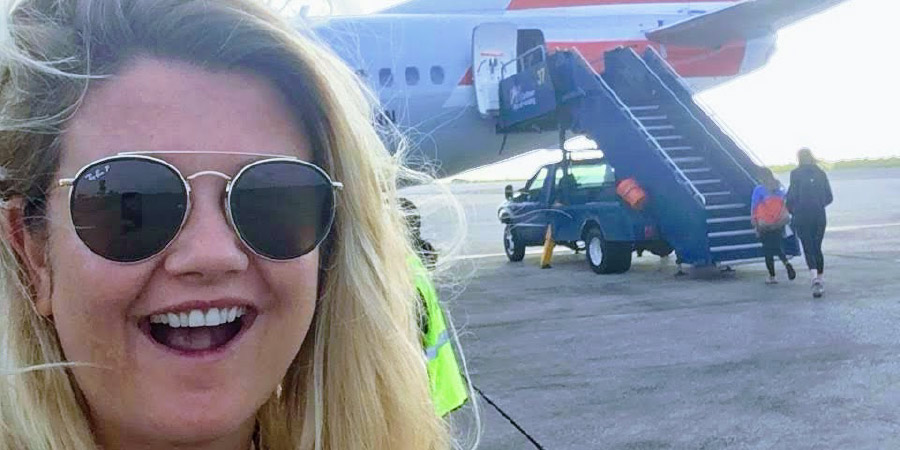 Once we landed in Miami, our host, Cheryl was waiting for us at the gate. Cheryl is one of the top Five Star Service agents and has been with American Airlines for over 30 years. She was very knowledgeable on the brand and proceeded to tell us some of her most interesting stories about working in the airline industry. Cheryl drove us past the crowds to security in a golf cart, then escorted us through security via the Pre Check queue and out to arrivals. We were out of there and ready to head in to Miami in less than 15 minutes, the fastest I had ever experienced. The personalized assistance and service of the American Airlines Five Star Service was second to none.
I then hopped in an Uber and spent a few hours around downtown Miami before returning to the airport to make our connection to London later that afternoon.
We were met by a second Five Star Service host, Pamela, who escorted us though security and accompanied us to the Flagship® Lounge in the North Terminal, Concourse D.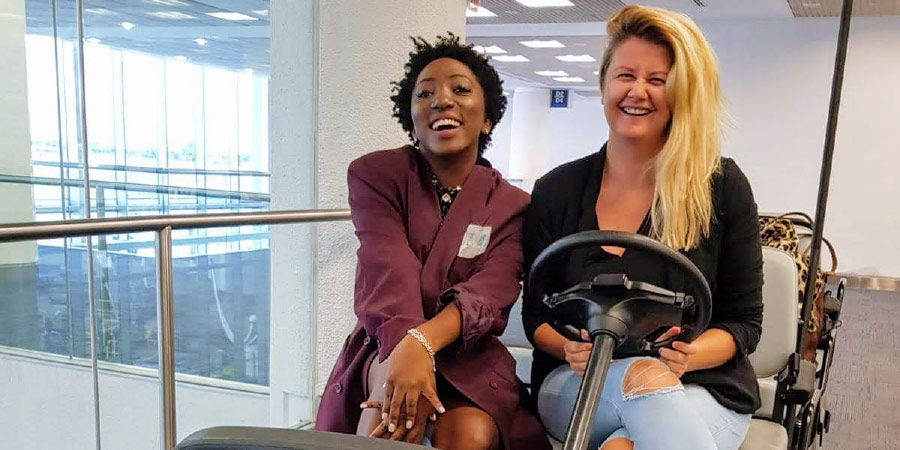 The Flagship Lounge was just launched in Miami at the end of 2017. The Five Star Service made the first leg of our journey a breeze, and I can't wait to use this service again during the busy seasons, or when I know that I am short on time and need to make my layover experience as easy as possible.
Reservations for the Five Star Service can be made online and must be made at least 24 hours in advance for U.S. locations and 48 hours for international.
Initially, when Flagship ® First Check-In opened, it was only open to international and transcontinental first class, ConciergeKey, and Five Star Service Customers. Since 2017 however, AAdvantage Executive Platinum members can also access this lounge on qualifying international routes and oneworld Emerald members, who get their status from any other airline other than American, can access it on any American flight.
Flagship Lounge
What immediately struck me about the new American Airlines' Flagship ® Lounge at Miami International was that this was an experience curated to cater to every kind of travelling professional and no detail was overlooked.
Whether its a hurried executive who needs to find a private space to take a call, an international business professional who needs a tranquil space to relax and freshen up while in transit, or a CEO who would like to enjoy a world class meal before a long flight, the Flagship Lounge and Flagship First Dining were designed with all of this in mind.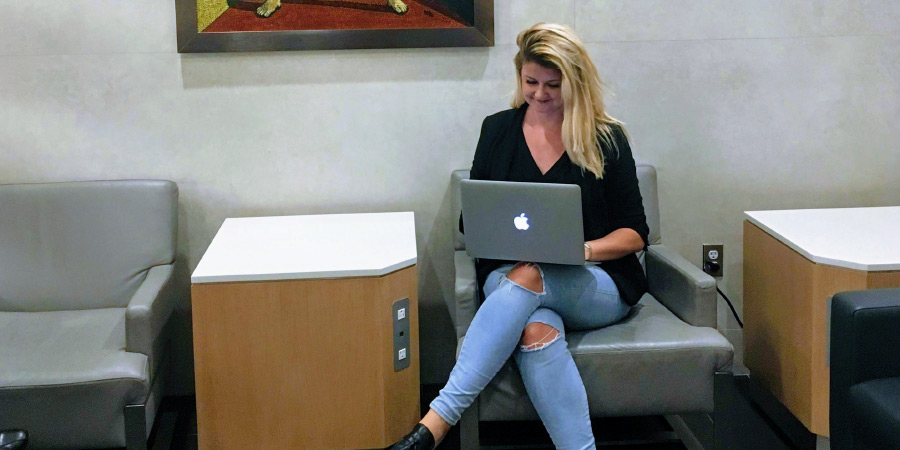 Each area is uniquely designed for a specific purpose:
The TV room is tucked away with ample seating and international programming.
The business area overlooks the runaway and has every amenity you could need to continue 'business as usual' while in the lounge (Printers, desktop computers, stable, hi-speed internet connection)
The self serve cocktail bar is stocked with every ingredient you can imagine to mix your poison of choice and the wine bar is carefully curated with an international selection.
The chef inspired buffet and surrounding seating area was divine, with a wide range of dishes and snacks to choice from, even catering to various dietary restrictions.
On a personal note, one of my favourite features of the Flagship Lounge was the beautiful 180 degree view over the runway - it reminded me of the viewing gallery that we used to have at the old Grantley Adams International Airport in Barbados. Not only does this make for some great photo opportunities, but plane watching is often far more relaxing than people watching when travelling.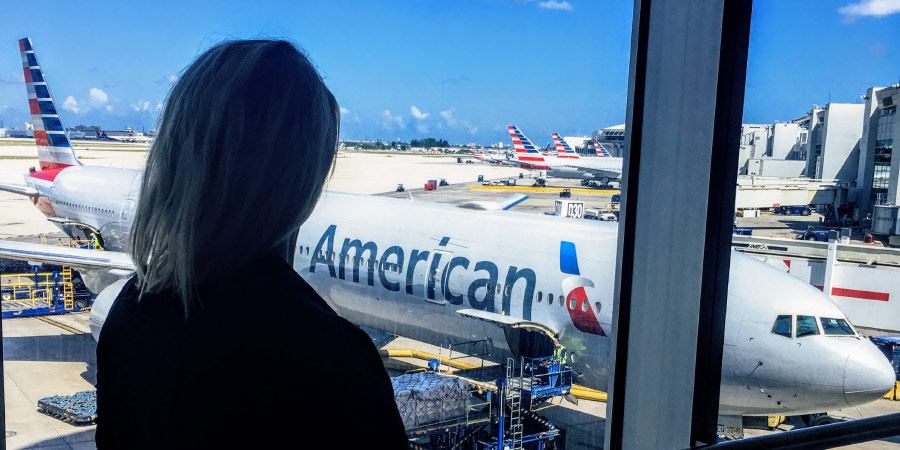 Flagship First Dining
Our host, American Airlines Channel Sales Manager Rafael Despradel, pulled out all of the stops for us to ensure that we had the ultimate Flagship First experience, and the Flagship First Dining was the cherry on top.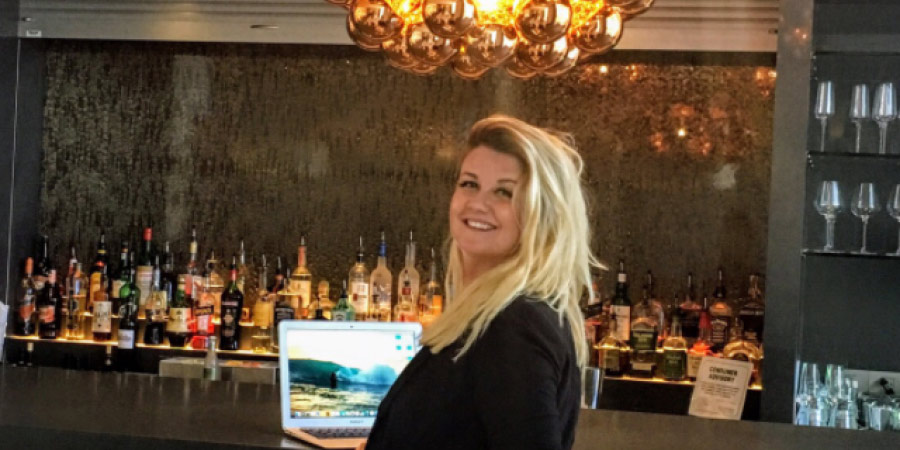 Flagship First Dining is a complementary experience available to First Flagship passengers. The restaurant features a luxury dining experience, with seasonal, locally sourced ingredients, exclusive handcrafted cocktails, signature wines and craft beers.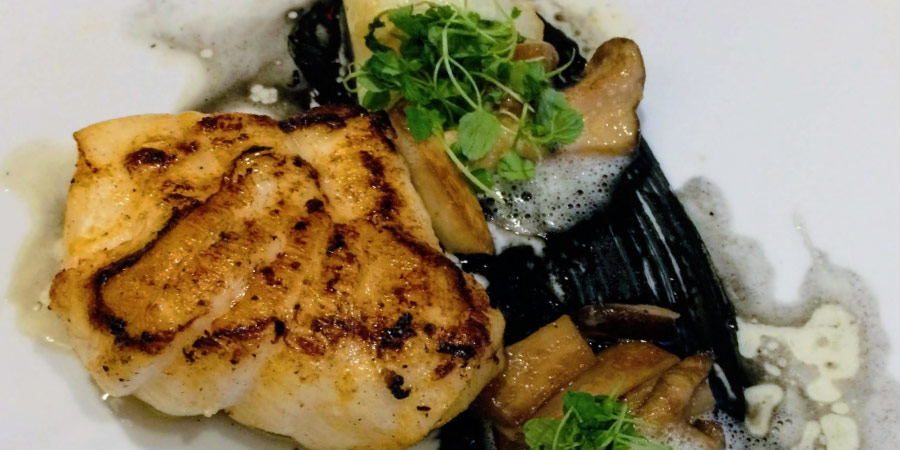 I started my meal with Cuban inspired snapper fritters, which were complimented with a puttanesca sauce, paired with a crisp sauvignon blanc.
Though it was recommended that I try the signature Flagship Burger, I opted for a Chilean Sea Bass dish, with fresh wild mushrooms, a miso butter foam and white asparagus, freshly prepared and perfectly cooked. The ambiance and service inspired a feeling of being in a fine dining restaurant. Though I was tempted to order everything on the menu, I had to keep in mind that a delicious dinner was awaiting me on the overnight flight from Miami to London.
The Flagship First Business in-flight experience
Once we finished our meal, we then exited the Flagship Lounge and proceeded to our gate for our flight to London. We were given priority boarding about 20 minutes before the scheduled boarding time so that we could take some photos of the cabin before fellow passengers started to board.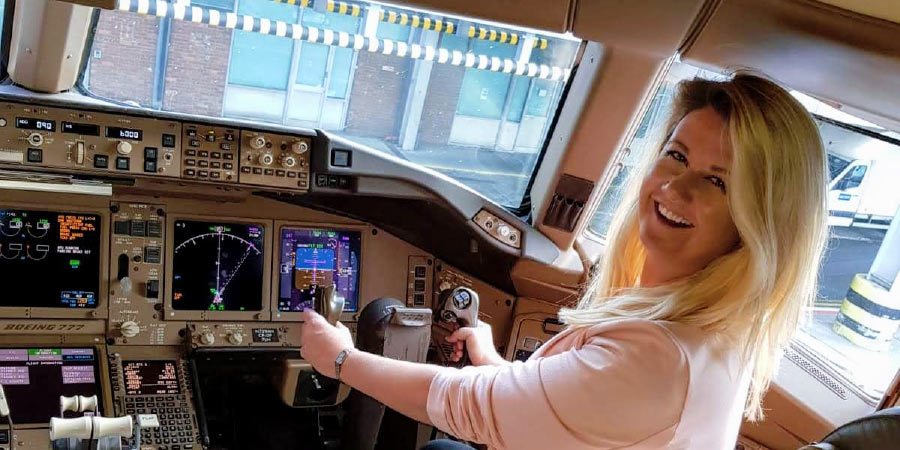 The Cabin crew were all very accommodating from the moment we entered the state-of-the-art Boeing 777-300ER; we were introduced to the Captain and shown around the cockpit, a novel experience I had not enjoyed since I was a child. Once we had taken some photos and video footage, we were shown to our seats in the Flagship Business cabin and began to settle in.
Each seat has direct aisle access, a fully lie-flat seat and sizable space to work during the flight. I loved the amenity kits provided, which were designed by Cole Haan and featured heavenly scented C.O Bigelow skin care products. The soft pillows and blankets provided were designed exclusively for American Airlines by Casper, and my cabin manager was kind enough to surprise me with an additional set of Casper pajamas, usually reserved for Flagship First passengers. This attention to care and detail is what made the entire Flagship First experience. It's no wonder that American was named Best Airline of the Year to the Caribbean in the 2017 and 2018 Caribbean World magazine Travel and Living Awards.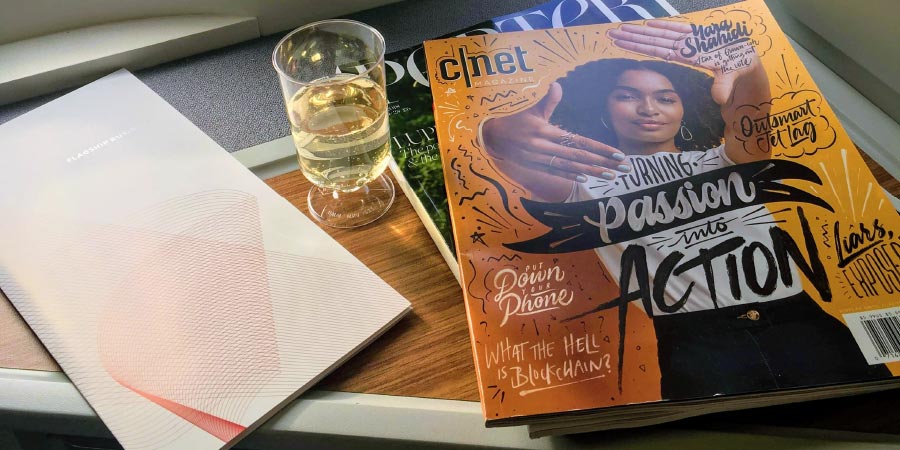 The seating was very comfortable and spacious, and I immediately put on my complimentary Bose Soundproof headphones, whipped out my laptop, plugged my computer in to my power outlet, and started to catch up on some work. As soon the plane is airborne, a strong Wifi connection is available, and this can be purchased in hourly increments or for the entire duration of the flight.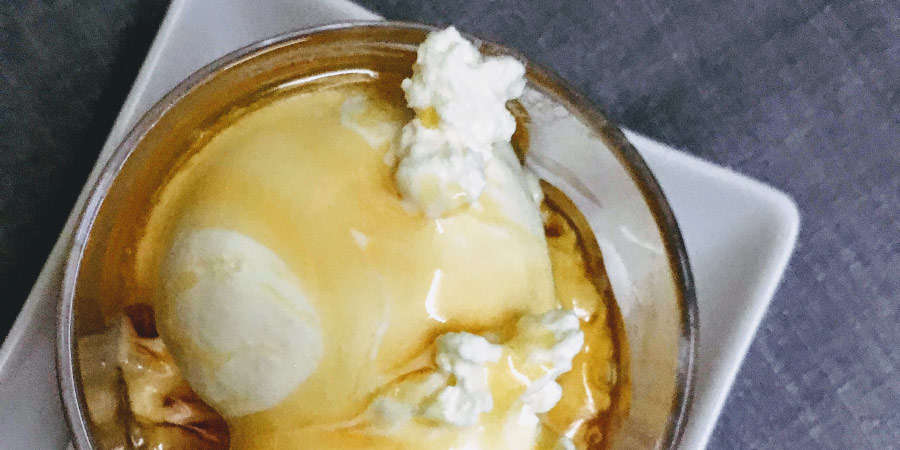 The drinks and snacks selection on this flight was also impressive, and I was well taken care of by the friendly and attentive cabin crew members. I was first offered a glass of prosecco, followed by a snack, and then dinner - which I had pre ordered when I first boarded. Dinner was a light salad, followed by a delicious pesto pasta and the classic American Airlines ice cream sundae. After dinner, I changed in to my pajamas, fully extended the bed, wrapped myself up in my blanket like a burrito, and proceeded to sleep very soundly for the next 5 hours.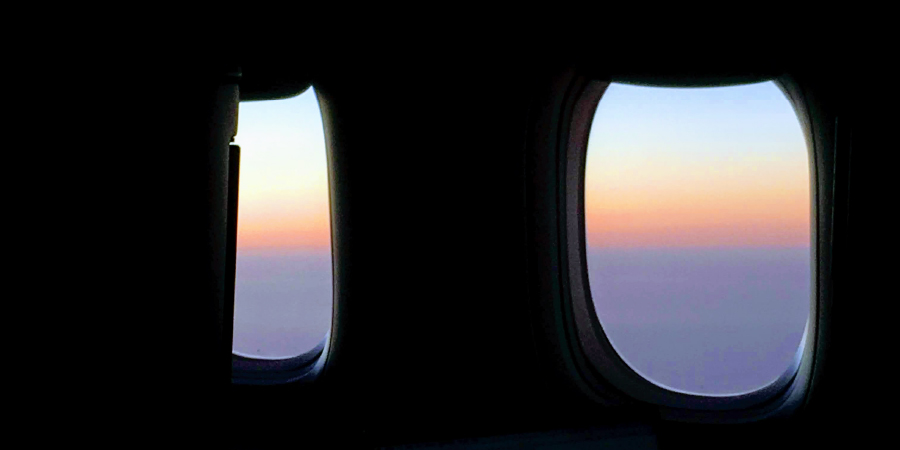 I woke up about 1.5 hours before we landed, and managed to get a peak of the sunrise as we flew in to London. I skipped breakfast, but opted for a coffee before getting ready for landing. Overall, the inflight experience was very pleasant and comfortable, and I landed in London feeling very refreshed, ready to take on a full day in the Big Smoke.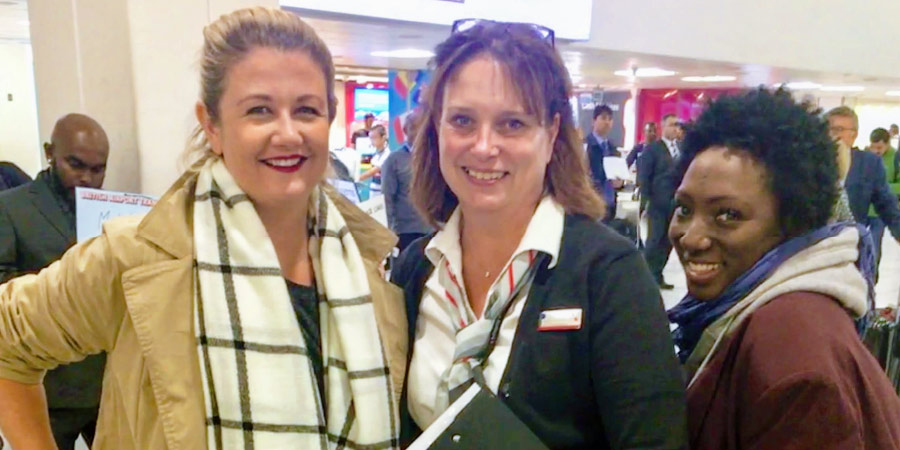 On disembarking the aircraft, we were met by American Airlines Five Star Service Rachel, who breezily escorted us through Arrivals, security and our baggage claim while also sharing tips on the best places to check out in London. We were cleared within no time at all, and ready to tackle the day ahead. One of the great advantages of flying to London with American Airlines is landing at London-Heathrow, as opposed to the much further afield Gatwick airport.
London to Miami
On our return leg to Miami a few days later, we checked in at the Flagship First Check in located in Terminal 5 at Heathrow Airport. Having this private area to check in makes everything much easier, knowing that there is an entire team on hand to ensure that everything runs smoothly. After checking in and securing our preferred seating, we were escorted by Vanita through security and onto the Admiral's Club, located beyond Passport Control in lounge area H. Conveniently, you can peruse the shops before relaxing in the lounge.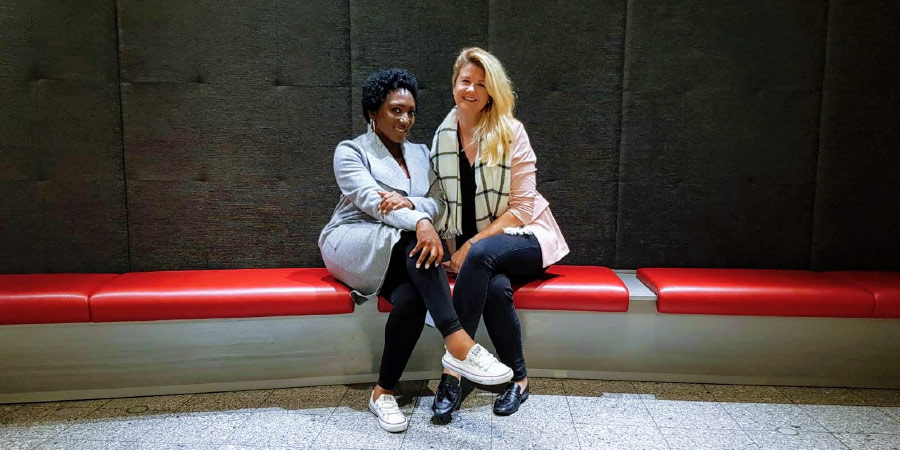 The Admiral's Lounge and First Class Lounge are next to each other and both lounges are nicely designed, with a more traditional touch than the Flagship Lounge in Miami.
We had a brief tour of the Admiral's Lounge and the First Class Lounge before settling down for some breakfast before our flight. There are various seating areas and nooks that offer privacy, as well as a children's room and shared bathroom and shower facilities. Since we were there early in the morning, there were two breakfast options at the First Class Lounge. The buffet offer a great selection of self serve dishes, from invigorating wheatgrass shots, fresh fruit and scrambled eggs to bagels and local jams and spreads. We opted for the sit down, a la carte dining experience and I enjoyed a cappuccino and poached eggs with Scottish salmon, while reading one of the many magazines that are available in both lounges.
Before we left the lounge, I treated myself to a self serve "pick and mix" paper bag of candy from the self serve candy bar, which was stocked with chocolates, cookies, cupcakes and traditional British toffee.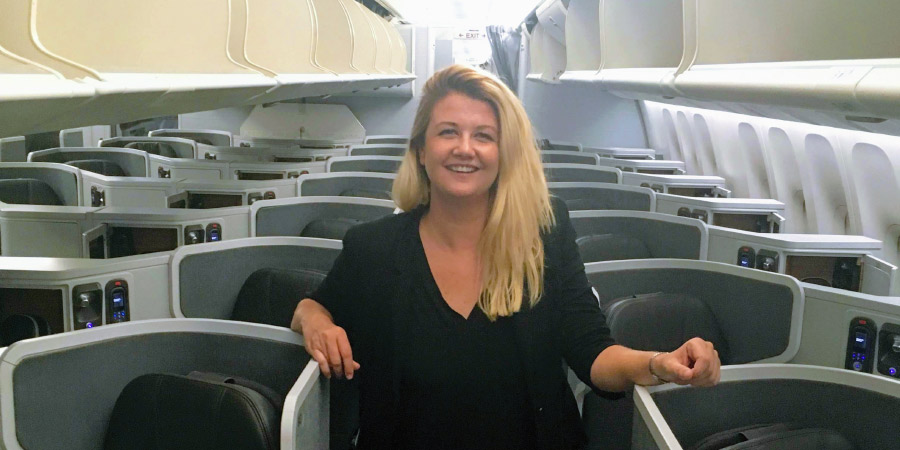 Before we knew it, we were boarded and on our way back to Miami for a stopover, before our final leg back to Barbados. The return flight to Miami was just as comfortable, if not more enjoyable, as I stayed awake for the entirety of the flight and was therefore able to enjoy the latest movies available. Lunch was smoked chicken with salad, followed by a vegetarian pasta with fresh parmesan.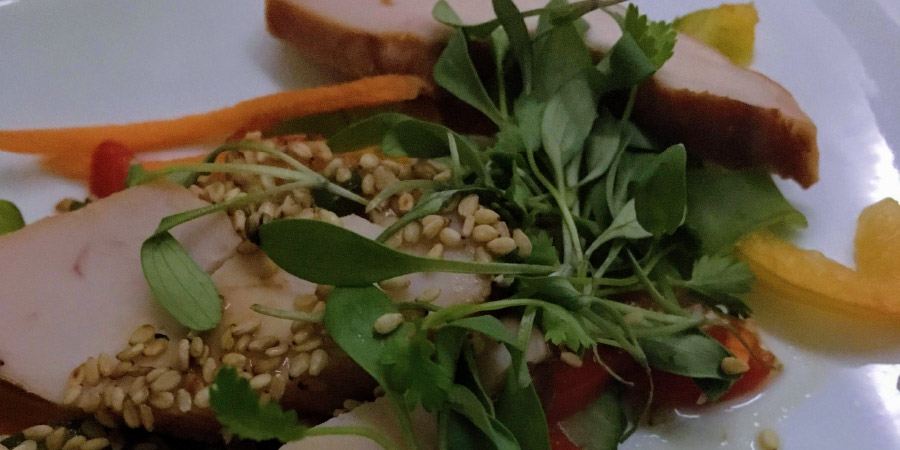 When I arrived in Miami, was I made my way to the Flagship Lounge and spent the afternoon before my final flight to Barbados. I was grateful for the pause before heading home; I was able to freshen up with a shower, enjoy a beer and some food from the buffet, while catching up on some work. By the time my flight was ready to board, I was so relaxed that I was tempted to skip this flight just so that I could spend more time in the Lounge, but then reasoning got the better of me.
---
American Airlines and Environmental Sustainability
As a travel blogger who is passionate about sustainability and my impact on the environment, it was really important to me that I familiarised myself with the Corporate Social Responsibility initiatives of American Airlines and learn how they are proactively addressing environmental imperatives and the ways in which the company is operating more sustainably. Contrary to that, I live on a small island, and I often have no choice but to fly to get anywhere, so I use carbon offsetting programmes to try to offset my environmental impact as much as possible.
There were a number of key points about this experience that I would like to highlight, and I am also referencing American Airlines 2017 Corporate Responsibility Report:
American Airlines retired over 600+ older, inefficient aircraft models and replaced them with more fuel-efficient upgrades, burning less fuel, reducing emissions and cutting energy costs. American Airlines is also supportive of ambitious targets set by the International Civil Aviation Organization (ICAO) to mitigate greenhouse gas emissions (GHG) from air transportation. These include an average improvement in fuel efficiency of 1.5 percent per year from 2009 to 2020; carbon-neutral growth from 2020 and beyond (known as the Carbon Offsetting and Reduction Scheme for International Aviation or CORSIA); and a 50 percent reduction of net aviation CO2 emissions by 2050.
The noticeable lack of single use plastic items in the entire lounge and throughout the flight was impressive. American also recycles paper and plastic as part of its inflight-recycling program. American's flight attendants kicked off the airline industry's first onboard recycling program in 1989. Today, their program generates about 400,000 pounds of aluminum cans annually as well as considerable amounts of plastic and paper. All proceeds from this inflight recycling program go to The Wings Foundation, a charitable organization administered by active American Airlines flight attendants to assist fellow flight attendants in critical need of financial assistance due to illness, injury, disability or catastrophic event. Stations have also implemented initiatives to recycle various items, such as cardboard, shrink-wrap, metals, used oil and pallets.
As part of a continuous fleet modernization process, American responsibly manage the removal of older aircraft from service in a safe and environmentally conscious way. Serviceable aircrafts are leased or sold to independent airlines, training schools and corporations. The remaining aircraft that are not airworthy are sold for parts or recycled.
For further details, you can read the full 2017 Corporate Responsibility Report.