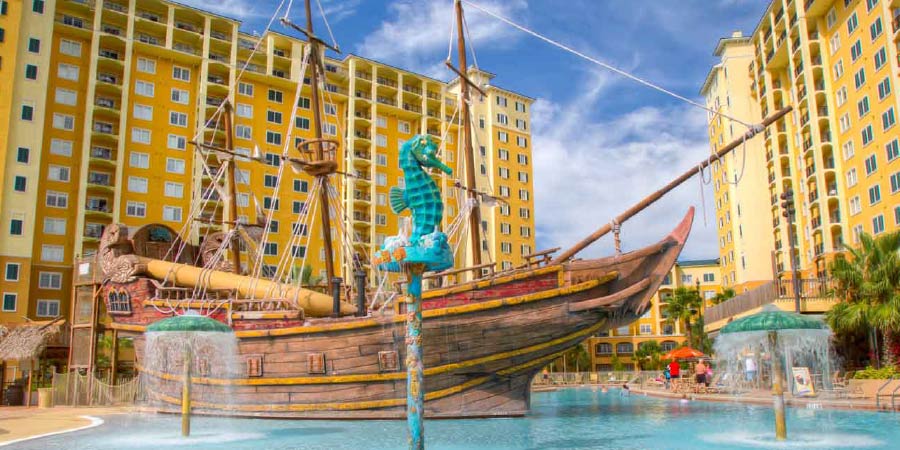 By Sasha Bryan, Travel Advisor
Hotel Location and Surrounding Areas
Lake Buena Vista Resort Village & Spa is the ideal "home away from home" type of accommodation when staying in Orlando. The property is strategically located in the midst of everything. It is a footstep away from Lake Buena Vista Factory Stores Outlet, which houses major brand-named stores such as Aeropostale, Carters, Tommy Hilfiger, Gap, Old Navy, Nike and many others. There are also plenty dining options, along with large grocery stores, convenience stores and department stores, including Walmart and Publix, within a 15-minute walking distance from the resort. Approximately 20 minutes away is the busy commercial area, International Drive, which is known to be the home of the city's big conventional centers, along with plenty restaurants, hotels, shops and entertainment. It must be emphasized that this property is approximately 20-30 minutes away from Orlando International Airport. The property does not offer any complimentary airport shuttle service, however, they can arrange a taxi/shuttle, if need be.
Lake Buena Vista Resort Village & Spa prides itself on being a "Walt Disney World Good Neighbor Hotel". Perfectly located within a 10-15 minutes' drive from Disney World, guests can take advantage of the resort's complimentary scheduled transportation to and from all four Disney Theme Parks. In addition, there is complimentary transportation to Universal Theme Parks and SeaWorld, which are approximately 15-20 minutes' drive from Lake Buena Vista Resort Village and Spa. Some of the other attractions nearby to the resort are the Holy Land Experience, Crayola Experience, Aquatica Orlando, Coco-Cola Orlando Eye, Ripley's Believe It or Not and Wonder Works Orlando. The convenient location to all the fun parks and attractions make Lake Buena Vista Resort Village & Spa the ideal choice for guests to stay when planning a fun filled, vacation.
Accommodation
Every room at Lake Buena Vista Resort is comfortably designed to make guests feel relaxed and at home whilst on their vacation. The rooms are noticeably spacious, condominium styled suites well-suited for families seeking comfort after long days at the theme parks or out shopping. The suites' decor reflects contemporary Florida resort style, with modern furnishings and subtle colours to give guests a feeling of relaxation. The resort has approximately 498 rooms spread amongst five buildings, those being a mixture of one, two and three-bedroom suites, three-bedroom and three-bathroom suites, four-bedroom and four-bathroom suites and four bedroom and four-bathroom presidential suites. Each suite has its own private balcony.
Having the opportunity to stay in a four bedroom/four-bathroom suite, it must be highlighted that this type of room category is the quintessential suite for large families, bridal party groups, retreat groups, corporate travelers or just large groups travelling together for whatever reason. This type of suite can accommodate up to 14 people. It has two master suite rooms on each end, with a king bed and a large jacuzzi, along with an on-suite bathroom and shower. The third and fourth rooms are equipped with 2 full sized beds in each, with a bathroom, bathtub and shower adjacent to it. The four-bedroom/four-bathroom suite has a full-sized living room and dining area that can seat up to 10 people, a fully equipped kitchenette with all the appliances, cutlery and crockery along with a wet bar on the opposite side. The benefit of this type of room is that it allows for large groups to spend time together in one space, but still allows persons to have privacy.
The two and three-bedroom suites are slightly different to the aforementioned. The two-bedroom suite has one master suite with a king bed, a jacuzzi and an on-suite bathroom, while the second room has two full sized beds and a bathroom just outside of it. The three-bedroom suite is similar to the two-bedroom suite, just that it has 1 room with two full sized beds and the other room with 1 king bed, along with the master bedroom. All suites have a full kitchenette. These rooms can accommodate between 8-10 people, however, they differ from the four bedroom/four-bathroom suites with respect to spaciousness and privacy, since these suites are much smaller. Also, each suite is equipped with a washer/dryer, full size oven and stove top, as well as a refrigerator and microwave.
It must be emphasized that Lake Buena Vista Resort has structured their suites to accommodate long stays and repeat visits, hence guests have the opportunity to enroll in their timeshare program.
Hotel Amenities and Facilities
At Lake Buena Vista Resort Village & Spa guests can be sure to find a wide selection of amenities suited for just about every guest to enjoy. The resort has two heated pools: an incredible outdoor themed "Pirate" plunged pool with a Pirate ship, slide and splash fountains, ideal to keep the kids entertained for hours, and a relaxation pool for those seeking peace and tranquility while at the resort. There are also four outdoor jacuzzis and a large sundeck with poolside hammocks and loungers available. Guests staying on property can also take advantage of the resort's game room and enroll their kids in the resort's seasonal staySky kids club. For those looking to keep fit while on vacation, there is a 24-hour fitness centre, equipped with the latest gym equipment to help guests stay in shape. There is a convenience store and gift shop across from the lobby area and a meeting room which can house up to 50 people for small meetings and conventions. The property offers free WiFi and multi-level self-parking for guests and residents.
To emphasize relaxation while on vacation, Lake Buena Vista Resort offers a full-service spa on property called Stay Reflections Spa & Salon. This spa is not only offered to guests and residences of the resort, but it is also available to the wider public. The Stay Reflections Spa & Salon offers a wide variety of services to please clients, even kids. From massages to nail care treatments, facials, body treatments, hair care and makeovers, clients can indulge in some personal time to recover from those long, fast-paced days at the theme parks or even those busy days out attending meetings and conventions. It must be highlighted that the spa offers beauty services for small children, where they can receive "Princess" and "Pirate" makeovers. They also offer couple massages, in treatment rooms which have large jacuzzi tubs and a balcony, ideal for couples seeking relaxation, intimacy and privacy.
Additionally, there are a few dining options to choose from at Lake Buena Vista Resort & Spa. Dining options include Pizza Hut Express Café and Frankie's Farrell's Irish Pub & Grille, which are located opposite the resort's lobby and both offer room service. Frankie's Farrell's Irish Pub & Grille is a sports themed atmosphere open for lunch and dinner, serving an authentic Irish and American styled food menu, with a wide selection of beers, sodas and spirits to choose from. They also have a small area with arcade games, suited for kids to play before their meal is served. In addition to these two dining options, the resort has a poolside snack and beverage bar called Lani's Luau Tiki Bar, which has a tiki hut design, and serves breakfast items, snacks and drinks all day.
Interested in staying in Orlando and/or visiting Walt Disney World?
Come in to any one of our offices or give us a call at