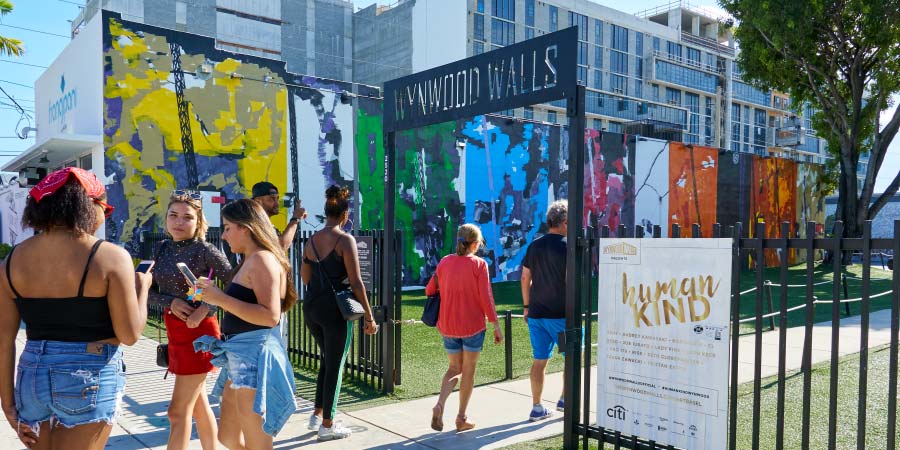 By Camille Wiltshire
Exploring Miami
Wynwood Walls
Wynwood Walls is about six miles away from the Miami International Airport and took us about 15 minutes to get there. If you're driving, you may have to pay for parking and we found that the Pay-by-Phone app was invaluable in helping to make this easier.
Wynwood Walls can be described as an outdoor mural exhibition which is free for all to walk through, take in the impressive art and snap some very Instagram-worthy images. To get to the square with the most murals, look for Panther cafe. There you will find breathtaking street graffiti on every available wall in the area.
There are also murals in other parts of Wynwood, and of special note is the drawing of the Z logo which represents the Zander Venezia Trust, which was done by a Barbadian artist. If you are a talented graffiti artist with aspirations to have your work displayed, then you must vy with thousands of other talented artists as it is a great achievement to have artwork displayed there.
All in all Wynwood Walls is definitely a must-see for anyone going to Miami and more cities around the world should adopt this free, outdoor, exhibition-style concept as it has rejuvenated the area in a positive way.
South Beach and the Art Deco style of the 1950's
South Beach is located in the Miami Beach area and requires you to leave the mainland and take the I-95 Highway to South Beach. On this trip you will pass by the Port of Miami and see the large cruise ships in harbour, some of which have made this port their home base.
South Beach is known for the Art Deco style that can be found in the Art Deco Historic District, particularly in Ocean Drive and Collins Avenue. This architectural style was prominent in the 1950's and has been beautifully maintained. It is characterised by vivid pastel colours and perfect symmetrical lines.
If you are an active individual you will also enjoy the numerous beach activities that can be found on the beach-side of these avenues. For instance, there are volleyball nets hung up for anyone interested in playing a game. And we also spotted people on bikes and roller skates. At night, however, is when Miami Beach really comes alive, and it is well known for its exciting nightlife with many clubs and restaurants.
Lincoln Road Mall
Lincoln Road Mall is a large outdoor mall in Miami Beach which runs for several blocks. There are numerous cafes and restaurants in this area that can be found on both sides of the avenue. Some of the cafes along this strip include Starbucks and The Cafe at Books and Books. Retail stores in this area include the Apple Store, Skechers, Havaianas, Macy's, J. Crew, Urban Outfitters, Sephora and Zara and many, many more.
In addition to its varied dining and shopping options, Lincoln Road Mall is also a great area for people-watching and relaxing with friends.
Dolphin Mall
Of course, Miami is much more than just malls but it would be remiss of me not to mention a few of those options as realistically many people from the Caribbean visit Miami primarily to shop. Back on the Mainland part of Miami, the most popular of the shopping options is Dolphin Mall. It is located 5 miles west of Miami International Airport at the intersection of the Dolphin Expressway and the Florida turnpike. Dolphin Mall is most popular because it has a myriad of shopping options: electronic stores, homeware stores, baby stores, sportswear stores, beauty stores, luggage stores, dozens of food options including Cheesecake Factory, TGI Friday's, Burger King, Haagan-Dazs and more. Plus the entertainment options include a cinema, a Dave & Busters and Bowlero Miami.
There are dozens of clothing stores including Burlington Coat Factory, Ross Dress for Less, Express, Ralph Lauren Polo, Calvin Klein, Ann Taylor, Foot Locker and many more. You just have to bear in mind that it's an outlet mall, so the clothing options won't typically be the last season, but from a season or two back.
Dadeland Mall and Dadeland Station
As for other shopping options, there's also Dadeland Mall. This mall was less crowded than Dolphin Mall and was very close to our hotel in Miami, which was Courtyard by Marriott Dadeland. Another benefit was that it had a few stores that Dolphin Mall doesn't have - including a Sephora (N.B Miami International Mall also has a Sephora and is close to the airport). Dadeland Mall also surprisingly had some excellent dining options including Earl's and Aoki where you can watch your food be prepared right on the table in front of you by lively, humourous chefs.
Also in the Dadeland area is Dadeland Station, where you can find a Best Buy, Bed Bath and Beyond, Dicks (a sports store), Micheals (craft store), a Target, Petsmart and more.
Interested in visiting Miami?
Come in to any one of our offices or give us a call at