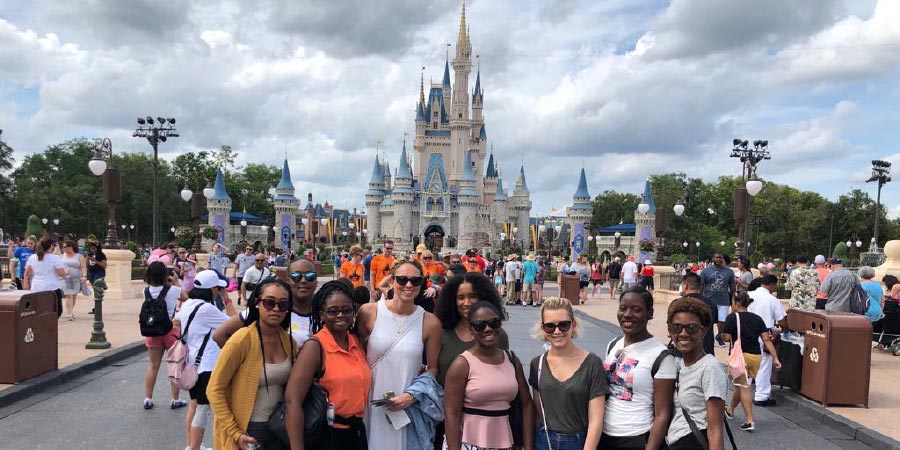 Going Places Travel, the leading travel management company in the Caribbean, received official Disney training at the Walt Disney World Corporate offices in Kissimmee, Florida during a FAM trip in May. 'FAM' stands for familiarization tour and is essentially a travel opportunity for Advisors to experience a destination as a client would. It provides additional insight to these destinations so that bookings can be authentic and personal. These FAMs also help travel advisors become more equipped with the knowledge to serve their clients more effectively.
The agency's FAM trip contingent to Florida included travel advisors from its offices in Antigua, Barbados and Saint Lucia. Whilst there the team benefitted from training sessions, toured Disney properties and visited its theme parks, including Magic Kingdom, Animal Kingdom & Epcot. Valuable information on its water parks and partner hotels was also gleaned on the trip.
With 74,000+ employees in Orlando alone, Walt Disney World has a major presence in the state, drawing millions of visitors every year. Last year Going Places Travel led a guided tour to Walt Disney World and is intent on solidifying its position as the Disney travel expert in the region.
Danielle St. John, Chief Operating Officer at Going Places Travel shared that the company was thrilled for its team to benefit from this experience. She commented, "The trip was a fantastic opportunity, especially for our junior travel advisors as they were able to see the high level of commitment and service that the Disney brand consistently delivers. Providing excellent customer service is a top priority in our company and so this FAM trip was a wonderful professional development opportunity for our agents."
St. John stated, "The trip was made possible thanks to our strong relationships with American Airlines, Ultra Group and Lake Buena Vista Resort Village & Spa, a member of Stay Sky Resorts & Hotels in Florida."
Most recently Going Places Travel was awarded the Caribbean Circle of Excellence Award for the third consecutive year by American Airlines, in recognition of its outstanding sales performance in the Caribbean region.
Going Places Travel has offices in Antigua, Bahamas, Barbados, Dominica, Grenada, St. Lucia, St. Vincent & the Grenadines and USA. Today, Going Places Travel has a team of over 155 travel professionals dedicated to making travel dreams become a reality. Contact their reservations team today.
Interested in visiting Walt Disney World?
Come in to any one of our offices or give us a call at