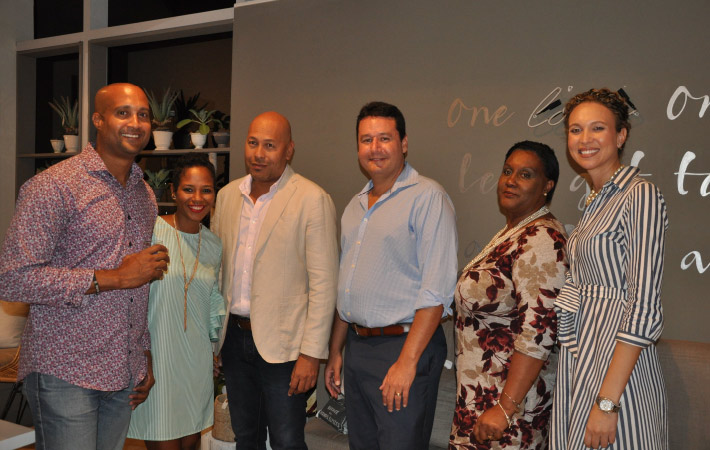 From L to R: Sean Edwards, Regional Business Development Manager, Virgin Atlantic; Cassie-Marie St. John, Marketing Manager, Going Places Travel; Andre Bello, Commercial Manager - Caribbean, Virgin Atlantic; Alfredo Weatherhead, Chief Executive Officer, Going Places Travel; Beverley Layne, Marketing & Communications Executive - Caribbean, Virgin Atlantic; Danielle St. John, Chief Operating Officer, Going Places Travel.
Going Places Travel, one of the largest travel management companies in the Caribbean, recently held an exclusive event for their top leisure clients in partnership with the international airline Virgin Atlantic. The intimate event was held at Always Summer, a boutique at Limegrove Lifestyle Centre in Holetown, St. James.
The event also celebrated the long standing partnership between Going Places Travel and Virgin Atlantic. Of this partnership, Chief Operating Officer of Going Places Travel Danielle St. John expressed:
Virgin Atlantic is one of our top suppliers here at Going Places Travel. Many of our clients have fallen in love with the airline, and we all associate the Virgin Atlantic brand with words like fun, thrilling, unique and extraordinary. And that last word specifically aligns with what we want our clients to feel and experience every time they work with us. Since inception, we've been driven by our passion for travel, and it's what fuels us to this day. On top of that, we also have some of the most experienced Travel Advisors in the industry, with hundreds of years' combined experience. Passion and experience are an unbeatable combination.
Virgin Atlantic's Commercial Manager Mr. Andre Bello thanked Going Places Travel for hosting the event and enthused, "Going Places Travel are our largest partner in the region. We're responsible for six direct territories and Barbados is a key market for us. Over the winter season last year we had up to 13 different aircrafts on the ground weekly."
Bello continued:
We appreciate that the experience starts when you think about your trip, and so we really value our partnership with Going Places Travel. The role of a travel agent is important because, in the travel business things can go wrong, like bad weather, and delays. When you have an issue there's nothing better than to be able to pick up the phone and talk directly with your agent, who will handle your business personally.
Bello also shared some updates on Virgin Atlantic's newest offerings, saying, "The Airbus A330-200 is being added to our Caribbean routes, and like in all of the aircraft in our fleet, we're introducing three new ways to fly in Economy.
There is Economy Light, for those who are happy to travel with just a carry-on and don't need to check-in luggage. We have Economy Classic, which is the product you know and love, but now we've made it even better by removing the fee that you would have normally paid for advance seat assignment. So now you have the option to select your seat at any time, free of charge. Finally we have the Economy Delight, where we're giving travelers an amazing experience starting on the ground, with priority check-in and boarding, and on your flight, extra legroom up to 40 inches. We also made many changes to the Upper Class cabin, with in-seat massage and our specially designed Happy Socks. We are constantly improving and we are constantly looking to find ways that we can make flight more interesting and entertaining and that will always continue.
The continued partnership has positioned Going Places Travel as one of Virgin Atlantic's key partners across the region.
The event was also the official launch of the Great Escapes magazine. The inspirational travel coffee table magazine is published annually by Going Places Travel and complimentary copies are available both islandwide and throughout the region.
Going Places Travel is the Caribbean's leading travel management company offering clients cutting edge technology coupled with service that is second to none. With 28 offices in 8 countries including the USA, they have the distinction of being the largest travel agency group in the Caribbean. As a member of the elite Virtuoso network, they benefit from global connections and clients receive exclusive amenities from select Virtuoso travel partners. Today, Going Places Travel has a team of over 180 travel professionals dedicated to making your travel dreams become a reality. Contact their reservations team at 431-2430.