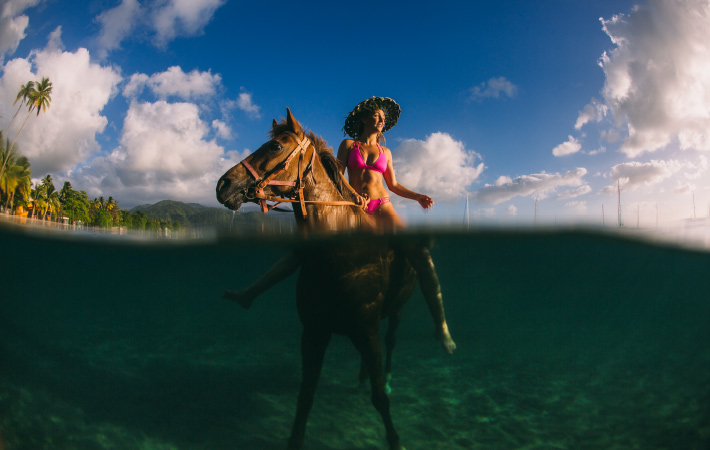 Dominica is back and more vibrant than ever
Known as the nature island of the Caribbean, the destination known for its ecotourism is being restored to its natural beauty following the devastation caused by 2017's Hurricane Maria.
Two years later, Dominica has undergone massive restoration efforts and is becoming more climate-resilient than ever before by encouraging more climate-smart building habits and agricultural practices, setting the country on a path to recovery and greater sustainability.
And to celebrate, the island launched its Re-Discover Dominica initiative, which seeks to inspire tourists to visit the beautiful destination. Whilst there, here are some activities that we recommend for your stay:
Horseback riding
Imagine horseback riding through a verdent, fertile rainforest. Or even better, lightly galloping along the picturesque Purple Turtle Beach. Sounds perfect, right? We think so too!
Canyoning
Go off the beaten path and try canyoning, which refers to exploring canyons and involves climbing, swimming in waterfalls, walking, jumping and more.
Enjoy water-based activities
Scuba diving anyone? What about whale-watching?
For the Culture
Visit the Kalinago territory and experience traditional culture and learn about the rich heritage of this indigenous group of people in Dominica.
Volunteer
Want to help? The first thing you should do is visit as it benefits the economy, but for an added helping hand, some hotels have a "voluntourism" programme which includes activities like trail-clearing.
Many of its best attractions are open and ready to greet you, including Trafalgar Falls and the Emerald Pool.
For all of these reasons and more, you should make Dominica your next destination to tick off the bucket list. The island is perfect for nature lovers, wellness travelers, bird watchers, or anyone who needs rest and restoration.
Contact us to book your trip to Dominica today, and to schedule tours and activities of your choice.