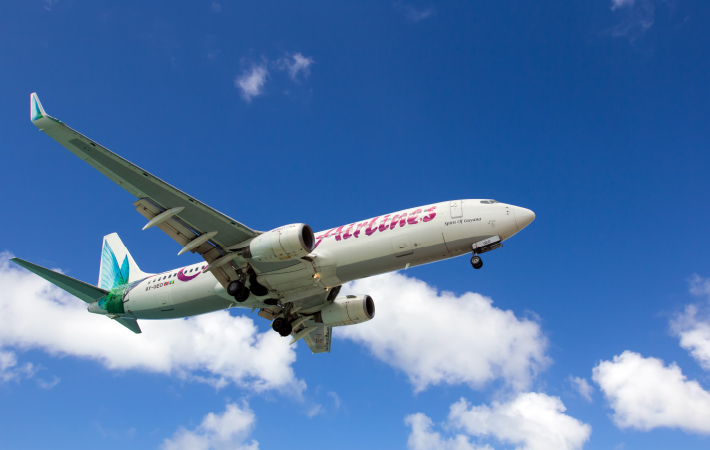 This story originally appeared as a Caribbean Airlines press release
Effective August 1, 2018, Caribbean Airlines will introduce "Caribbean View", free wireless in-flight entertainment on its Boeing 737-800 fleet. The new service will allow its customers to stream blockbuster movies, television programmes, games, magazines and more Caribbean content to their personal devices via a browser using Bluebox Aviation Systems', Bluebox Wow platform.
Chief Executive Officer, Garvin Medera stated: "Caribbean Airlines is focused on enhancing the customer experience, and we are excited to introduce "Caribbean View" as part of our inflight entertainment package. The wireless service will be free to all Caribbean Airlines passengers and the Bluebox Wow platform gives us the quality we want to deliver, in a flexible solution that fits our service upgrade plans."
"We're extremely pleased that Caribbean Airlines has selected Bluebox Wow for engaging its passengers," said Kevin Clark, Chief Executive Officer, Bluebox. "Bluebox Wow offers a powerful and flexible proposition that will ensure Caribbean Airlines can deliver a fresh and vibrant service that is extremely easy for passengers to access, two things we know are important to an engaging IFE service." Bluebox Wow will be deployed across Caribbean Airlines fleet of 12 Boeing B737-800 aircraft, on flights over 2 hours and above 10,000 feet.
Caribbean Airlines operates more than 600 weekly flights to 20 destinations in the Caribbean and North and South America. As part of its in-flight experience the airline offers complimentary authentic Caribbean meals and signature cocktails, on select routes. Also, all passengers first checked bag always flies free and economy passengers on most routes pay from as little as U$35 for a second checked-bag, which is one of the lowest rates in the global airline industry.
About Caribbean Airlines
Caribbean Airlines is an authentic Caribbean airline with provides a genuine Caribbean experience on all its services. The airline's professional teams offer the warmth of the islands both on and off the aircraft. Caribbean Airlines operates more than 600 weekly flights to 20 destinations in the Caribbean and North and South America. The airline's fleet is comprised of Boeing 737-800 and ATR72-600 aircraft. Jointly owned by the people of Trinidad & Tobago and Jamaica, headquartered in Trinidad and Tobago, and with an operational base in Jamaica, Caribbean Airlines employs more than 1600 people. The airline is a member of the International Air Transport Association (IATA) and is recognised as an IATA Operational Safety Audit qualified airline. It is a certified FAA repair station as per regulation 145.