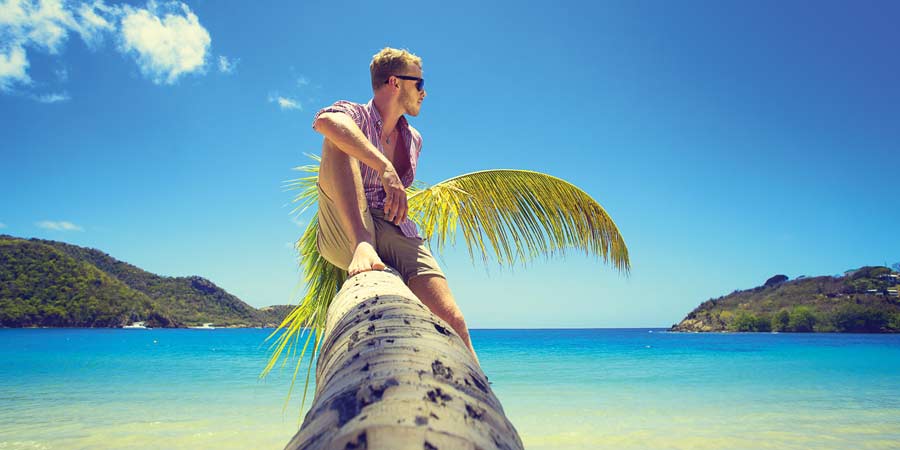 The Antigua and Barbuda Tourism Authority has launched a 'Cool Card' as a part of their end of summer promotions for the #WhatCoolLooksLike destination marketing campaign which runs until October 31, 2019.
The 'Cool Card', available for download on the official website for the Antigua and Barbuda Tourism Authority www.visitantiguabarbuda.com, will give consumers access to exclusive offers and benefits at participating businesses in Antigua and Barbuda, and includes hotels, restaurants and tours.
Persons who want access to the card must first sign up on the Antigua and Barbuda tourism website. Once sign-up is complete, participants will receive an official email with instructions for downloading the "cool card" onto their phones. Persons can then present the card at any of our participating partners who are listed on the official Antigua and Barbuda "special offers" page to unlock access to even more of their offers.
Some of the Summer offers available during the campaign period include:
Walking Tour of St. John's City with Rendezvous Antigua
Gently sloping to the sea, St. John's City gives a strong sense of old-world charm and elegance. The walking tour complete with a Whisper radio system encompasses historical buildings, churches, monuments, private residences and shops boasting West Indian Vernacular styles of architecture. Be a part of the buzz as you explore the bustling fruit and fish markets and then make a final stop at the Museum of Antigua and Barbuda. The summer promotion offers adults and children, a price of EC$50.
Horseback Riding with Rendezvous Antigua
This relaxing and scenic horseback ride allows you to explore beautiful beaches and Antigua's historic past. You will view the Caribbean Sea and feel its breeze as you make your way across land and beach to historic Fort James built in 1739. A return ride along the Caribbean white sand beaches brings you back to Runaway Beach, over ¾ miles of white sand beach fringed with coconut trees and clear Caribbean Sea. Offering adults, a price of EC$130 and children EC$100.
Antigua Rainforest Canopy Tour
"Experience the thrill of zipping through the rainforest". An exhilarating tour for everyone and their family, while visiting our beautiful island of Antigua. The Antigua Rainforest Canopy tour is offering a summer cool special for the full course or the 12+1 course, with adults paying EC$100 and children EC$50 for either tour.
Adventurous Hike Summer Special
A unique way of meeting your adventurous expectations! Take advantage of Adventurous Hikes' summer promotion with 15% discount on any of their 3 hikes, whether it is the iconic Pillars of Hercules, Antigua's highest point, Mount Obama, or the scenic Hawksbill beach for the low price of US$65 for any 3 trails.
Best of Books Summer Holiday Special
The Best of Bookstore is offering 20% off two of Joanne C. Hillhouse's books this summer, while stocks last! You can find Musical Youth for vacationing adults and young adults. Also find "Lost" a Caribbean Sea adventure/ "Perdida" una aventura en el mal Caribe (Spanish Ed.)-for bedtime with your little one.
Beach Limerz Cool Summer Special
Positioned a few steps from the dazzling waters of Fort James Beach, a Beach Limerz experience is a must on your visit to Antigua & Barbuda. This lively beach bar serves up authentic local dishes with rum punch starting from US$20.
Catherine's Café Summer Special
Located on the stunning Pigeon Point beach, Catherine's Café offers classical French cuisine with province style influences and local ingredients. Enjoy a three-course dinner and a glass of wine for only US$38, all summer long at Catherine's café.
Sheer Rocks Summer Special
Poised artfully on the edge of a remarkable sunset facing bluff and terraced in a Cliffside, protruding over the rocks of Ffryes Bay, Sheer Rocks is one of the most beautiful and must-visit dining spots and experiences in Antigua. The restaurant located within Coco Bay, will have you in a swoon over the shimmering sea views and flavourful, thoughtfully executed food and top-notch cocktails. Pay only US$48 for a jug of sangria and four tapas dishes.
Find more offers on: www.visitantiguabarbuda.com/special-offers. Access even greater savings when the Cool Card is presented at participating businesses. The Antigua and Barbuda "Cool Card" is also part of the ABTA's lead generation strategy, where email opt-ins will be used for nurturing consumer leads into sales.
ABOUT ANTIGUA AND BARBUDA
Antigua (pronounced An-tee'ga) and Barbuda (Bar-byew'da) is located in the heart of the Caribbean Sea. Voted the World Travel Awards Caribbean's Most Romantic Destination, the twin-island paradise offers visitors two uniquely distinct experiences, ideal temperatures year-round, a rich history, vibrant culture, exhilarating excursions, award-winning resorts, mouth-watering cuisine and 365 stunning pink and white-sand beaches - one for every day of the year. The largest of the Leeward Islands, Antigua comprises 108-square miles with rich history and spectacular topography that provides a variety of popular sightseeing opportunities. Nelson's Dockyard, the only remaining example of a Georgian fort a listed UNESCO World Heritage site, is perhaps the most renowned landmark. Antigua's tourism events calendar includes the prestigious Antigua Sailing Week, Antigua Classic Yacht Regatta, and the annual Antigua Carnival; known as the Caribbean's Greatest Summer Festival. Barbuda, Antigua's smaller sister island, is the ultimate celebrity hideaway. The island lies 27 miles north-east of Antigua and is just a 15-minute plane ride away. Barbuda is known for its untouched 17 mile stretch of pink sand beach and as the home of the largest Frigate Bird Sanctuary in the Western Hemisphere.
Find information on Antigua & Barbuda at: www.visitantiguabarbuda.com and follow us on Twitter: http://twitter.com/antiguabarbuda | Facebook: www.facebook.com/antiguabarbuda & Instagram: www.instagram.com/AntiguaandBarbuda
Come in to any one of our offices or give us a call at