*Only available in Barbados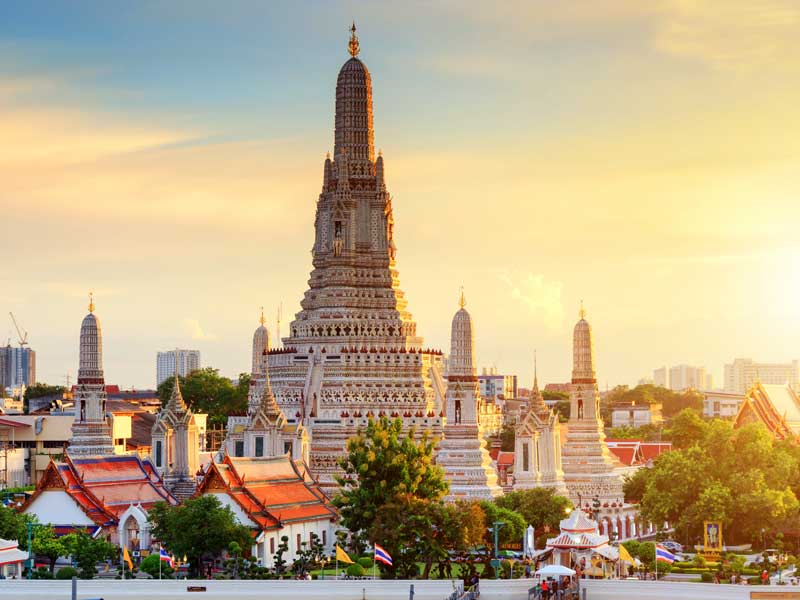 Tantalizing Thailand
5-22 November 2018
Package Includes:
Roundtrip Airfare - Barbados to Bangkok via London and Dubai. One-way airfare from Bangkok to Phuket.
7 Night Accommodation in Bangkok, 6 Night Accommodation in Phuket.
Tours in Bangkok Ayutthaya Day Trip, Siam Niramit Show, Royal Grand Palace and Bangkok Temples and Floating Market and Rose Garden
Tours in Phuket Phi Phi Island Day Trip, Zip Line Jungle Tour and White Water Rafting and ATV excursion.
Meals include 14 Breakfasts, 4 Lunches, 1 Dinner
Local English speaking guides
Going Places Travel escorts by Duwayne Greaves and Terry Clarke with group of 38
Tour Itinerary
Depart Barbados
Day 1: 5 November 2018
Travel on Virgin Atlantic Airways VS030 from Barbados to London Gatwick. Departing 5:10 PM and to arrive at 5:35 AM 6th November 2018 to connect to Emirates EK12 departing London Gatwick at 9:40AM to arrive in Dubai, UAE at 20:35PM.
Day 2: 6 November 2018
Transit Dubai & Arrival into Bangkok
After arriving at 8:25 PM clear a secondary security check at the Connects Desk area to board your second Emirates flight EK 374 departing Dubai at 10:35 PM to arrive in Bangkok Thailand at 7:35 AM.
Clear Immigration and Customs and board shuttle transportation to Courtyard By Marriott's Bangkok Hotel.
Welcome to Bangkok
Day 3: 7 November 2018
Breakfast — Take this day to relax and enjoy the beautiful sounds that makes Bangkok one of the most famous South East Asian cities.
Day 4: 8 November 2018
Breakfast — Spend your day becoming familiar with the sights and sounds and flavours of Bangkok. Head to one of the 17 different malls in the area to do some shopping or take a chance viewing at the Bangkok Art & Cultural Centre. Have a taste of local cuisine at one of the many food shops and restaurants within the area.
Day 5: 9 November 2018
Breakfast — Depart hotel and enjoy a Private Day Tour of Ayutthaya from Bangkok. The enthralling historic city, a UNESCO World Heritage site is full with majestic temple ruins in the Historic City of Ayutthaya. This full day itinerary packs in culture and cuisine, including lunch on a docked rice barge and traditional food tastings of local specialties.
Day 6: 10 November 2018
Breakfast — Spend your morning brushing up on your Thai knowledge, as in the evening you will depart your hotel for a Siam Niramit Show with Dinner at the Ratchada Grand Theater. Begin with a sumptuous buffet dinner of international dishes, then take your seat in the 2,000-person theater. Watch an elaborate show that features a cast of 150 dancers performing traditional Thai dance. Admire the lavish costumes and stage sets that reproduce a typical old Thai village.
Day 7: 11 November 2018
Breakfast — Depart your hotel to visit one of Bangkok's most important cultural sights with a half-day tour of the Grand Palace, Wat Pho and Wat Traimit. Learn about the country's royal heritage as you explore the palace, whose elaborate stepped roofs are the pinnacle of Siamese design. Visit the funeral and corona on halls and see the sacred Buddha carved from solid jade. Circle the reclining Buddha at Wat Pho then stroll the cool halls lined with hundreds of Buddha images. Continue to Wat Traimit to see a centuries-old golden Buddha and leave an offering in the gleaming sanctuary.
Day 8: 12 November 2018
Breakfast — Get ready for a day of fun filled adventure packed with vibrant Thai culture on a 12-hour tour to Damnoen Saduak Floating Market, the Royal Thai Handicraft Center, and Sampran Riverside. You'll cruise through colorful throngs of narrow boats see traditional artisans at work while at the Royal Thai Handicraft Center, where you'll see Thai artisans at work on traditional teak wood carving, then pause for lunch at a nearby Thai restaurant. Watch a fascinating cultural show at Sampran Riverside which includes an hour long demonstration that includes Thai boxing, a traditional wedding ceremony, regional dances, and a Buddhist monk ordination ceremony.
Day 9: 13 November 2018
Breakfast — Check out of Hotel at 11AM. Board Shu le transfer to Bangkok International Airport to check in for a 2:05 PM departure onboard Thai Airways TG215 to arrive in Phuket at 3:25 PM. Then board shuttle transfer to stay at Marriott Resort Phuket Nai Yang Beach.
Welcome to Phuket
Day 10: 14 November, 2018
Breakfast — Enjoy your first day in Phuket relaxing in the secluded and luxurious area of Nai Yang Beach. Take me to snap a few photos of the beautiful white sandy beach of Nai Yang.
Day 11: 15 November 2018
Breakfast — The Phi Phi archipelago is must-visit while in Phuket and therefore this speedboat trip will whisk you around four islands in one day. Head for Mosquito Island, renowned for its pristine waters and reefs, and enjoy an optional snorkel to discover the stunning coral gardens then, cruise to the white beaches of Bamboo Island. Go ashore for a delicious buffet lunch at an island hotel, and enjoy free me to relax on the beach and swim. Next, sail to Koh Phi Phi Don, the largest island, and visit Monkey Bay, named after its macaques. Watch them scampering in the sands and trees however, be aware and cautious while observing the wild monkeys in their natural habitat. Visit to Maya Bay, immortalized in the 2000 movie "The Beach". Admire the paradise-like scenery, and swim in jade-green Pileh Lagoon, a natural
lagoon framed by sheer cliffs.
Day 12: 16 November 2018
Breakfast — What better place to explore some of the natural wonders of the local jungle than from a Zip line tour. Soar through treetops, past spectacular wilderness landscapes and Thai wildlife.
Day 13: 17 November 2018
Breakfast – After some jam packed days of activities, spend your leisure day revitalizing on the beach or take the opportunity to venture for some shopping.
Day 14: 18 November 2018
Breakfast - Explore the rivers and jungle of Phuket on a full-day tour that includes a fun-filled combination of white-water rafting on Khlong Song Phraek River, an all- terrain vehicle (ATV) ride through Ton Pariwat Wildlife Sanctuary and time to relax and swim at a secluded waterfall. Sample several different outdoor adventures and learn from your experienced guide about the region's plants, animals and local villages.
Day 15: 19 November 2018
Breakfast — Enjoy your final day of your Thai holiday. Take the chance to explore the magical island of Phuket. Then prepare for a late check out from hotel. Board your shuttle transfer to Phuket International Airport.
Day 16-17: 20-21 November 2018
Depart Phuket on Emirates EK 379 for Dubai at 12:50 AM to arrive at 4:25 AM. Clear secondary security at the connections desk and board Emirates EK15 for a 7:40AM departure to arrive in London Gatwick at 11:40 AM Clear Immigration and Customs and walk to the Premier Inn Gatwick Airport Hotel.
Day 18: 22 November 2018
Breakfast — Check out of Hotel proceed to check in area for Virgin Atlantic VS029 to Barbados for an 11:05 AM departure to arrive in Barbados at 3:00 PM.
Visa & Passports
Barbadian and CARICOM passport holders will require a visa for Thailand. Other nationalities may or may not require a visa for Thailand.
Barbadian, US, Canadian and select CARICOM passport holders do not require a UK visa. Other nationalities may require a visa for the UK.
Passports must be valid till at least 30th May, 2019.
Cost per Person
Double: $6,850.00 USD based on 2 persons sharing
Single: $8,625.00 USD based on 1 person
NB: Cost is based on a minimum of 38 persons travelling together and is subject to any changes, increases or reductions imposed by our industry suppliers.
Payments (per person):
A deposit of $375.00 USD is required to secure your space by 26th March, 2018
A first installment of $1,225.00 USD is due on 28th April, 2018
A second installment of $1,100.00 USD is due on 30th May, 2018
A third installment of $1,100.00 USD is due on 30th June 2018
A fourth installment of $1,100.00 USD is due on 29th Jul, 2018
A fifth installment of $1,050.00 USD is due on 30th August, 2018
Remaining balance is due no later than 30th September 2018.
Not Included in Package: Travel/Cancellation Insurance, items not included on the list e.g. meals not specified or items of a personal nature
Cancellations & Refunds
All cancellations should be made in writing. Cancellations made after the first deposit is subject to a $250.00 USD dollar penalty.
Any cancellations after the final payment would be subject to our travel partners (Airlines, Hotels and Tour companies)
Refunds are based on any retrievable amounts from our travel partners at the time of receiving written confirmation of cancellation
Contact Duwayne at 1-246-431-2440 for more information!