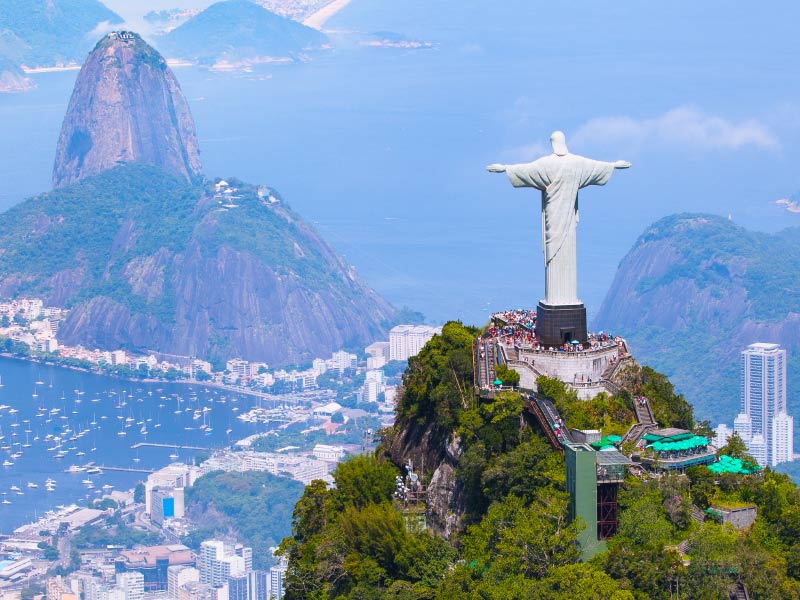 A Double Dose of Brazil
6 - 18 June 2018
Package includes:
Roundtrip Airfare from Barbados/ Rio de Janeiro/ Salvador/ Barbados, inclusive of taxes
Roundtrip airport to hotel transfers in Rio
Roundtrip airport to hotel transfers in Salvador
6 Night Accommodation in Rio
4 Night Accommodation in Salvador de Bahia
Meals specified
10 breakfasts
1 Lunch
1 Dinner & Cultural Show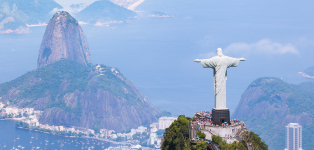 Tours included in Rio de Janeiro
Tijuca Rain Forest Jeep Tour
Corvocado Mountain, Christ Redeemer & Sugar Loaf Mountain Tour
Favela Walking Tour
Ancient Rio and Santa Teresa Tour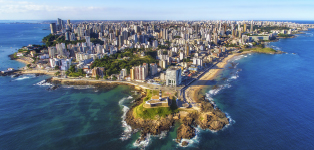 Tours included in Salvador da Bahia
City Tour of Salavador
Dinner & Cultural Show
Local English speaking guides
Going Places Travel Escort with a group of 19 persons.
Not included
Meals not specified
Travel/Cancellation insurance
Items of a personal nature - e.g. phone calls, etc.
Any item not mentioned above
Tour Itinerary
Day 1: Wed 06 JUNE 2018
Travel to Rio from Barbados
Travel on American Airlines from Barbados at 3:25 pm to Rio de Janeiro via Miami. Arriving in Rio Thursday 07 June 2018 at 8:05 am. Shuttle transfers from airport to Windsor Excelsior Copacabana Hotel for 6 Night Accommodation.
Day 2: Thurs 07 JUNE, 2018
Bem Vindo ao Rio!
Enjoy the spectacular vistas and sounds of Copacabana beach, the most well-known beach in Brazil as you bask in the wondrous pleasure that makes Rio one of the most famous holiday locations in the world.
Day 3: Fri 08 JUNE, 2018
Tijuca Rainforest Tour
Breakfast— Depart hotel to experience the beauty of Tijuca National Park by jeep. Onboard this open back jeep, enjoy the beautiful panoramic views of Vista Chinesa. Embark on an Eco-hike from Tijuca National Park to Cachoeira dos Macacos and learn about the amazing flora of Mata Atlantica.
Day 4: Sat 09 JUNE 2018
Corcovado Mountain, Christ Redeemer & Sugar Loaf Mountain Tour
Breakfast—Depart hotel and enjoy a full day of adventure as you visit some of Rio's most spectacular sights. Ride the Cog Train up Corcovado Mountain. Enjoy the magnificent and majestic sights from the top of Corcovado Mountain. There you can admire the spectacular view of Christ the Redeemer Monument and its surroundings. Following this you will be treated to a delicious lunch. Complete your day with a Cable Car Ride to the top of Sugar Loaf Mountain and watch the beautiful sunset over Copacabana Bay.
Day 5: Sun 10 JUNE 2018
Explore Copacabana and Ipanema at your leisure. Take a walk through these districts and do a little shopping. Take photos along the way as a memento to the occasion, interact with locals and experience the Carioca way of life.
Day 6: Mon 11 JUNE 2018
Rocinha Walking Tour
Breakfast—Today we visit Rio's largest Favela Rocinha. Journey through this favela and be enlightened by the lifestyle within the slums of Brazil and how important they are for their artistic and musical cultural influence.
Day 7: Tue 12 JUNE 2018
Ancient Rio & Santa Teresa
Breakfast – A visit to the bucolic neighborhood of Santa Teresa and downtown Ancient Rio. Admire the fantastic architecture of sights such as the France Brazil House and Arcos da Lapa. In Santa Teresa view the intriguing late 19th Century mansions and also the famous Escadaria Selaron.
Day 8: Wed 13 JUNE 2018
Travel to Salvador da Bahia
Breakfast— Check out of hotel at 12 pm and board shuttle for Galeao Airport. Check in on Avianca Brasil and depart at 3PM arriving Salvador da Bahia at 5:02 PM Transfers from Airport to Othon Bahia Palace Hotel for 3 Nights Accommodation.
Day 9: Thurs 14 JUNE 2018
Salvador da Bahia City Tour
Breakfast—Depart your hotel and enjoy an extensive tour of Salvador da Bahia. You'll visit sites like the Bahia Lighthouse, the Barra Fortress, the Jesuit Basilica Cathedral and the UNESCO World Heritage-listed Pelourinhio, the historical center of Salvador. Along the way, learn about the rich, eclectic history of this city, once the capital of Brazil.
Day 10: Fri 15 JUNE 2018
Cultural Show and Dinner
Spend the day relaxing and enjoying the warmth of Salvador at your leisure. Take another chance to explore a different side of Brazil. In the evening, watch a mass of outrageously costumed professional dancers shake, shimmy and sing to infectious Bahian beats. Listen to live percussion and see maculele, capoeira and Candomblé from your prime seat. Feast on a traditional Bahian buffet-style dinner before the show and walk away with a better understanding of Bahian culture.
Day 11: Sat 16 JUNE 2018
Breakfast— On this your last leisure day, enjoy the remaining hours basking in the Brazilian experience or relaxing or evening shopping the day away. Take photos to immortalize the occasion of this wondrous experience.
Day 12: Sun 17 JUNE 2018
Return to Barbados
Leave hotel (Check out) at 11:00 AM for Salvador Airport. Fly on Avianca Brasil departing at 6:12 pm arriving in Sao Paulo at 8:50 pm. Board American Airlines at 11:25pm for Barbados via Miami and arrive on Monday 18th June at 2:22 pm
Visa & Passports
Passports should be valid until at least 16th December, 2018
Barbadian, British, European Union passport holders do not require a visa for Brazil. Other nationalities may require a visa.
A Valid US visa is required and must be valid until at least 18th Dec, 2018
Cost Per Person
Double: USD$4,097.50* based on 2 persons sharing
Triple: USD$3,932.50* based on 3 persons sharing
Single: USD$4,825.50* based on single occupancy
NB: Cost is based on a minimum of 19 persons travelling together and is subject to any changes, increases or reductions imposed by our industry suppliers.
Payments (per person):
A non-refundable deposit of $150.00 USD is required to secure your space by 29th December, 2017
A 1st installment of $250.00 USD is due on 26th January, 2018
A 2nd installment of $1000.00 USD is due on 26th February, 2018
A 3rd installment of $1000.00 USD is due on 26th March, 2018
Remaining balance is due no later than 26th April, 2018
Cancellations & Refunds
All cancellations should be made in writing.
Cancellations made after the first deposit is subject to a $150.00 USD penalty
Any cancellations after the final payment would be subject to our travel partners (Airlines, Hotels and Tour companies)
Refunds are based on any retrievable amounts from or travel partners at the time of receiving written confirmation of cancellation.
Travel Insurance
It is highly recommend that you purchase travel/cancellation insurance. This can be done through Going Places Travel at the time of your first deposit.
Contact:
Come in to any one of our offices or give us a call at
Terms & Conditions: Prices are subject to change and are based on availability