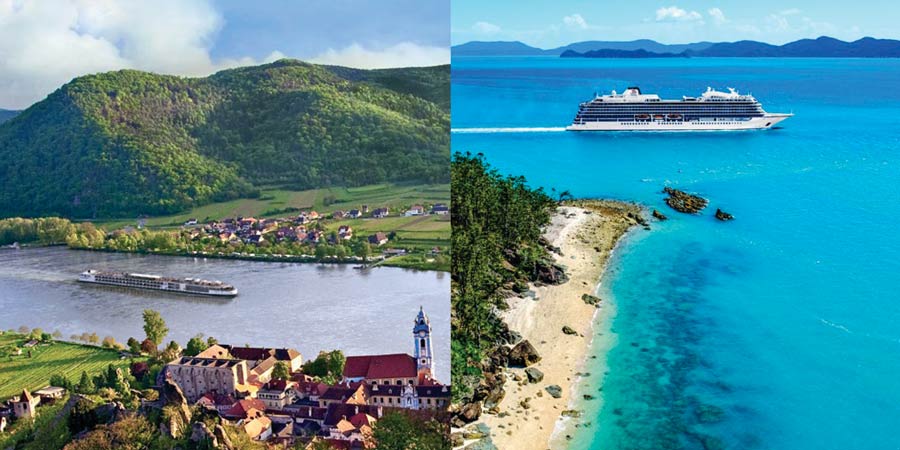 Created for Curious Travelers, with True Explorer Spirits
Viking believes that travel should be more than just a trip - it should be a doorway to cultural insight and personal enrichment. That is the cruise itineraries are designed to help you explorer and engage with your destinations through its food, culture, countryside and customs. With viking inclusive value, the price you pay covers just about everything—port charges, wi-fi, meals, lectures, activities and an included shore excursion in every port, plus hotel accommodations on cruisetours.
Viking Value*
2020 RIVER CRUISES
Special Fares & Up to Free Air
PLUS
2019-2020 OCEAN CRUISE
Special Cruise Fares & Air From $99
Featured Voyages
Iceland's Majestic Landscapes

From Bergen to Reykjavik
3 Countries
13 Days
9 Guided Tours
See unparalleled natural beauty
From Norway, travel to the end of the North Sea and beyond to unlock mysteries of the far north and experience nature at its most magnificent. Contrast the pleasant urban setting of Ålesund with the robust beauty of Geiranger's fjord landscape. Meet the people who thrive on the water's edge of the Faroe archipelago, and encounter polar fox, tern, eider ducks and members of the whale family in Iceland's majestic, distant north.
Cruise Fares from $5,799 per person*
Save $400 per person on air*
Call for Ocean Cruise Sailings Dates
Iconic Western Mediterranean

From Barcelona to Rome
4 Countries
8 Days
5 Guided Tours
Explore France's Riviera & Tuscany
France's famed southern coast and Italy's Renaissance treasures take center stage on this 8-day Mediterranean sojourn between Barcelona and Rome. Immerse yourself in Catalonian and Tuscan art, architecture and history during overnights in Barcelona and Tuscany. In the South of France, call on historic Montpellier, picturesque Marseille and Monte Carlo, Monaco's glamorous city by the sea.
Cruise Fares from $2,299 per person*
Air from $899 per person*
Call for Ocean Cruise Sailings Dates
Paris to the Swiss Alps

From Paris to Zurich
4 Countries
12 Days
10 Guided Tours
Explore Paris & sail the Rhine
Pay your respects at the Luxembourg American Cemetery. Discover Roman Trier. Taste Moselle Rieslings and visit the wine town of Bernkastel-Kues. Enjoy scenic cruising past the town of Sankt Goar, home of the Lorelei Rock, and through the Rhine Gorge, a UNESCO Site. Visit fascinating Worms and the university town of Heidelberg. Vineyard-flanked slopes and historic cities, along with hotel stays in Paris and Zürich, make this 12-day cruisetour irresistible.
Cruise Fares from $3,499 per person*
Air from $399 per person*
Call for River Cruise Sailings Dates
Lyon & Provence

From Avignon to Lyon
1 Country
8 Days
7 Guided Tours
Tour lands of fine wine & cuisine
Tap into your inner van Gogh at an Arles painting class. Discover Roman Provence at Les Arènes amphitheater and the Pont du Gard. Explore Avignon's Palace of the Popes. Excite your palate in Lyon, capital of French gastronomy. Savor Beaujolais wines. Hunt for truffles and see how chèvre cheese is made. Come witness the beauty that inspired artists like Cézanne and Chagall on this 8-day Rhône cruise.
Cruise Fares from $1,999 per person*
Air from $399 per person*
Call for River Cruise Sailings Dates
Additional Voyages Available
For Dates, Exclusive Virtuoso Amenities & much more
Call us today at 1-866-456-1266
*Terms and Conditions:
Note: Prices are accurate as of May 1, 2019. Availability fluctuates, please see website for current pricing. Cruise fares listed are for cruise and cruisetour only and fares/discount offers are based on double occupancy. Prices are based upon lowest price point and category at time of print and are subject to change without notice. Prices listed reflect 2020 departures. Air prices are per person based on the cruise/cruisetour check-in date, and include transfers plus all government taxes and fees of approx. $160 and air fuel surcharges. Additional airline imposed baggage charges may apply, consult your airline. Viking reserves the right to correct errors and to change any and all fares, fees and surcharges at any time. Subject to availability and may not be combinable with any other offers. 2020 RIVER CRUISE AND AIR SAVINGS: Offer valid on bookings made from May 1-May 31, 2019. FREE roundtrip international air valid on 2020 departures of Waterways of the Tsars. Air savings vary on other itineraries. Air offers valid on all North American gateways except Alaska, Hawaii, San Juan and Mexico City. Air does not have to be purchased to get cruise/tour offer. All prices are in US dollars and for US residents only. Additional restrictions may apply. 2019: Book and deposit by May 31, 2019; pay in full by June 30, 2019, or within 90 days of departure, if earlier. 2020: Book and deposit by May 31, 2019; pay in full by June 30, 2019. 2021: Book and deposit by May 31, 2019; pay in full by December 31, 2019. Offer expires May 31, 2019. Additional restrictions may apply; Contact your Travel Advisor for Passenger Ticket Contract. CST# 2052644-40
Note: Prices are accurate as of May 1, 2019. Availability fluctuates, please see website for current pricing. Cruise fares listed are for cruise and cruisetour only and fares/discount offers are based on double occupancy. Prices are based upon lowest price point and category at time of print and are subject to change without notice. Bookings are subject to availability and may not be combinable with any other offers except Viking Explorer Society Travel Credits and Referral Rewards. Air does not have to be purchased to get cruise offer. Additional restrictions may apply. 2020 OCEAN CRUISE AND AIR SAVINGS: Offer applies to bookings made from May 1-May 31, 2019. Roundtrip air for $99 per person based on available East Coast gateways of Jan-Feb 2020 departures of Cultural Cuba. Air savings vary on other itineraries. Air offers valid on all North American gateways except Alaska, Hawaii, San Juan and Mexico City. Air does not have to be purchased to get cruise/tour offer. All prices are in US dollars and for US residents only. Additional restrictions may apply. 2019: Book and deposit by May 31, 2019; pay in full by June 30, 2019, or within 90 days of departure, if earlier. 2020: Book and deposit by May 31, 2019; pay in full by June 30, 2019. 2021: Book and deposit by May 31, 2019; pay in full by December 31, 2019. Offer expires May 31, 2019. Air prices are per person based on the cruise/cruisetour check-in date, and include transfers plus all government taxes and fees of approximately $160 and air fuel surcharges. Additional airline imposed baggage charges may apply, consult your airline. Viking reserves the right to correct errors and to change any and all fares, fees and surcharges at any time. Additional terms and conditions apply; Contact your Travel Advisor for Passenger Ticket Contract. Prices are not guaranteed until paid in full. CST# 2052644-40