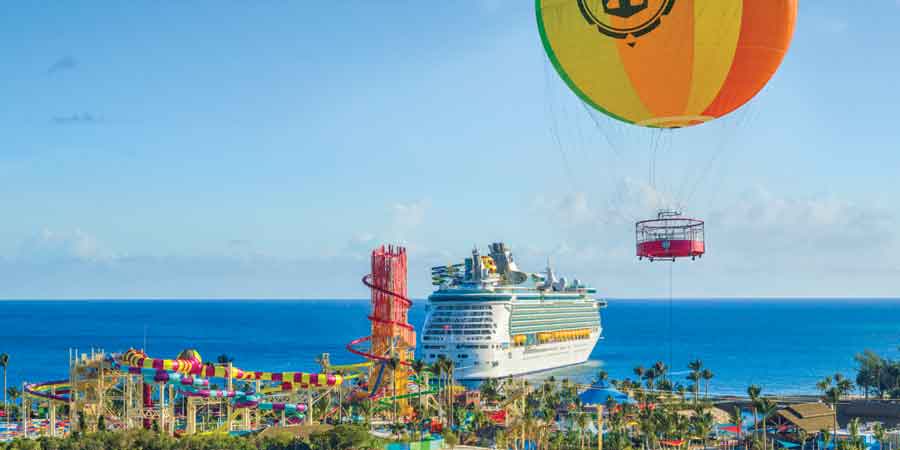 This isn't vacation days spent. This is bragging rights earned. With one-of-a-kind ways to thrill and chill, all in the same day. Like conquering the tallest waterslide in North America, and snapping a shot from 450 feet up in a helium balloon. A drink at the swim-up bar in the Bahamas' largest freshwater pool. Or a taste of Bora Bora in the only private overwater cabanas in the Bahamas. This is Perfect Day® at CocoCay® — only on Royal Caribbean®.
Bolder Ways to Getaway
There's no such thing as a 'one-size-fits-all' vacation — especially on Perfect Day® at CocoCay®. Whether your ideal beach getaway involves larger-than-life thrills or unwinding at a peaceful waterfront chill spot, you'll find there's no right or wrong way to make the most out of your adventure.
Adventure Your Way
Thrill WaterparkSM

This is a drench a minute thrill-a-thon for every adventurer. From giggle-worthy tides to shriekinducing slides towering high into the clouds. Bounce, climb and swing your way through the obstacles in Adventure Pool. Get swept up by the biggest Wave Pool in the Caribbean. Or if you're up for a true rush, take on the tallest waterslide in North America — Daredevil's PeakSM. Whatever your thrill threshold, you'll find firsts to test your bravery at Thrill WaterparkSM.
Daredevil's Tower

Push your limits on seven exhilarating slides at Daredevil's Tower. Race a friend to the bottom of the twin Dueling Demons drop slides or the Manta Raycers. Hit a high-speed tour de G-force on the fully vertical Screeching Serpent. Brave the coils of the Green Mamba. And take on the 135-foot tall Daredevil's PeakSM — the tallest waterslide in North America. The higher you climb, the bigger the rush.
Family Tower

Gather up your adventure squad and get ready to take on six awesome slides together, because Family Tower is all about sharing the thrill. Hit the winding tube slide known as The Twister on a two-person raft, or go for a zero-gravity rush with your most fearless foursome on The Slingshot. Then stoke your competitive spirit on the four-lane Splash Speedway racers. It's true what they say — there's strength in numbers.
Wave Pool

When the clock hits zero, run for cover — you're about to get swept up in the Caribbean's biggest wave pool ever. Whether you just want to dip a toe in, or you're ready to plunge into the simulated surf, these waves are suited to swimmers of all ages.
Coco Beach ClubSM

Welcome to Coco Beach ClubSM, where every moment is elevated. It's just you and endless blue, lounging in the only overwater cabanas in the Bahamas. Savor new Mediterranean flavors, then drift along the finest line between poolside and seaside, in an infinity edge pool overlooking the ocean.
Up, Up and Away

Take your adventure to the skies aboard a helium balloon and see the islands like never before from the highest vantage point in The Bahamas — Up, Up and Away. Feel your heart race while soaring up to 450 feet above land and sea, then let the wonder wash over you as you coast on the breeze.
Oasis LagoonSM

This is no mirage, you've found it — the largest freshwater pool in the Caribbean. Make your way through the different coves of Oasis LagoonSM, each with a vibe all its own. Splash right in at the kidfriendly sloping entry. Take your first sip of a cold Coco Loco at the swim-up bar before lounging on one of three swim-up islands. Or treat yourself to total relaxation in the privacy of your own cabana, complete with attendant service.
Hang Like a Local - Harborside Drinks & Dining

We're not sure where Captain Jack was headed when he marooned on this island, but we're glad he brought the wing sauce. The legend lives on at the rum-runner's harborside dive. Grab a Coco Loco at the rowboat bar and settle into a rope swing seat. Or snack on the house specialty — chicken wings and fries dipped in signature sauces like mango-habanero and Caribbean jerk. Live jams and water views will put you in an island state of mind in no time at Captain Jack'sSM.
Adventure Everywhere - No Matter where you wander on Perfect Day® at CocoCay®, every path leads to unforgettable experiences and discoveries!
There are so many ways to visit Perfect Day at CocoCay, from short Caribbean escapes onboard Mariner of the Seas® and Navigator of the Seas®, to longer sailings onboard game changing Oasis Class ships, Allure®, Harmony® and Symphony of the SeasSM. And if you're sailing from the Northeast, you'll find plenty of options onboard Grandeur®, Adventure® and Anthem of the Seas®.
Call 1-877-238-9270 for Available Voyages,
Exclusive Virtuoso Amenities & much more...