It's Yachting, Not Cruising® | Enjoy the Difference.
Service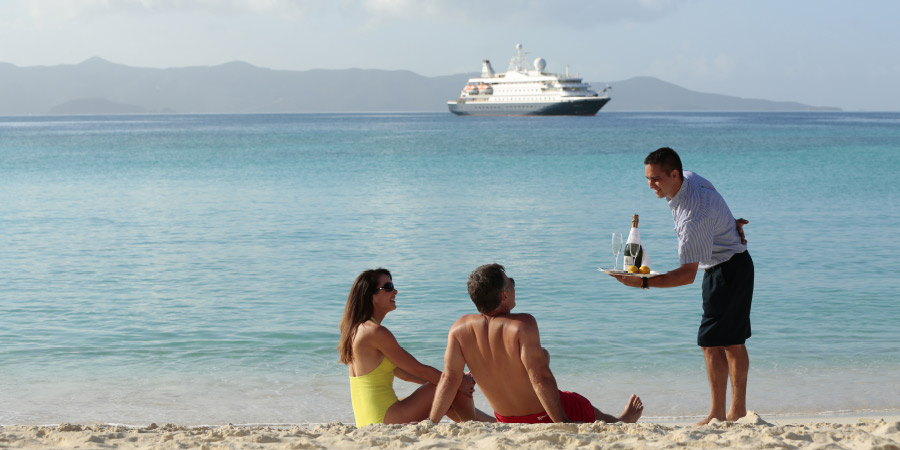 SeaDream's award-winning 5-star service is second to none. From the moment you are welcomed aboard by the Captain, it feels as if you are being welcomed onto your own private luxury yacht. With a maximum of 112 guests and an award-winning crew of 95, the crew to guest ratio provides each guest with SeaDream's incomparable style and expert attention to detail. The service aboard either of SeaDream's twin mega-yachts is comfortably transparent, like the way the bartender knows your name and what you would like to drink, or how the waiter knows how to surprise you with your favorite dessert. Your crew is passionate about delivering highly personalized and anticipatory service. Once you experience SeaDream's inimitable service, you will be, "Splendidly Spoiled" and you may never want to go on a cruise ship again.
Inclusive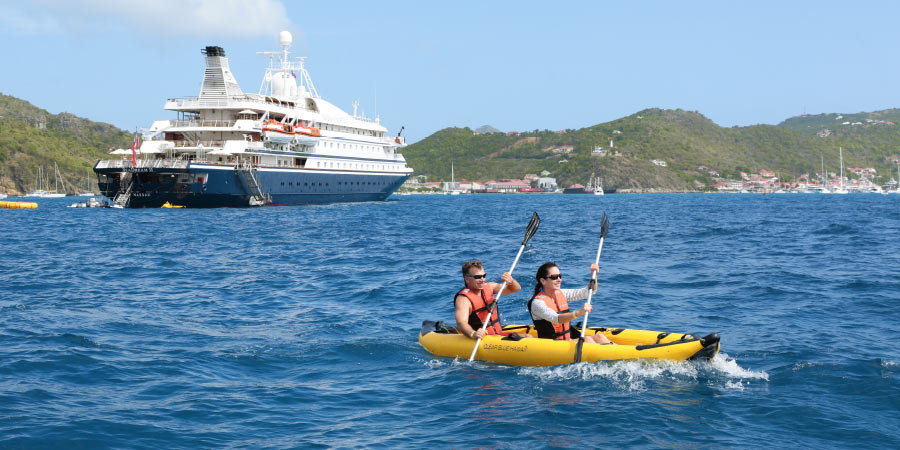 Ocean view accommodations, gourmet dining, open bar with select spirits, water sports marina, wine with lunch and dinner, fitness center, mountain bikes, golf simulator, gratuities & more. It's all included.
Discover the "It's Yachting, Not Cruising" secret that travel experts, our loyal past guests and other cruise enthusiasts are raving about. It's uniquely exceptional and a must do for those in search of a hidden, refined style of cruising. Enjoy an inclusive experience with premium select spirits, 5-star dining, gratuities and more on SeaDream and enjoy all that yachting has to offer, onboard and shoreside.
Cuisine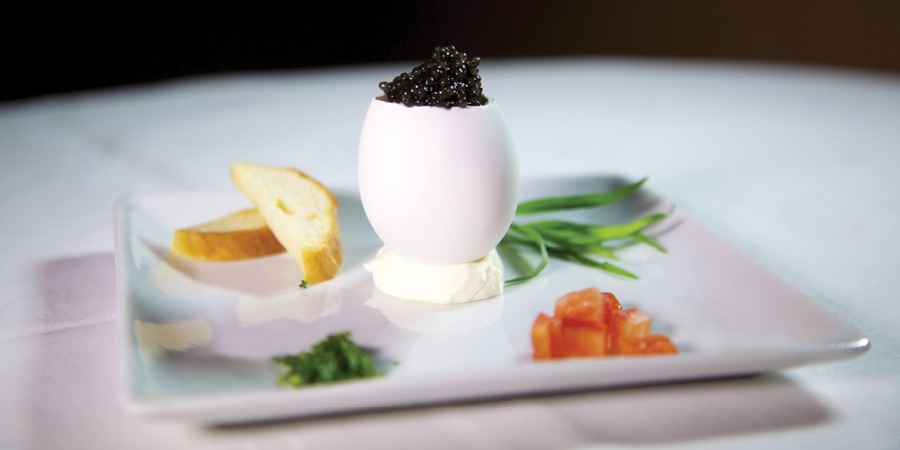 Dining aboard SeaDream is truly an adventure for the senses. A multitude of options for all palates. Expertly crafted cuisine pleases the most demanding of connoisseurs.
A Gastronomical Exprerience
Experience what wining & dining on your very own yacht would be like with our expert chefs and sommeliers. We are dedicated to offer the best experience possible for each of our guests, including excellent gourmet dishes and the finest wine selection at sea. Our multi-course menu is specially designed with elegant, light portions in mind so that an entire service may be enjoyed, from introductory first courses, to decadent desserts, to expertly paired wines. It's a gastronomical experience that will have you indulging in every bite. Bon Appétit!
Yachting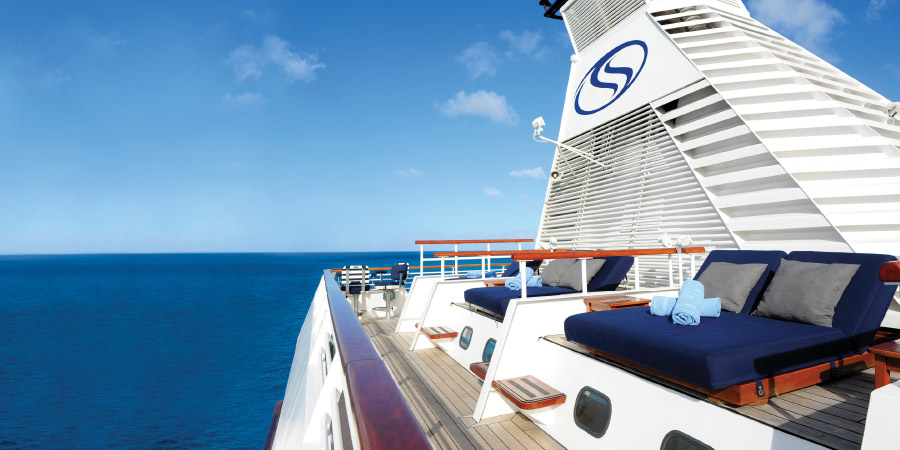 Hidden coves & harbors, broad teak decks, al fresco dining & personalized service de nes the lifestyle. Be as relaxed or as active as you like. The expression "yachting" is not only a statement about size; it describes a lifestyle aboard the intimate vessels. Chic and stylish, SeaDream's 56-stateroom twin yachts are favored for their elegant informality, personal award-winning service provided by a crew of 95, inclusive open bar and gratuities, ocean view accommodations, luxury Thai-certified spa and world class cuisine. With only 112 guests at a time, a SeaDream voyage feels like a personal getaway with like-minded well-traveled guests.
Signature SeaDream
Dream Cuisine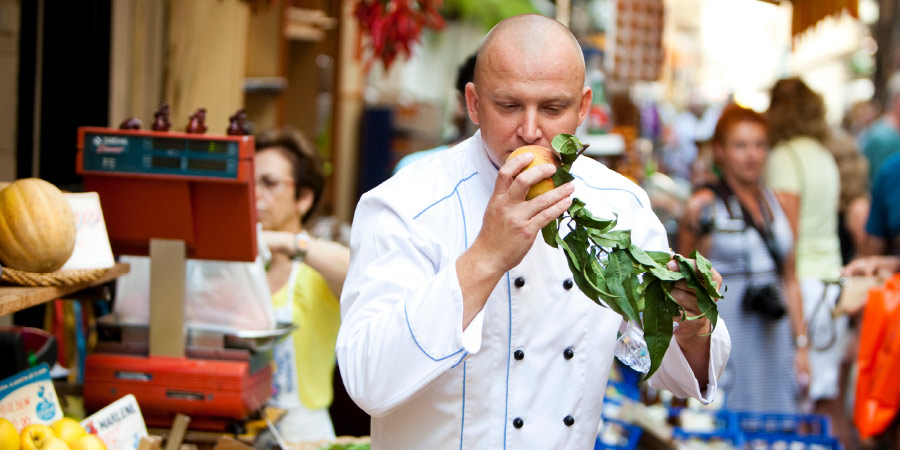 Spoil yourself with selections like lobster, let mignon, & chocolate soufflé. Also enjoy vegetarian, gluten free, or raw food. It's all about choice.
Indulge in a Signature SeaDream experience with our gourmet 5-star dining, prepared à la minute and served al fresco at the Topside Restaurant or in the elegant Dining Salon. Immerse yourself with delectable flavors with selections like a guest favorite- L'oeuf Poule Au Caviar "Surprise", succulent lobster, filet mignon, and delectable desserts.
Aside from the main menu, SeaDream offers an "Always Available", à la carte SeaDream selection of favorite cuisine dishes. Dining experiences also include Welcome Aboard cocktails and hors d'oeuvres, daily Early Risers Coffee, Topside Restaurant lunch dining, poolside sandwiches, afternoon snacks, tea service and freshly baked Small-Batch Dream Cookies and pastries. SeaDream's menus also incorporate gourmet coffees and herbal tea selections, which are available anytime upon request.
Champagne & Caviar SplashTM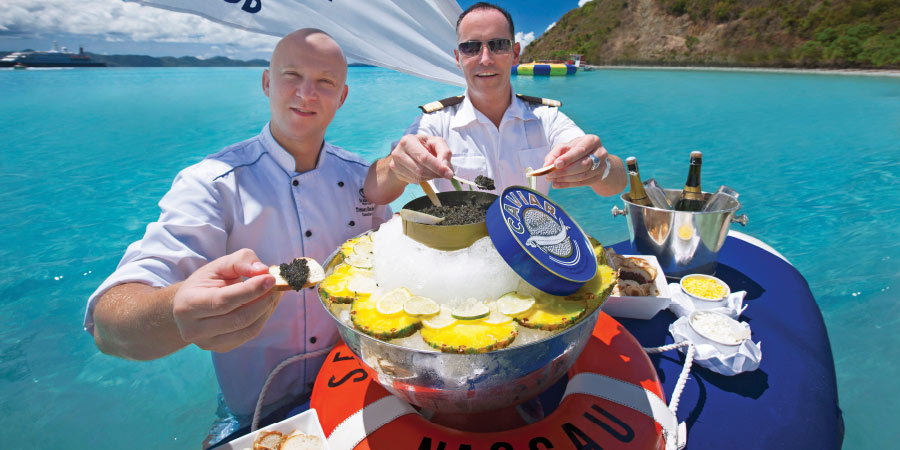 SeaDream's Signature Champagne & Caviar Splash™, featured during Caribbean Voyages, is a true celebration of the yachting lifestyle as it exemplifies "Casual Perfection". Toast to the crew and guest alike – to the good times we have shared and to meeting aboard again soon. A gourmet barbeque served on a white sandy beach is a celebration of the yachting experience in every deliciously decadent bite. In lieu of a beach, the celebration is held poolside. At the sound of the yacht's horn…Let the bubbles flow & enjoy some caviar with a special beach party & BBQ in the Caribbean. Celebrate the yachting lifestyle.
SeaDream Spa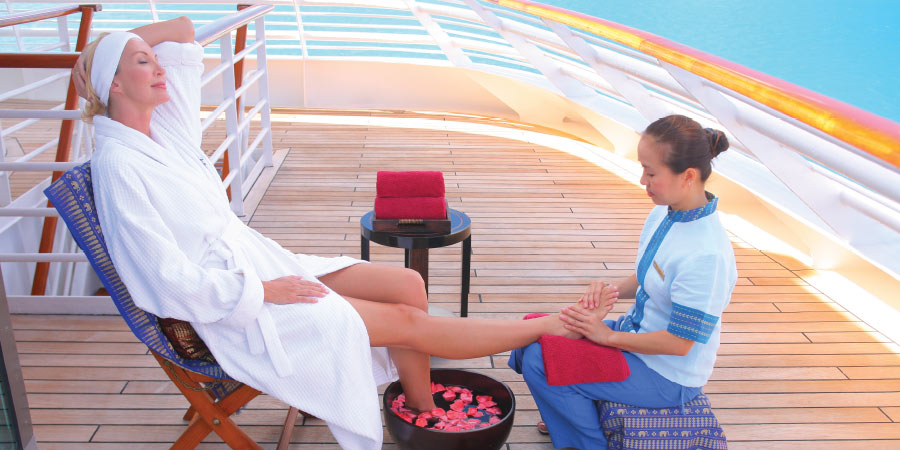 Escape and unwind peacefully onboard with our very own version of paradise, the SeaDream Spa. Spoil your mind, body and soul with the only Thai-certified spa service at sea. A sanctuary of relaxation and tranquility, the SeaDream Spa is an indulgent experience to complete any SeaDream vacation. Our highly trained Thai-certified therapists offer an extensive range of spa favorites including Sisley Paris treatments, Radiant Facials, Detoxifying treatments, Soothing Aroma Massage and Traditional Thai Massage for men, women, and couples.
Balinese Dream Beds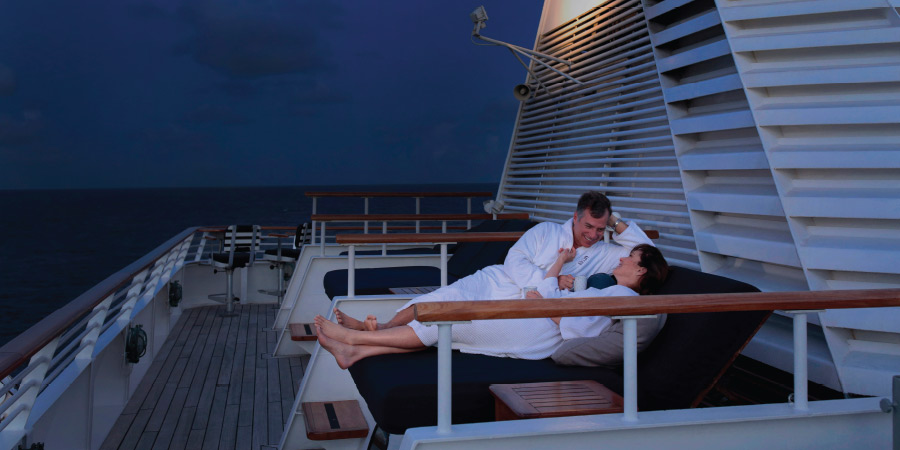 Take time to watch the world go by on SeaDream's Signature Balinese Dream Beds. These specially designed beds are the perfect place to catch the views, read a book and sip your favorite beverage. Select a cozy corner of the yacht and take that little catnap you have missed all year. Our comfortable outdoor platform beds are designed with afternoon naps and sunbathing in mind. These thick cushion beds, with throw pillows and individual reclining backs, are the perfect spot on the yacht to stretch out and enjoy unobstructed ocean views and cool sea breezes.
By day, enjoy unobstructed ocean views & fresh sea breezes from these elevated beds. By night, sleep under a canopy of stars.
Dessert Extravaganza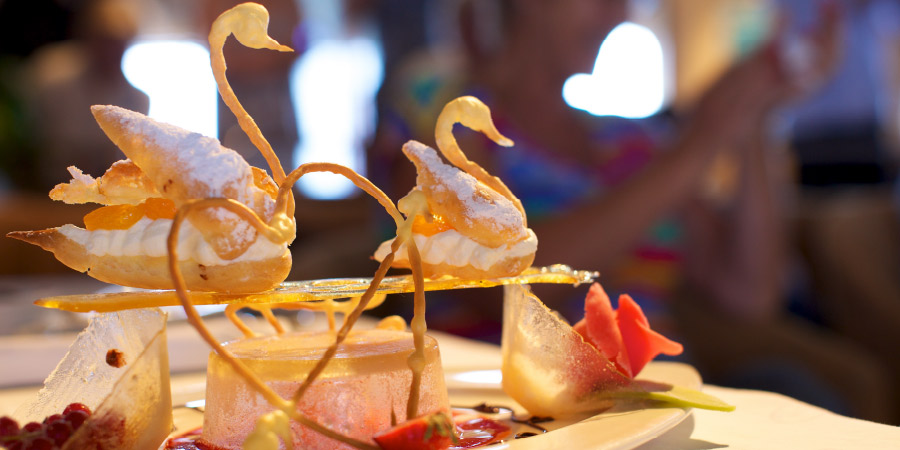 An elegant, after dinner gathering. The star of this party is the delectable display of desserts including baked treats, tarts, pies, cakes, ice cream and bananas foster. Your favorite libation, music, fresh ocean air and the twinkle of candles and stars make this the perfect ending to another special SeaDream day.
Starlit MoviesTM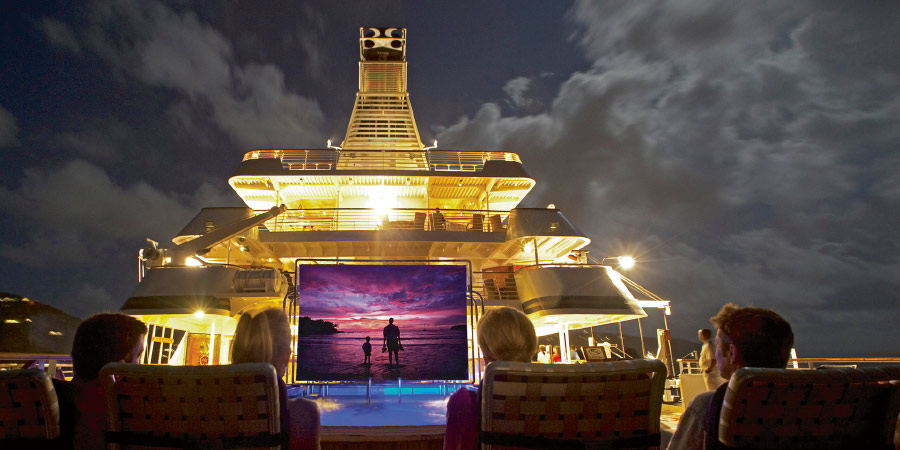 The pool deck becomes your cinema under the open night sky. Get comfortable in a reclining lounge chair and watch a concert or movie on the outdoor big screen. Your port of call becomes your grand backdrop. Pillows, blankets, fresh popcorn and bar service make this a movie experience like no other.
Call 1-877-238-1225 for
Exclusive Virtuoso Amenities and much more...