Meet Scarlet - Yacht-Inspired Mid-Sized Ship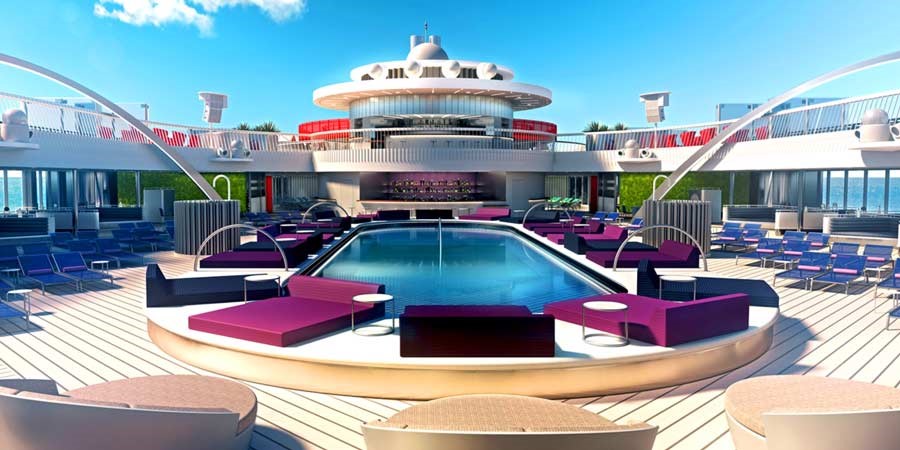 Fun, spirited and alluring - Scarlet is the embodiment of everything our ship represents. A mystical mermaid with soul, she's the fearless female who guides our Lady Ship and all who sail with her.
---
Eat & Drink (WELL) - Get a Taste of the Good Life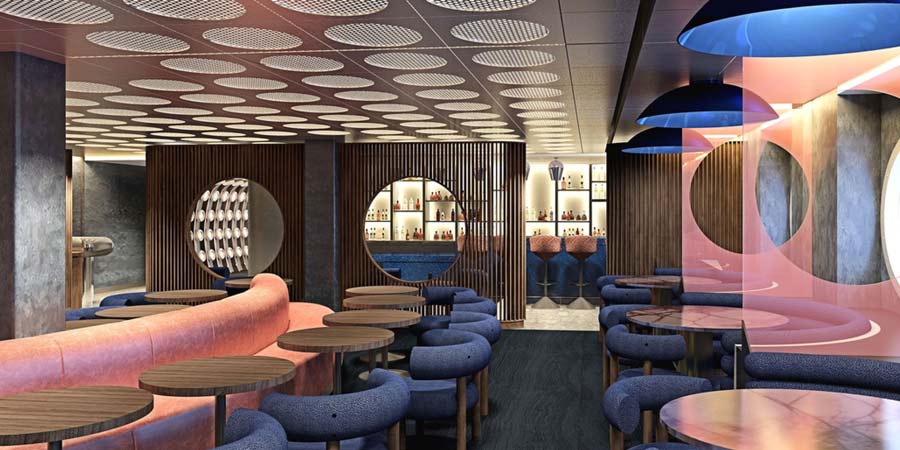 Virgin has banned the buffet, large dining halls and set dining times to bring you gastronomic delights, made fresh to order in 20+ intimate eateries. With all food 'On Us', the diverse and responsibly sourced food makes it easy to strike a balance. Whether it's fine dining or just a late night slice, this taste of the good life is inspired by the best restaurants in the world and developed by Michelin Starred Chefs like New York based Brad Farmerie.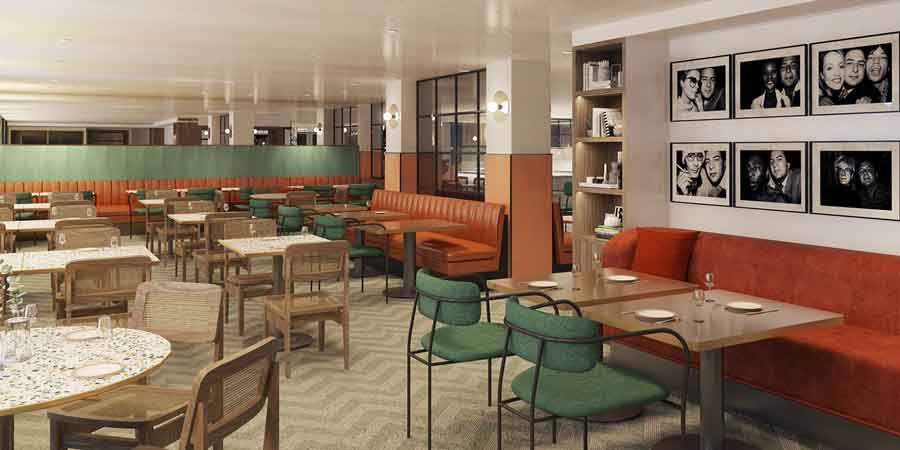 ---

All You Need Is Love Food

A lil taste of what you can expect from Virgin's 20+ eateries — we wouldn't even judge you for taking a food 📸
The Wake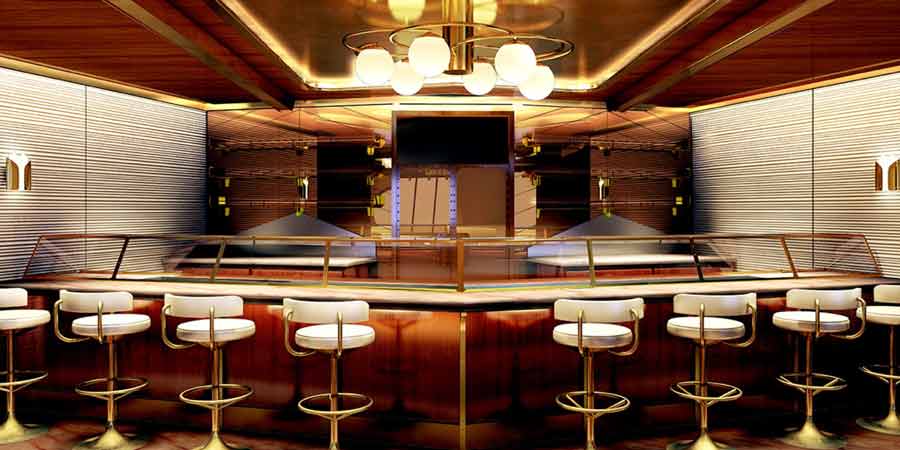 The perfect mix of sophistication, nostalgia and cool — entering The Wake is an event in and of itself. And once you've made your way down the grand staircase, you'll enter a world that harks back to the old steakhouse, three-martini-lunch days of Madison Avenue ad men. But thankfully now with gender equality. And less cigar smoke.

Pink Agave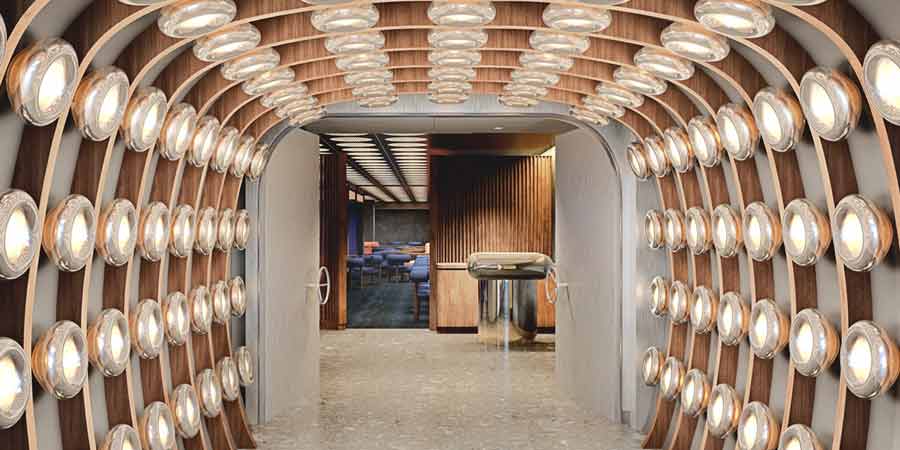 Inspired by the capital city's red hot street food scene, Sailors are treated to an immersive odyssey of Mexican cuisine. Personal, intimate and educational, a master of ceremonies will guide you through a highly curated dining and drinking experience. Mezcal dinner pairings equipped with a history lesson? Yes, pls.
Razzle Dazzle - Vegetarian Forward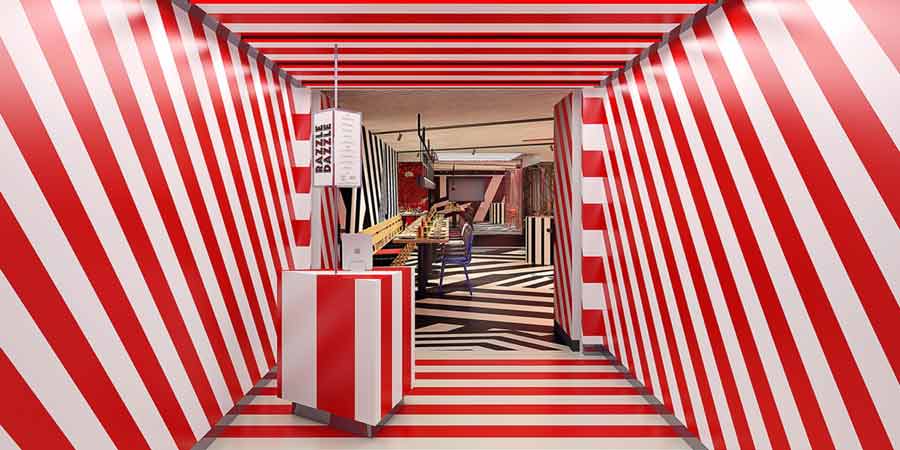 Boasting a bold interior, this restaurant offers creative surprises on some classic, comfort go-tos. Whether you're looking for something familiar (#basic can be good) or something spicy and out of left field, this place does all of that with a twist (breakfast, lunch and dinner).
The Test Kitchen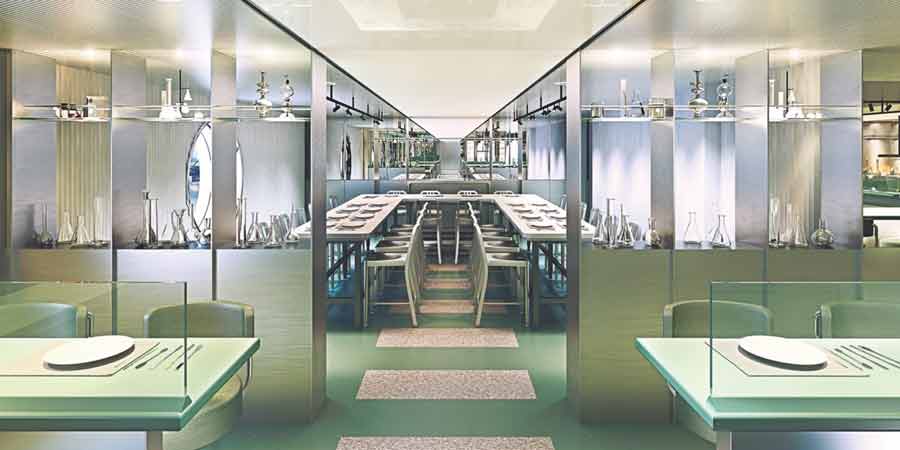 Inspired by Escoffier's Ma Cuisine, this laboratory-like eatery is part cooking school and part restaurant. It's educational, experiential and social. With classes and evolving tasting menus, this is for the curious, boundary-pushing tastebuds on board.
Gunbae

If you're into hands-on meat-grilling and soju drinking, our Korean BBQ is the perfect spot to do all that with maximum social engagement (IRL, but feel free to 'gram it if you want). It's a catalyst for great conversation since we all have that one friend who insists on being the meat-master. Go ahead and roast the master while they roast the meat 🔥
Lick Me Till Ice Cream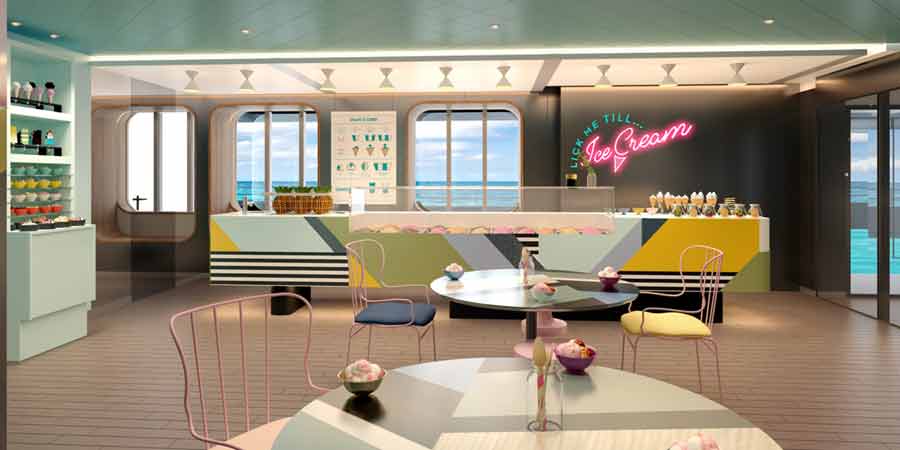 Our whimsical ice cream shop harks back to that magical home town, summer nostalgia, just with a Virgin Voyages twist and some complimentary scoops. That includes six seasonal home (or ship) made, artisanal flavors like the vegan Green Machine or Gianduiotto Chocolate. All with a featured daily flavor announced from our nearby record shop DJ booth, guaranteed to be unlike anything you might remember seeing at your local home town shop.
The Dock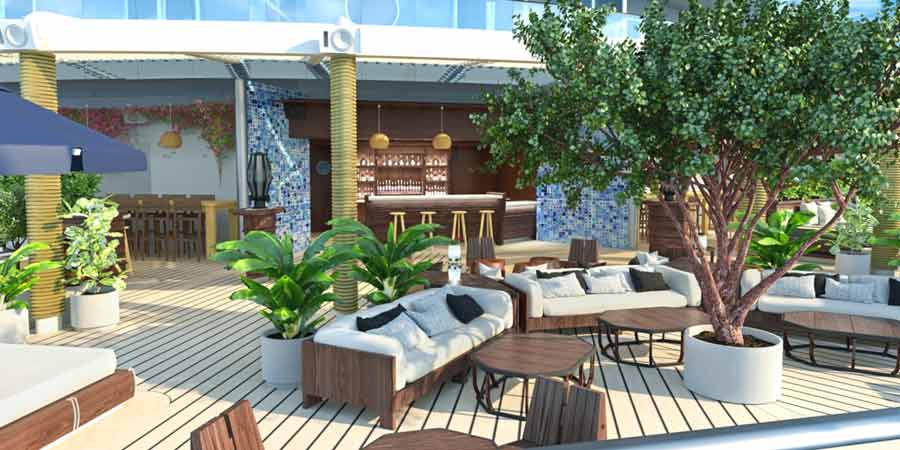 With ocean views and mezze-style bites, The Dock combines elegant, seaside chilling with the chic vacation vibes of the Mediterranean in the heat of summer. Sip a refreshing beverage while lounging in the sundrenched areas of the deck, or indulge in a wide variety of recipes — all while feeling the ocean breeze waving through your hair.
Extra Virgin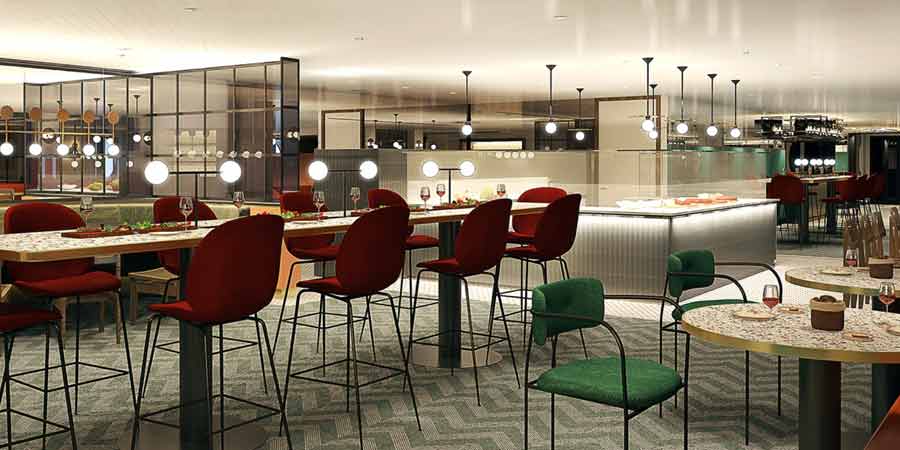 Deeply rooted in Italian culinary traditions, our trattoria serves regionally-inspired food punctuated by our fresh, handmade pasta. Start with shared antipasti — and follow that with any of our pasta-centric favorites and worship the carb gods like a good vacation begs of you. Top it off with a traditional Italian aperitif to make your night complete or help it get started.
The Galley

Modeled after popular food halls where Sailors can taste a variety of options — The Galley, designed by Softroom — will be your go-to for a quick bite or meal throughout the day. Featuring a mix of more than eight shops and food-truck style carts, each spot will have a unique concept with signature dishes that change to suit the time of day. The Galley boasts a dedicated bakery and pastry shop, a panini shop, a burger grill, a taco shack, a sushi bar with bento boxes, a noodle bar, a soup and salad stand, and a 24-hour American diner.
Coffee Shop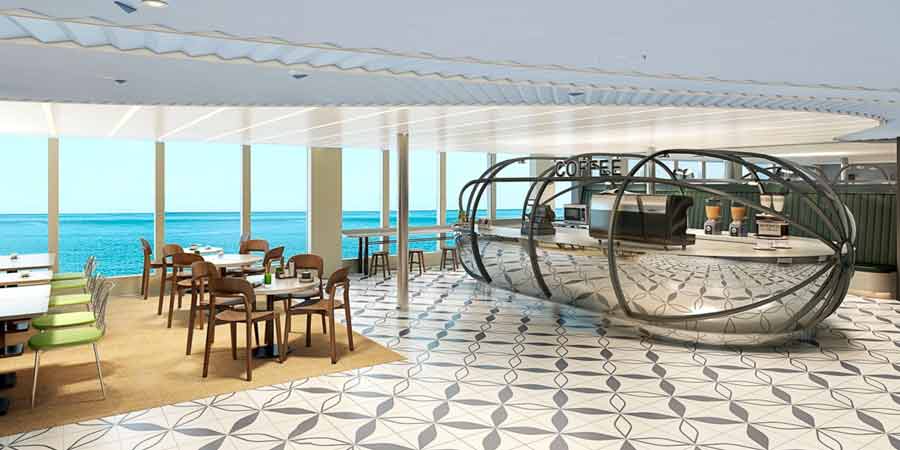 It's early. You're still a bit blurry and coffee is the only thing you can focus on right now. Luckily our Coffee Shop isn't far, exclusively pouring one of the most satisfying, and tasty brews we've ever had, from direct-trade pioneers, Intelligentsia Coffee. It's like your favorite coffee shop with the best almond milk, double shot, latte you've ever had just with ocean views.
Draught Haus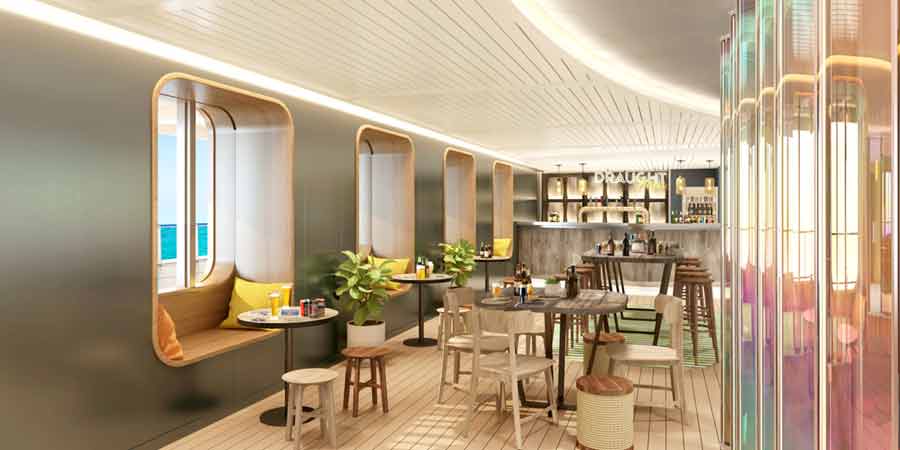 A selective beer drinker's go-to, Draught Haus features eight seasonal on tap varieties plus a wide range of artisanal bottles. This part British pub, part modern craft brewery inspired taproom, provides plenty of chill eclectic places to sit back and sip, or just grab a growler for those 'bring your brew with you', kind of days. Chill, casual but discerning beer connoisseur approved.
Sip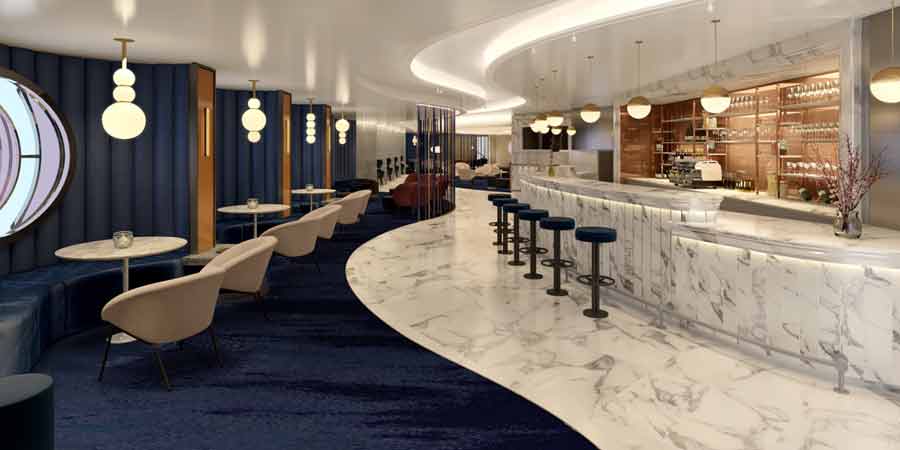 Our curated champagne lounge, Sip, was designed to satisfy many needs. Craving a posh early breakfast, high tea in the afternoon or caviar and an effervescent nightcap in the evening? Whatever the time, you can be sure bubbly will be on the menu all day at this glamorous lounge for Sailors in need of a sparkly refresher.
To Be Revealed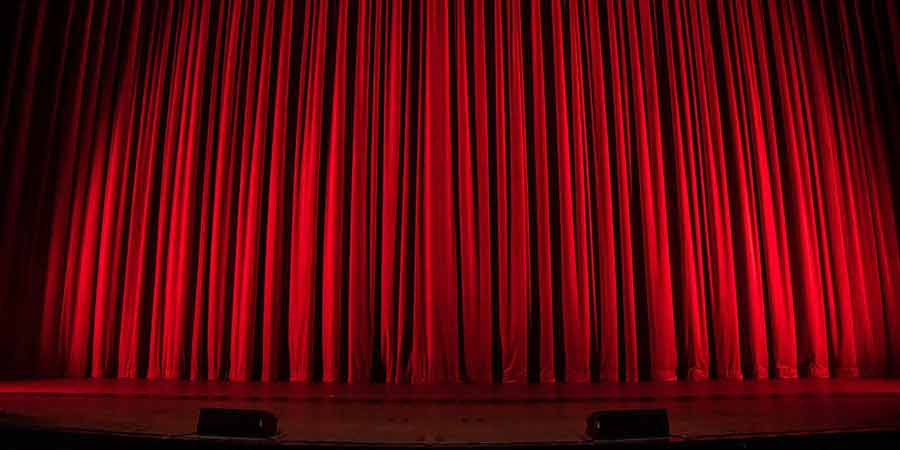 Like to watch? Okay, you delightful freak, you're in luck! Keep your eyes open — because we have even more coming to show you.
---

Feeling Thirsty

Whether it's a shot of espresso or a shot of pure, hearty wheatgrass, "vacation-you" still needs to start the day feeling like...well, you. So for those who want to upgrade, we've secured the boldest beans and freshest veggies to do your waking up with. And for the libation lovers, we've hooked up with a top notch beer brewery and some established mixologists to whip up drinks that'll challenge your claim to "take it easy tonight."
Save water. Drink champagne.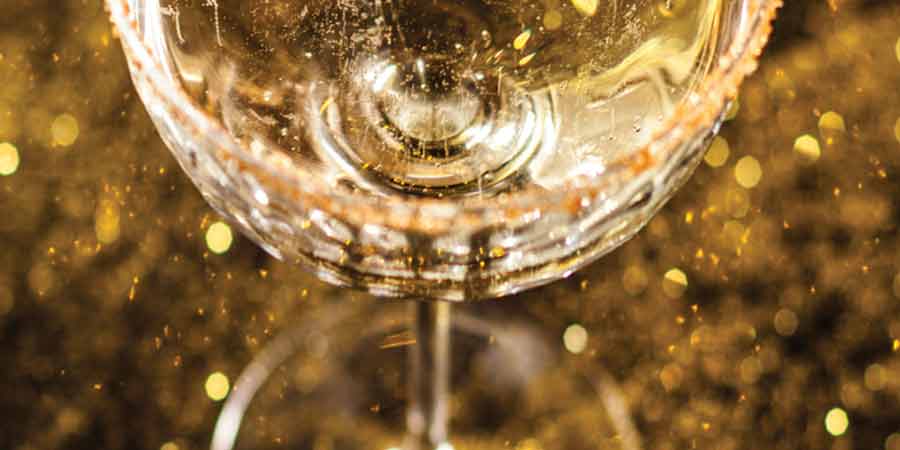 We take champagne seriously, from our new partnership with Moët & Chandon, curated champagne lounge, even our in-cabin, one-of-a-kind champagne tables. For us, when it comes to sipping the sparkly, we adhere only to one rule: champs is best served anywhere, anytime. Champagne on demand, no matter where you are on board anyone? We have that too. Cheers!
---
A Healthy Dose Of Vitamin Sea

Wellness warriors unite as we bring living well to the fore. You'll relax, energize and be pampered beyond belief with activities like sunrise or sunset yoga (or both), an outdoor boxing ring and even multiple fresh pressed juice bars. From fantastically interactive fitness classes 'On Us' to raising the spa with tantalizing treatments, we're sweating the small stuff so you can embrace an exodus from the world you left behind with serious me time.
---

Out-Of-This-Sea Performances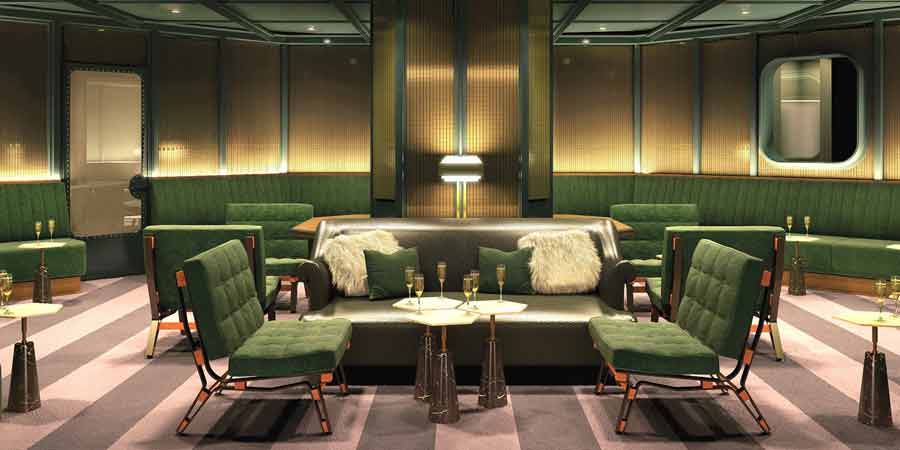 Our events aim to transform you, our performers will surprise you, and our shows will constantly delight you. Take your dance routine from your bedroom mirror to our Lady Ship.
(Please) don't stop the music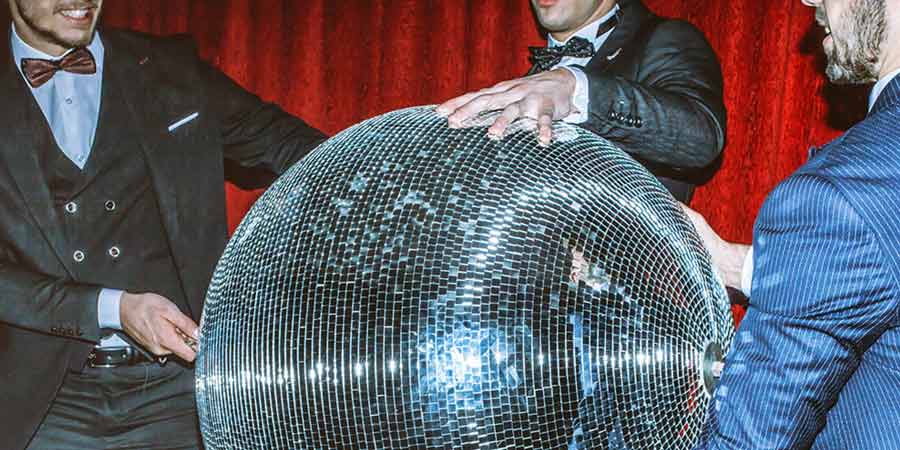 Music is fundamentally part of Virgin's DNA. Since our early days, we've been nurturing the best talent (Rolling Stones, Sex Pistols, Spice Girls); turning up-and-coming acts into fully-fledged superstars. And with the help of our Creative Collective, which now includes Mark Ronson — who in addition to Diplo, is set to perform at The Beach Club at Bimini in 2020 — we're making the best beats on land sound even better at sea.
---

Dazzling Destinations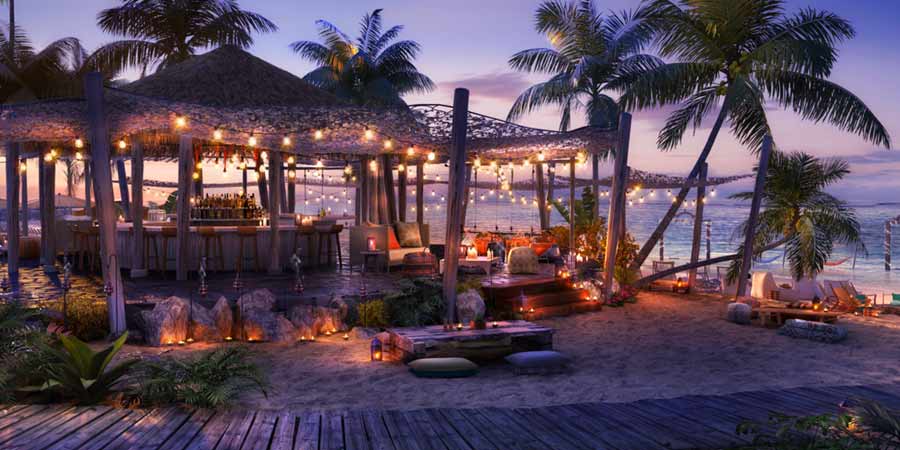 We've got a path and a port for any type of wanderlust with 4, 5 and 7 night sailings. All itineraries feature late stays to let sailors make the most of unexplored trails, sunlit mornings and effervescent nights. They also include a stop at our private beach club in Bimini, a stunning taste of St Tropez meets the Maldives. You can revel in the ultimate experience, our signature 'Beach Bonfire Soirée' send off.
Destinations Include:
• Costa Maya, Mexico
• Puerto Plata, Dominican Republic
• Key West, Florida
• San Juan, Puerto Rico
• Cozumel/ Playa Del Carmen, Mexico
• All itineraries will make a day trip to our exclusive Beach Club at Bimini, Bahamas
---

Your Cabin Your Way
---
What's On US
All tips & RockStar service
Unlimited WiFi for #allthelikes
Chef-curated meals at 20+ eateries
Group fitness classes like yoga & spin
Private Beach Club at Bimini
Set Sail the Virgin Way
Call 1-877-238-1225 for
Exclusive Virtuoso Amenities & much more...