m/s Paul Gauguin

Designed specifically to glide through the shallow seas of the South Pacific, The Gauguin is the flagship of Paul Gauguin Cruises and a small-ship cruiser's dream. She delivers travelers to intimate ports inaccessible to larger cruise ships, all the while providing an onboard experience that is nothing short of luxurious. Guests aboard their luxury cruises enjoy spacious suites and staterooms (more than 70% with private balconies), an onboard watersports marina, three dining venues, an extensive spa, and five-star service. Life onboard also reflects the beauty and rich cultural heritage of the islands she calls upon, with a warm, friendly feel, informal setting, and even a beloved troupe of Gauguines and Gauguins—local Tahitians who serve as cruise staff, entertainers, and storytellers.
What's Included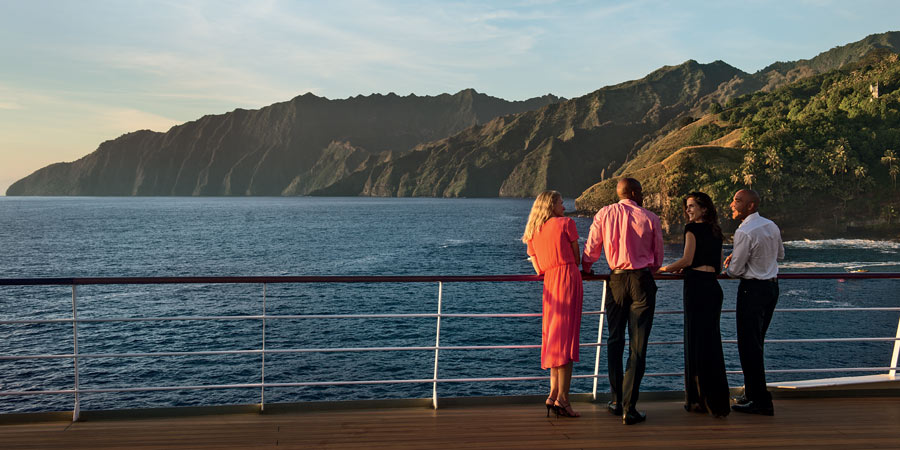 Paul Gauguin Cruises is proud to offer an extraordinary value in luxury cruising, thanks to their all-inclusive pricing. Spend more time enjoying your cruise vacation and less time worrying about every little detail when it's all been taken care of—from gourmet dining to onboard gratuities, and so much more.
When you travel on board The Gauguin, you'll enjoy:
Roundtrip airfare from Los Angeles or San Francisco*
Roundtrip airport/pier transfers*
All shipboard meals, in your choice of venues
Complimentary 24-hour room service
Complimentary beverages, including select wines and spirits, beers, soft drinks, bottled water, and hot beverages served throughout the ship
In-room refrigerator replenished daily with soft drinks, beer, and bottled water
All shipboard entertainment, including our troupe of Polynesian performers and live music in the evenings
Presentations by onboard experts, and select sailings feature guest hosts
Onboard gratuities for room stewards, dining and bar staff
Watersports, including complimentary kayaking and paddleboarding from our marina or destination beaches
Use of Paul Gauguin's secluded, white-sand beach in Bora Bora with bar service, volleyball, and snorkeling (on select voyages)
A day on Paul Gauguin's private islet, Motu Mahana, off the coast of Taha'a, featuring snorkeling, watersports, a barbecue, full bar service, and Polynesian hospitality (on select voyages)
*Unless pricing specifically states it is cruise-only.
Accommodations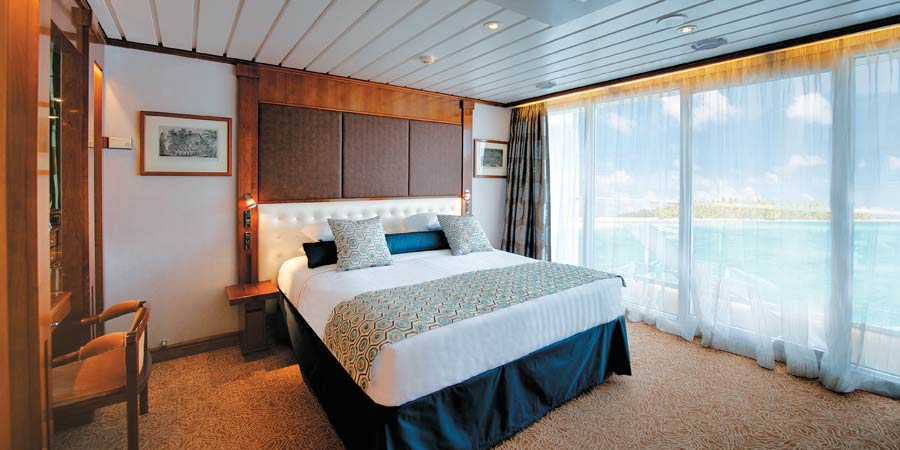 Nearly 70% of suites and staterooms have private balconies, and all feature an ocean view, temperature control, queen-size bed (a limited number can have twin-bed configuration), bathroom with full-size bathtub and shower, bathrobes, slippers, hair dryer, TV, CD/DVD player, personal safe, refrigerator stocked with soft drinks, and more. There is one wheelchair-accessible stateroom, and select staterooms can accommodate three guests.
Dining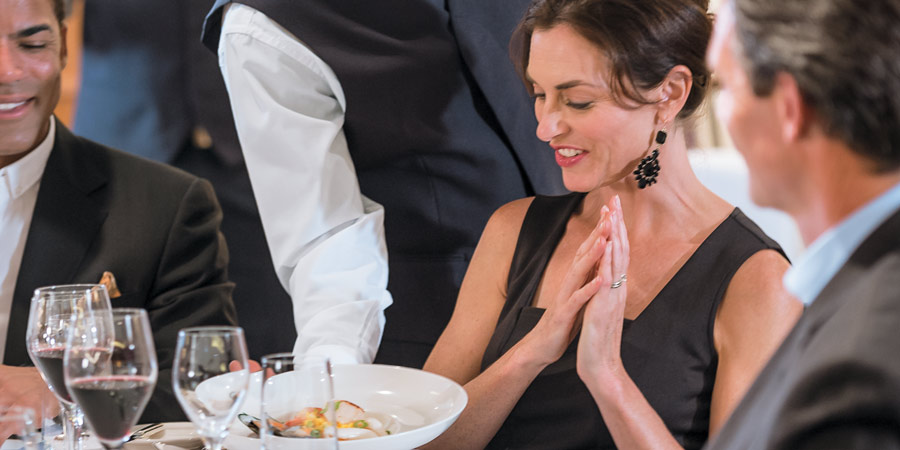 During every meal onboard The Gauguin, with every sumptuous bit you sample, and each time their attentive staff fill your glass, you'll begin to realize that dining on the high seas with Paul Gauguin Cruises is truly something special. Embark upon a five-star culinary adventure, designed just for you by some of the world's most talented and award-winning chefs, including Jean-Pierre Vigato. What's more, every one of our onboard dining options is included in your cruise fare. Bon appétit!
La Veranda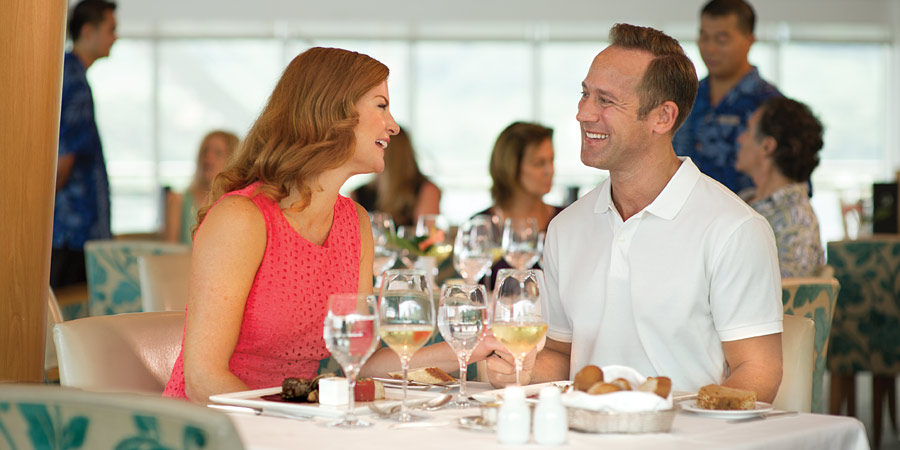 Dine al fresco or enjoy wraparound ocean views from the dining room of La Veranda, where they offer an ever-changing selection of buffet breakfast and lunch items and a la carte options, many of which are inspired by the destinations we visit. In the evening, La Veranda is transformed to a reservation-only dining venue serving Jean-Pierre Vigato's gourmet cuisine.
Le Grill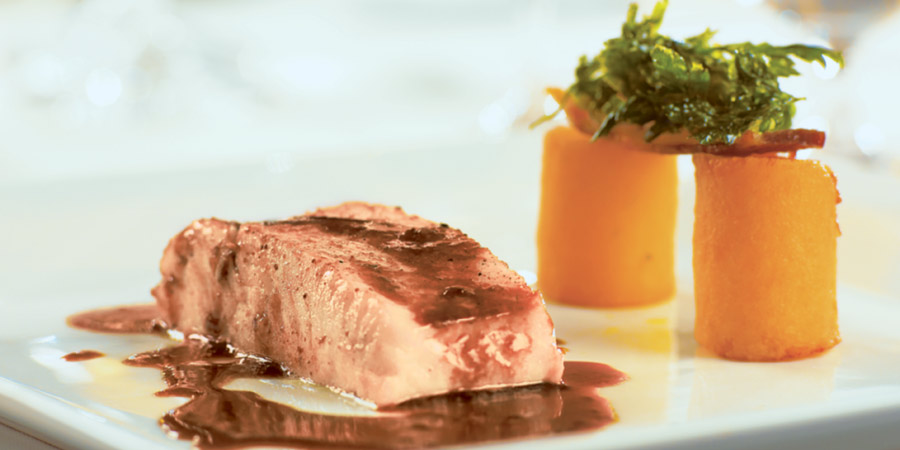 When your day's plans call for a more casual dining experience, join us at Le Grill, located by the pool and offering a buffet breakfast, grilled lunch favorites, salads, and fresh tropical fruit. In the afternoon, stop by for tea with finger sandwiches, fresh fruit, desserts, pastries, and petit fours. Return in the evening to sample Polynesian specialties in a relaxed atmosphere. Reservations required for dinner.
L'Etoile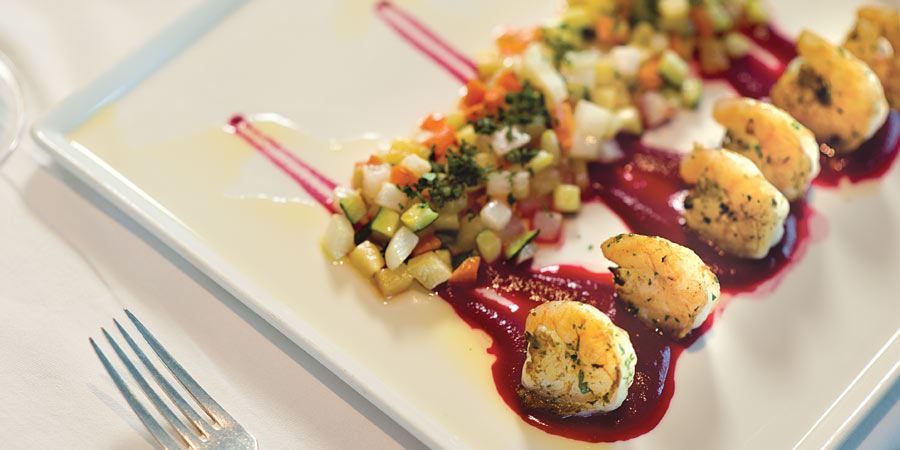 Paul Gauguin's exquisite main dining room is dressed to impress with perfectly appointed décor, fine table linens, and delicate china. Join them every evening for dinner and sample a tantalizing array of expertly prepared dishes, perfectly paired with complimentary wines.
Life Onboard

When you travel onboard The Gauguin, you won't spend your days at sea simply biding your time until we arrive at our next destination. Their ship, every day (and night!) brings new and exciting opportunities for entertainment and enrichment.
Les Gauguins & Les Gauguines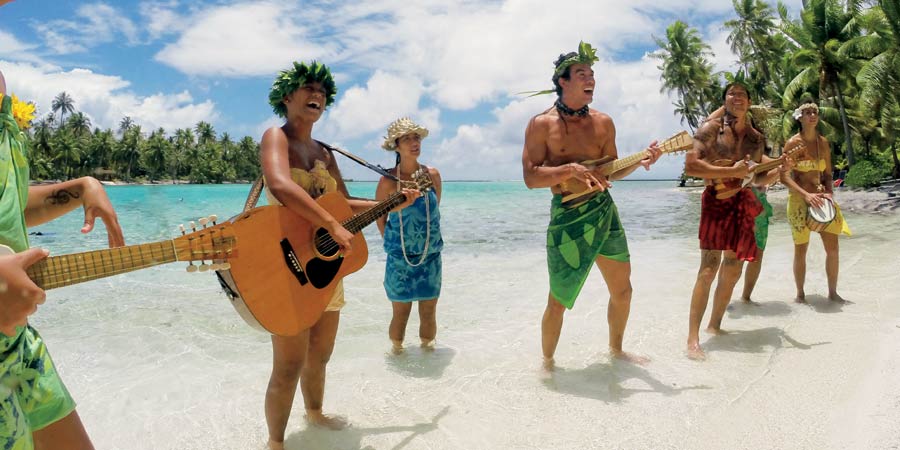 On every voyage of The Gauguin, we're accompanied by Paul Gauguin own troupe of Tahitian hosts and entertainers that bring the spirit of Polynesia to life. Enjoy a retelling of ancestral legends through dance, delight in traditional songs onboard and on our private motu, and learn local handicrafts during hands-on demonstrations. Couples celebrating a honeymoon or anniversary can even attend a Polynesian blessing ceremony.
Local Entertainment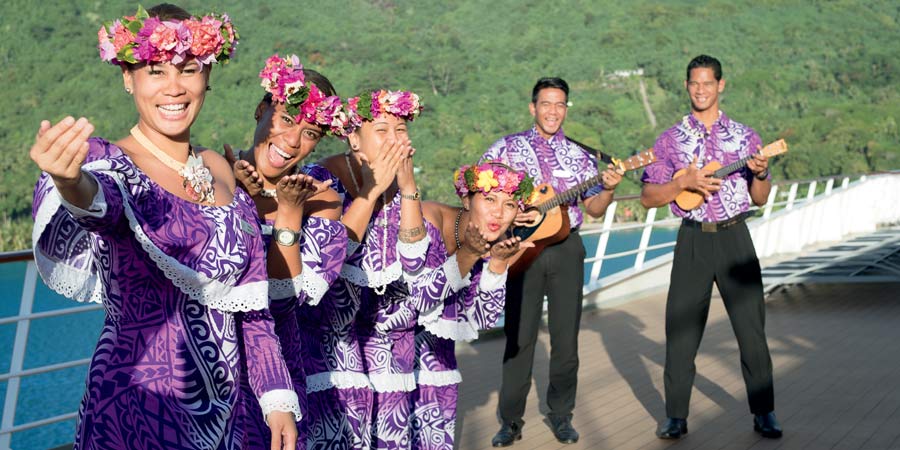 In addition to Les Gauguins & Les Gauguines, on every voyage we invite local performers onboard to entertain you. Don't miss an evening spent with local group Mamas and Papas, whose dynamic performance of Polynesian dance and singing is a perennial guest favorite.
Pool and Pool Bar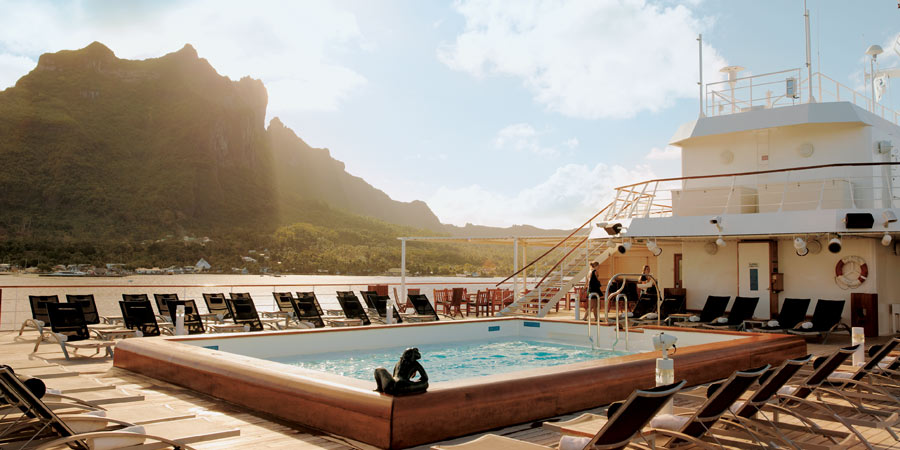 Soak in the South Pacific sunshine with a day spent lounging by our outdoor pool. Cool off in the refreshing water, grab a cocktail from the adjacent Pool Bar, or take in the scenery from a comfortable lounge chair.
And much more...
Moana Explorer Program

Exciting South Pacific Discovery for Kids & Families
The South Pacific is a dream destination—and aboard the m/s Paul Gauguin, it's also a once-in-a-lifetime opportunity for your family to strengthen bonds and create memories you'll cherish forever, through our Moana Explorer program.
Offered in partnership with Te Mana O Te Moana, a South Pacific marine education and conservation foundation, this exciting new program invites guests to discover and value the natural wonders of this breathtaking part of the world through hands-on, interactive learning. While it is designed for children and teens ages 7-17, all family members are welcome to participate.
Every day of the voyage, there is a combination of naturalist-led island and/or beach excursions, science activities, crafts, games, and other adventures. Depending on their itinerary, your children might learn about underwater life through board games, create natural jewelry, conduct water experiments, go on a treasure hunt, enjoy water games in the onboard pool, go stargazing, design their own Polynesian tattoo, and more.
Best of all, there is no fee for this special family program! It's all part of Paul Gauguin Cruises' extraordinary all-inclusive value.
Please note: The Moana Explorer program is available on summer and holiday sailings, and must be reserved at the time of booking.
Explore Tahiti, French Polynesia, Fiji & the South Pacific
Call us today at 1-877-238-1225 for
Exclusive Virtuoso Amenities & much more...