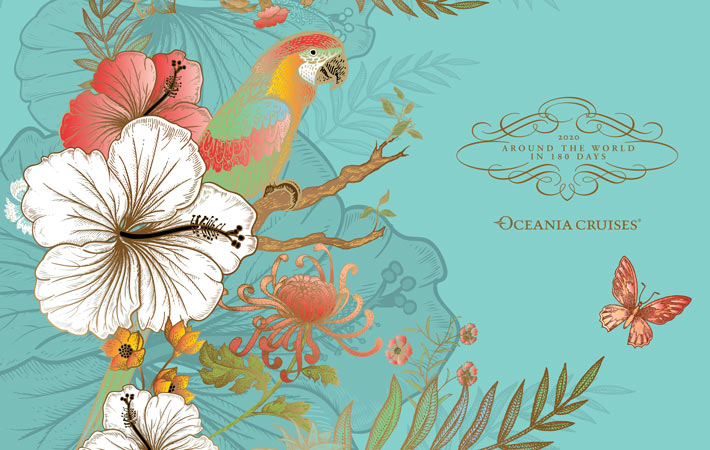 Introducing New 2020 Around the World Voyage by Oceania
Oceania Cruises is thrilled to share the newest 180-day Around the World journey, which explores 95 ports on four continents across 27 time zones for voyage truly unlike any other. Departing Miami on January 8, 2020, this journey aboard Insignia features the most expansive focus ever on Japan with nine intriguing ports of call, and for the first time ever on an Oceania Cruises global journey, circumnavigates South America and explores the breadth of Alaska from the Aleutian Islands to the Inside Passage. The complete itinerary is available for viewing now and reservations opened on March 7, 2018.
The World Less Travelled
Though visiting an impressive 95 destinations in 38 countries with an indulgent 17 overnight port visits, Insignia's ambitious odyssey is much more than the sum of its celebrated ports. On this incredible journey, you'll transit the newly-expanded Panama Canal from Miami to San Francisco while exploring picturesque ports in Central America, Mexico and Baja California and then circle South America from the cloud-kissed ruins of Machu Picchu to the samba beat of Rio de Janeiro, calling on a wide array of iconic and boutique ports throughout Ecuador, Peru, Chile, Argentina and Brazil.
Next, Insignia makes a transatlantic journey to South Africa as you discover off-the-beaten-path ports in Senegal, Gambia, Ivory Coast and Ghana, along with Africa's magnificent wildlife. Your exploration continues along the dramatic landscapes and world-class cities throughout Asia including visits to Thailand, Malaysia, Singapore, Vietnam and China as well as numerous alluring destinations in Japan. You'll then have the chance to explore rugged Alaska and the Aleutian Islands before this grand odyssey culminates with a Panama Canal transit, inviting you to explore the best of The Americas.
More Options for Unforgettable World Journeys
Although our 180-day voyage from Miami to San Francisco on January 8, 2020 is our centerpiece journey, we have created several flexible options. Choose from five other curated itinerary options, embarking in either Miami or San Francisco and ranging up to 200 unforgettable days.
2020 Around the World Voyage Highlights
Continents visited: 4
Countries visited: 38
Time zones crossed: 27
Islands visited: 24
Ports visited: 95
UNESCO World Heritage sites accessible: 67
Overnight stays (including two-night stays): 17
Nautical miles sailed: 44,090
Oceans cruised: 3
Seas cruised: 18
Number of times equator crossed: 4
International Date Line crossed: 1
Largest population: Tokyo, Japan
Smallest population: Port Stanley, Falkland Islands
New ports: 6 | Aomori, Japan; Dutch Harbor, Alaska; Hakodate, Japan; Oarai, Japan; Petropavlovsk-Kamchatsky, Russia and Santa Barbara, California
Take a deeper look at this voyage now and start planning the journey of your lifetime!
About Oceania Cruises
Featuring a fleet of intimately luxurious ships, Oceania Cruises offers an unrivaled experience renowned for the finest cuisine at sea and destination-rich itineraries spanning the globe. Seasoned world travelers are drawn to Oceania Cruises' expertly crafted voyages, which call on more than 400 ports across Europe, Asia, Africa, Australia, New Zealand, the South Pacific and the Americas. Spacious and elegant accommodations aboard the 684-guest Regatta, Insignia, Nautica, and Sirena and the 1,250-guest Marina and Riviera invite guests to explore the world in unparalleled comfort and style.
For more information about Oceania Cruises contact your Travel Advisor.