LIAT is an airline that operates mainly in the Southern Caribbean region but operates flights from Puerto Rico to Trinidad and most islands in between. Its hub of operations in in Antigua at the VC Bird International Airport, and the airline also has bases in the islands of Barbados and Trinidad & Tobago. LIAT stands for Leeward Islands Air Transport and was founded in 1956 in Montserrat with one aircraft operating between Antigua and Montserrat. Today the Airline is owned by a number of Caribbean Governments.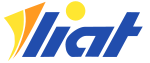 In 2014 the airline started a modernization of their fleet, introducing new ATR 42-600 and 72-600 aircraft to their fleet, replacing older Bombardier Dash 8 100 and 300's that made up the fleet and serviced the Caribbean for many years. The countries LIAT flies to include Anguilla, Antigua, Barbados, Dominica, Guyana, Grenada, Guadeloupe, Martinique, San Juan Puerto Rico, St. Kitts, St. Lucia, St. Maarten, St. Croix, St. Thomas, St. Vincent, Tortola and Trinidad & Tobago.
LIAT's schedule has been aligned to meet the requirements of international carriers, such as British Airways / Virgin Atlantic from Europe and American Airlines from the US, who service the Caribbean. With many perfectly timed connections to their flights from these carriers, LIAT allows passengers to move to smaller islands from the main hubs of Antigua, Barbados and Trinidad. The airline also offers daily service to many of these islands that business people use regularly to conduct business in neighbouring islands.
If you are looking at travelling throughout the Caribbean islands, LIAT will be your best bet to easily get around. With our long partnership, Going Places Travel can offer you special packages and deals in many small and large hotels throughout the Caribbean with partner airfares on LIAT. We also can handle small and large groups that need to get around the region on LIAT. For the best fares on LIAT, call one of our knowledgeable Travel Advisors.