Enjoy international cuisine, personal service, live music and entertainment, and the special ambience of a quaint ship.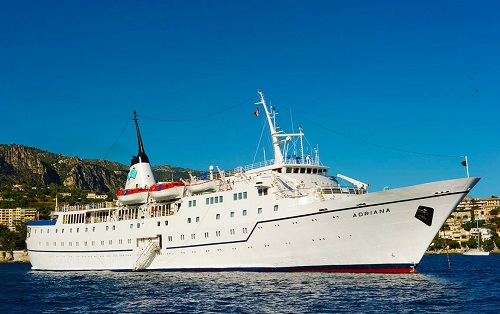 Life aboard the M.V.Adriana is at your pace by day or night. Take a refreshing dip in the pool or soak up the sun in one of the comfortable lounge chairs. Order a cool drink at the St. Tropez Bar above it all on Pont Soleil. Tempt your luck in the Casino d' Paris, or catch one of our entertainers in the Les Alizes Grand Salon or dance the night away in the Lagon Bleu Night-Club. Every memorable evening aboard 'Adriana' must end with a stroll under the stars along our outdoor decks. The M.V. Adriana offers a Beauty Salon & Spa with massage services, and a small Duty-Free Boutique.
Dinner in the Le Phare Restaurant is on your schedule. Select from a wide variety of delicious starters, salads, and entrées. Later choose from one of their tempting desserts, after-dinner drinks. It's all up to you. For that special evening or event, the Le Mer Bistro is available, where attentive service and a noble wine list compliment your elegant meal.
Cabins
Available categories are as follows:
Deluxe Ocean View with Window
Ocean View with window
Ocean View with Porthole
Inside Cabin
Cabins are basic and bedding is FIXED. Twins cannot be converted from twin to double
The majority of the cabins are configured with twin beds.
Itineraries are subject to change due to circumstances beyond our control.
TV's in every room
Safe in every room
Dining
Meals are primarily in the RESTAURANT LE PHARE on Pont Galion as follows:
Breakfast: 7:00am – 9:00am (Buffet)
Lunch: 12:00pm – 2:00pm (Buffet)
Dinner: 6:30pm – 9:00pm (Buffet)
There will be a themed night
Non-Premium alcoholic beverages (Whisky, Rum, Vodka) are complimentary
There is a BBQ grill by the pool deck for lunch and late night snacks for dinner
Captain's cocktail night
Prices start from USD$548* per person. Call us today to book your Adriana cruise!
* Prices are subject to availability, based on double occupancy and can change without any notice.